Wooden Sandals Are Summer's Must-Have Shoe
Slide into these retro favorites that take breezy looks up a notch.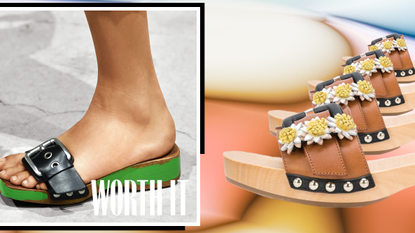 (Image credit: From Brands/Morgan McMullen)
Some day soon, we will wear real shoes again. When that time comes, we'll be opting for wooden-soled sandals: Surprisingly comfortable and effortlessly chic, they are our latest summer shoe obsession. From the classic, cost-friendly option by Dr. Scholl's to the ultra high-fashion choice of a modern Margiela platform, there's a pair for everyone and nearly every occasion. We tapped Caroline Maguire, fashion director at Shopbop, to learn more about the trend.
Marie Claire: Why is this style trending?
Caroline Maguire: It goes perfectly with the modern and versatile color palette and uber-feminine ready-to-wear styles of the season.
MC: How has it evolved?
CM: Designers have updated the classic style with pops of punchy color, bold prints, and even embellishment. Some platforms have reached new heights with exaggerated block heels, while others have stayed minimal in terms of silhouette.
MC: What should you consider when buying a pair?

CM: Comfort. How high both the arch and platform are is important.
MC: How do you style wooden slides?
CM: I love them with a midi-length, lightweight spring dress for the office or denim dad shorts with an easy T-shirt for weekends. For a more formal look, pair them with a brocade top or a silk dress.
MC: Why are wooden-soled shoes a "worth it" buy?
CM: They are a timeless, versatile, vintage-cool-again style.
Shop our favorite styles, below:
This story appears in the March 2020 issue of Marie Claire.
Megan DiTrolio is the editor of features and special projects at Marie Claire, where she oversees all career coverage and writes and edits stories on women's issues, politics, cultural trends, and more. In addition to editing feature stories, she programs Marie Claire's annual Power Trip conference and Marie Claire's Getting Down To Business Instagram Live franchise.