What I Wear on Repeat: My Elmis Wax Barbour Jacket
It's warm, luxe, and makes me feel like I'm in The Crown.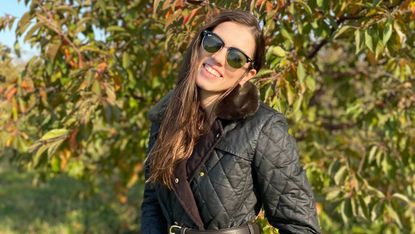 (Image credit: Courtesy)
In our biweekly series, editors share the item so versatile, so chic, so comfortable that they wear it over and over and over again—whether it be a basic white tee or a super-trendy jumpsuit. Prepare yourself (and your credit card) for some guilt-free shopping.
Much like Barbour, I am a British stereotype. Unlike Barbour, I am not the cool, trend-setting kind of British, but the kind that spills tea all over herself and therefore requires sturdy, reliable, stain-proof clothing. Contrary to popular opinion and television shows, not everybody from my home country owns a Barbour (although the entire royal family does (opens in new tab)), so I didn't get my first until I was in my twenties and fed up with New York winters—which, if you're wondering, are colder, meaner, and wetter than winter across the pond. (I'd packed a fleece jacket that had seen me through two London winters for my move here. It was useless.)
The photos that I've chosen to feature here were taken on a mild fall day, because this is my story and I call the shots, but don't be fooled. On sleety, snowy, rainy, icy New York days (when I am not taking photos of myself because I have no desire to relive it, and also because I look like shit), my Barbour is the only thing that keeps me from breaking down and getting on a plane. (Not to London, obviously. It's less miserable there, but it's still London. I'd go to the Bahamas.)
Now that I've spent plenty of time complaining about my adopted country, allow me to count the ways I love my Barbour Elmis Wax.
I love the faux-fur collar that nestles into my ears and the belt that will magically make me look put-together when I go to real events again. I love the classic quilting on the inside that reminds me of home and also makes me feel like I'm in The Crown. (Fun fact: Barbour asked the Queen if they could please replace her battered, decades-old Barbour for free, but she was so attached to it that she said no.) (opens in new tab) I love the element-defying wax finish that can stand up to rain, sleet, and snow. I especially love the secret zipper I can slip a spare $20 in for when I inevitably lose my credit card. Unlike the edgy model pictured here, I do not own jodhpurs, but this jacket makes me feel like I could pull them off. This jacket believes in me.
If you're someone who's interested in pretending to be on the set of The Crown and/or want to stay warm and dry during whatever kind of weather you're enduring right now, may I present to you some of other Barbour items I endorse:
Shop Our Favorite Barbours
RELATED STORIES
Director of Content Strategy
Jenny is the Director of Content Strategy at Marie Claire. Originally from London, she moved to New York in 2012 to attend the Columbia Graduate School of Journalism and never left. Prior to Marie Claire, she spent five years at Bustle building out its news and politics coverage. She loves, in order: her dog, goldfish crackers, and arguing about why umbrellas are fundamentally useless. Her first novel, EVERYONE WHO CAN FORGIVE ME IS DEAD, will be published by Minotaur Books in 2024.