Stüssy Announces Its 40th Anniversary World Tour Collection
The coolest designers in the game have been tapped to recreate the iconic World Tour T-shirt.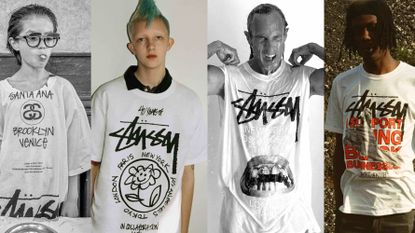 (Image credit: Design by Bridget Burns)
In the late '80s, inspired by the Southern California surf scene, Stüssy was born—and the world of streetwear was forever changed. Founded by surfer Shawn Stüssy, who fell into the clothing business by selling merch with his name scrawled across them for promotion, Stüssy accidentally created one of the world's most recognizable logos—the iconic graffiti Stüssy scribble.
With success came worldwide recognition: DJs, artists, musicians, skaters, and trendsetters from all over the globe began to watch Stüssy. This group of creatives later became the "International Stüssy Tribe," with chapters in New York, Tokyo, London, Berlin and Los Angeles. From the beaches in Southern California to the hottest clubs across the globe, the Stüssy message spread, and the high-quality clothing at a reasonable price point allowed all walks of life to be part of the "tribe." Now, we live in a world full of limited drops and resellers, but Stüssy was one of the first to introduce this idea of limited quantities at very select stores—paving the way for streetwear as we know it today.
Stüssy is no stranger to major collaborations: Since opening up shop, they have partnered with Nike, Dior, Supreme, Comme des Garçons, and more. In honor of their 40th anniversary, they have tapped Rick Owens, Virgil Abloh, TAKAHIROMIYASHITATheSoloist, Marc Jacobs, and Martine Rose to create their own version of the iconic Stüssy World Tour T-shirt—something that truly represents the brand's DNA.
The first World Tour T-shirt was released in 1989. Much like the brand identity, the idea was to juxtapose two cultures from traditionally different worlds. The front of the t-shirt features names of cities associated with high-end fashion, like London, Paris, New York and Tokyo. The back of the t-shirt featured names of boroughs where street culture was thriving, like the Bronx, Compton and Venice. In line with the Stüssy message, each designer selected represents different cities, perspectives, and communities that have inspired Stüssy; each designer will also donate a portion of profits to an organization of their choice.
The 40th Anniversary World Tour Collection will be available to purchase in Stüssy Chapter Stores, Dover Street Market, and Stüssy.com on Friday November 20 at 10 a.m. PST.
Shelby Comroe is the Credits Editor and Fashion Assistant at Marie Claire covering all things fashion and giving credit where credit is due. Check her out @shelbycomroe on Instagram if buying designer handbags is your idea of a retirement plan!