What I Wear to Work (at Home): Elizabeth Rees, Founder of Chasing Paper
First, can we talk about her gorgeous wallpaper?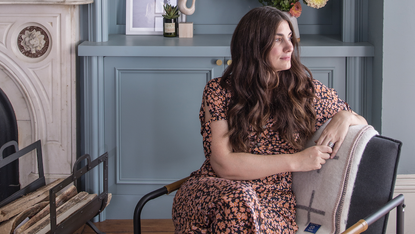 (Image credit: Courtesy of Elizabeth Rees)
In a bi-weekly series, we're asking female executives, founders, CEOs—basically, boss ladies—about their "power suit" a.k.a. the outfit they wear every day for easy dressing to conquer whatever the job throws at them.
We're spending more time at home than ever thanks to the COVID-19 pandemic and, as a result, some of us have taken on the task of becoming an interior decorator or, at least, home decor enthusiast. Redoing a gallery wall to make it look more pleasing on Zoom calls or finally getting around to building that bookcase is a great way to pass time when you're stuck indoors. For those seeking to spruce up their abodes, you might consider wallpaper brand Chasing Paper. The company takes a modern approach to designing wallpaper—something formerly associated with your grandmother's house—and making it easy to use. The signature product? Removable, Instagram-worthy wallpaper.
The idea came from founder Elizabeth Rees. "I was living in a little apartment in the West Village in New York City and I couldn't paint. I couldn't do much [to the space] because it was a pre-war building, but I wanted to customize it," she says. "At the time, Pinterest had just launched and wallpaper was something I saw reoccurring on inspiration boards. I noticed the wallpaper in my favorite restaurants and they felt elevated and luxurious. I wanted to have it."
Though Rees grew up in the printing world (her family owns grand-format printing company Kubin-Nicholson), she admitted she knew little about the business and close to nothing about the home decor space. She made plenty of mistakes in the first year of business, but was flexible and nimble in learning from them and moving on. In the process, aligned herself with great mentors and, like any passionate entrepreneur hungry to build a brand, said "yes to all the lunches, coffees, and happy hours."
Chasing Paper launched in 2013 with 30+ wallpaper options including stripes, polka dots, and chevron, which Rees says was big at the time. The company also worked with a Milwaukee artist to license some of her work for earlier designs. Now, Chasing Paper does four to six collaborations a year, while about 15 to 20 percent of their wallpaper designs are done in house. The company has generated nearly 10 million in revenue since it launched.
The removable wallpaper comes in easy-to-use panels and has a texture that feels like traditional wallpaper, but is low-tack adhesive. Rees likens the wallpaper to "a giant sticky note" you can just peel off your walls without leaving residue or pulling paint off. (Chasing Paper also offers traditional wallpaper for those familiar with the more technical use of it.) Rees says customers have gotten quite creative—from papering a refrigerator to framing it as artwork.
"People are looking for the paper to be a showstopper, a conversation piece," Rees says. "Bold colors and prints, something you've never seen before [are popular], while others want to add texture or print in more of a subtle way. [We want to] create content that allows for people to think about wallpaper in different ways and inspire/motivate people to tackle DIY projects."
Rees shares that she has some exciting new launches for the brand coming up in early 2021 that will involve "peel and stick projects that go on the floor" and other "new product extensions." With many of us hunkering down this winter waiting for vaccination day, DIY home projects sound like a good way to fill the time.

Before you start redoing your bathroom walls (as I am now considering), read more about Rees and her personal style, below.
Morning Routine
"Having two girls under two, the mornings are spent getting them up and ready. I try to give myself 15 minutes if I can, my husband and I take turns to get ready and to have a minute to ourselves, when I brush my teeth, wash my face, spend a little extra time picking out something to wear. Even during the pandemic I'm always changing out of pajamas. It makes me feel better and get into a work mind frame. Nine months going strong and I still get dressed every day."
Her Getting Dressed Strategy
"It's based on mood and my day. If I have meetings, I'll dress more smart. If I know I'm doing something on our production side, I'll dress more casual for that, or if I'm going to be home all day, maybe I'll wear some cute activewear. Being in Wisconsin, we have a pretty long winter here, so I dress for the elements as well.
We recently moved into a new house, so I have a much bigger closet than I ever had before. This has been interesting because having more space to see things has made me dress differently. I have a little more variety in what I wear now because before I wouldn't see things and forget about them.
I also used to be a Rent the Runway unlimited person. Back when I was pregnant, I didn't want to buy clothes for my changing body so for those couple of years, [Rent the Runway helped me] feel stylish and great while trying new brands and not spending a fortune on clothes I wear for three months. I love the idea of exploration and, though I am not doing the subscription anymore because I don't have anywhere to go right now, I find that way of dressing so fun."
Her Work-From-Home Uniform
"I just bought my first pair of Everlane jeans, I'm so late to this memo, but they are not only comfortable but also instantly make me feel great. I just got them a month ago and I'm obsessed. I bought a chunky cardigan from them, too.
I've recently been trying to get into a groove of putting on some jewelry, even if it's something simple like gold hoops or a necklace. They help me feel polished and put together. Jewelry adds to my routine and ritual, which I've come to love. I need that extra time in the morning to myself. I'm into gold jewelry right now and my friend Whitney owns a store called Orange and Blue that I have a few pieces from. She does a great job of pulling products from labels like Lizzie Fortunato. Pre-COVID, I went to a local jewelry place where I made two simple gold necklaces that I now wear every day. It was cool to make something and support something local in my city.
[For shoes] I'm either in a cool sneaker or in a black leather boot. I'm not much of a traditional heels kind of girl. My favorite pair of sneakers are from Gola and I do love my Allbirds. For boots, I have a pair of Sam Edelman ones that I love and I have a pair of Zara boots from two seasons ago that are super comfortable and go with everything. I'm pretty simple when it comes to my wardrobe."
The Words That Describe Her Power Outfit
"Smart, casual, and evergreen."
Her Motto
"Keep going. Don't stop."
Shop some of Rees' favorite brands, below.
RELATED STORIES
Marina Liao is the former fashion news editor at MarieClaire.com, where she covered celebrity style (from Meghan Markle to Katie Holmes), fashion trends, and shopping advice, plus conducted original interviews with industry insiders. She's also had many opportunities to write content in other areas such as beauty, food, tech, and even home. Her previous fashion stints include POPSUGAR and Cosmopolitan.