Influencers on Their Favorite Workout Wear for Curves
"It feels comfortable, but I'm still fully supported..."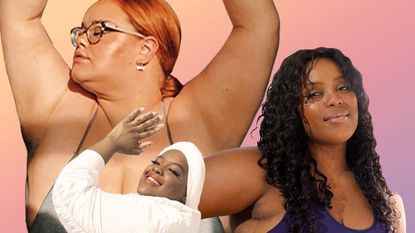 (Image credit: Courtesy/Design by Morgan McMullen)
As temperatures rise and summer rolls in, it's officially time to break a sweat. Whether your workout of choice (opens in new tab) is something with high intensity like running, or slow and controlled like Pilates, there's workout wear that's right for you. We tapped six of our favorite influencers and asked them to showcase their favorite workout items (opens in new tab) that complement any size. Below, the best sports bras for a larger bust, some of the softest leggings out there, and even a one-piece of your dreams.
"In my opinion, Nike activewear is the best available in plus in terms of quality, style choice, value for money, fit and design. I have never been disappointed by anything I've worn from them. Never the dreaded ill fitting sports bra or see through leggings from Nike! I love the swoosh sports bra as its medium hold feels comfortable but I'm still fully supported. I love the colour options available, and feel that the design has been created with plus sizes bodies in mind which can be quite rare."
"I love these because they're SO buttery soft and don't chafe against my skin. They also don't cut off the circulation in my legs at the seam which is a BIG plus with thicker thighs! The hidden pocket is also a huge win."
"Pilates is my workout of choice and the SculptKnit fabric from Fabletics is hands down my favorite. Super stretchy, good compression and a nice thick waistband to hold you in no matter what moves your instructor is challenging you with! I have these in 5 colors!"
"I'm very bottom-heavy and it's really hard to find leggings that not only go over my hips and butt, but ones that don't roll down as I am moving about. I love Athleta's leggings because of not only the quality and vibrant patterns, but they are also reducing their carbon footprint and allowing plus-size gals to shop sustainably."
"I have this one in black, and have been eyeing the shorts version for a minute. It's incredibly soft, breathable and stretchy!"
"This set is so cute and comfy! I love the color and the pink graphic that says "Health and Wellbeing"! It's good for casual lounge days, running errands and still looking cute, or actually going on a walk or hike!"
Katie Attardo is the Accessories Editor at Marie Claire, covering all things fashion and jewelry-related.