Downton Abbey Style Recap: Entering the Roaring '20s
The moods and waistlines are low, low, low.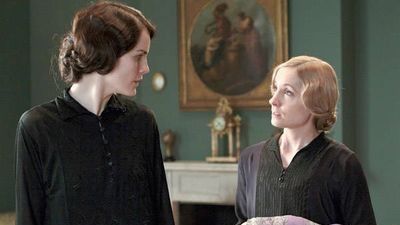 (Image credit: Nick Briggs/Carnival Film & Television Limited 2013 for Masterpiece)
SPOILER ALERT -- Do not read on if you have not yet watched the season 4 premiere of Downton Abbey.
It's a dark, depressing time for the Crawley family in the season 4 premiere of PBS' Downton Abbey. Matthew's dead, O'Brien's run off to maid another lady, and Edith has a new and ill-advised penchant for wearing wide satin headbands in various colors.
The season opens in 1922, six months after Matthew's fatal car accident. Since Lady Mary is still in mourning (read: head-to-toe black—just look at her expression to Anna suggesting she wear a lavendar paisley shall), Downton costume designer Caroline McCall infuses roaring '20s style elements into some of the other characters' outfits, including Lady Cora and Cousin Rose. Take a look at our favorite style moments from episode 1 below.
As with many silhouettes of the 1920s, undergarments also became less constraining (opens in new tab). Modeled after bloomers, the fabrics were looser, as seen in Lady Cora's lace nightgown and silk embroidered robe.
Always the most fashion forward of the group, Cousin Rose wears a cloche hat in the photo above, which became especially popular in the 1920s. The hat gets its name from its shape—cloche in French translates to bell.
Can we make a rule that every Downton episode include at least one train station scene? As with Lady Cora's silk robe, Lady Edith also dons an ensemble featuring delicate appliques. Lady Edith's outfits featured warm hues of red and orange throughout the season premiere, as shown in the ultra low-waisted silk dress below.