American Apparel Features 62-Year-Old Model
Timeless.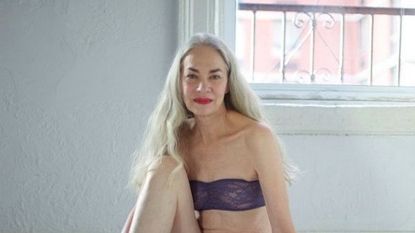 (Image credit: Marie Claire)
American Apparel is on a roll lately with its odes to natural female forms (hello, pubic hair on mannequins (opens in new tab)), this time using 62-year-old Jacky O'Shaughnessy as their latest lingerie model, according to Marie Claire UK (opens in new tab).
Released on American Apparel's Facebook and Instagram, the photo is accompanied with the tagline "Beauty has no expiration date." O'Shaughnessy, who has also modeled in campaigns for American Apparel's Advanced Basics line, looks nothing short of great in a lace bandeau underwear set.
We're seeing more and more companies incorporating varying forms of human bodies in their methods of advertising, from the creation of mannequins with disabilities, plus size mannequins in the United Kingdom (opens in new tab), to Barney's recent use of 17 transgender models in their newest Spring campaign (opens in new tab). It raises a point of aspirations vs. being comfortable with oneself — the inundation of thin models creates warped views of one's self image — a very twisted takeaway. By implementing new methods to appeal to more genuine body forms, people learn to not aspire to unattainable physical goals, but to be comfortable with themselves.
More from Marie Claire:
The Big Fur Ban (opens in new tab)
5 Iconic Bobs That Have Made History (opens in new tab)
The 5 Sexiest Hairstyles Ever (opens in new tab)
The History of Lingerie (opens in new tab)