Hair of Ages: Bob with a Bang
A brief history of the bob.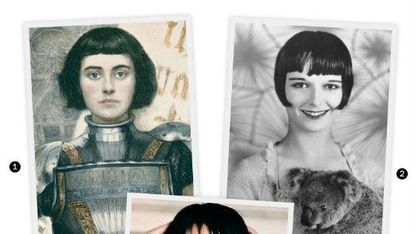 (Image credit: Marie Claire)
Wavy bob, straight bob, blunt bob — we like 'em all (opens in new tab) — especially with a bang. Check out some of our favorite statement bobs throughout history.
1. Joan of Arc (1412-1431) This fiercely independent gal kept her hair short while leading France to several victories against England during the 100 Years War and while she was imprisoned. The saint's wide-faced bob resurfaced in France almost five hundred years later, becoming the hair trend du jour of the early 1900s.
2. Louise Brooks (c. 1928) An American dancer and actress, Louise Brooks is credited with bringing the bob into mainstream fashion during the '20s. We dig the cropped edges and blunt bangs — just this past week, Miley sported a similar bleach blonde 'do.
3. Shannyn Sossamon (2002) With her short and wispy locks, Sossamon was the queen of the early 2000s bob. This style is still popular even a decade later. In fact, Lena Dunham herself tried to recreate the look this year (opens in new tab).
4. Lena Dunham (2013) Remember when Hannah from Girls (AKA Lena Dunham) had a mental breakdown and chopped all of her hair off? After her character's bowl cut disaster, Dunham decided to get a shorter 'do herself — this time a la Sossaman — and it looked quite nice.
5. Karlie Kloss (2013) In 2013, it was the bob copied 'round the world. The fashion industry's darling sheared off her locks, creating one sexified look that revealed Kloss' stunning cheekbones.