Tim Gunn: How to Wear Trench Coats and Nautical Stripes
The Project Runway style guru answers all your style conundrums. This month, he talks about the latest trends.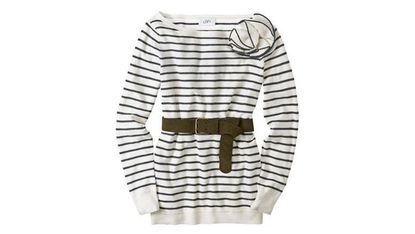 (Image credit: Ben Goldstien/Studio D)
Marie Claire Newsletter
Celebrity news, beauty, fashion advice, and fascinating features, delivered straight to your inbox!
Thank you for signing up to Marie Claire. You will receive a verification email shortly.
There was a problem. Please refresh the page and try again.
How to Wear Stripes
Q: "I love stripes, especially blue and white nautical ones, but I find them very difficult to wear. They're just not flattering on me. Any advice?"
A: The fact of the matter is, you may be correct — nautical stripes may not work for you. In fashion, nautical means horizontal, and in my experience, the larger the width of the stripe, the fewer people look good in it. Try narrower stripes and — since I assume that you're referring to knitted tops — try belting the item in either a corresponding or contrasting color. The belt's width should be wider than the stripes in the knit, because it will cause their width to diminish. Go to a favored retailer, try on myriad styles of nautical stripes, and have a ball bringing your own critical analysis to these looks in the dressing room. You may just find one that's perfect.
The Right Length
Q: "My husband just bought me a full-length Burberry trench coat: I love it, but I'm 5'2", and the coat falls below my knees. What is the proper length for a double-breasted trench coat? Should I have it hemmed?"
A: Lucky you! Your husband's gift should last a lifetime, which is why you'll want to wear it correctly. I have a colleague who is very chic in the office, but when she dons her trench coat, she instantly looks dowdy. Why? Because the coat's length and volume completely envelop her as though she were wearing a tent. Your trench should fall no lower than the bottom of your kneecaps. If you have a dress that falls lower than that, then alter the dress, too. In addition, examine where the built-in belt of the coat corresponds to your waist and proportions. When the length of the coat is altered, the belt may need to be moved up (probably not down). Both of these alterations can be successfully achieved by a good tailor.
Slim Enough for Skinny Jeans?
Q: "Skinny jeans are everywhere. But as a 5'9" (long torso), size-8 gal, I'm thinking these might not be the best look for me. Should the skinny look be reserved for the truly skinny figure (sizes 0 to 4), or is this trend for all?"
A: The skinny jean or pant that looks like a cousin of leggings isn't for everyone. In my point of view, it's a look that works only for teens and early-20-somethings. Period. However, you can certainly wear a fitted jean or pant, and with your long torso, you can even consider a high-waisted style. When shopping for jeans, I suggest a dark wash. The darker the wash, the more appropriate the jean is for cocktail parties and other evening gatherings, so pairing a higher heel with this look is more than apt, providing it fits into your lifestyle.
Celebrity news, beauty, fashion advice, and fascinating features, delivered straight to your inbox!