Get to Know Irina Lazareanu
The ballerina-turned-model-turned-singer has a personality as unforgettable as her face.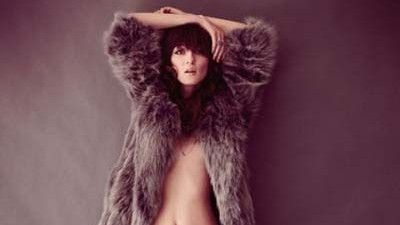 (Image credit: James Macari)
Former ballerina turned bad-girl queen of the runway, Irina Lazareanu has a personality that's as unforgettable as her face. Discovered by a modeling agent at 17, the Canada native recalls business being slow at first. "I didn't do anything for a long time," she says. "Then in 2004, Karl [Lagerfeld] and the good people at Chanel took me under their wing." With that, every major fashion house came a-calling: Marc Jacobs, Marni, Fendi, Burberry, Miu Miu, YSL — you name the runway, she's walked it.
Behind the scenes of the shows and photo shoots, an artist quietly grew. Lazareanu, with the help of former fiancé, musician Pete Doherty, began turning her poetry into song. As muse to the infamous singer of Babyshambles and The Libertines, Lazareanu found her voice touring with the bands. A few years later, a chance New York encounter with Sean Lennon (progeny of John Lennon and Yoko Ono) would lead to an album of her own. "It's a funny story," she says, of bonding with Lennon at Mariah Carey's house, of all places. "We were running around in these pink fur coats and ended up singing songs in Mariah's Hello Kitty bathroom." The album, Some Place Along the Way, features Lazareanu's spoken word with Lennon's folksy acoustics. "It's written exactly like a short story," she says. "Every song is a page in the book." Given the model's envious life, it's a musical adventure not to be missed.