12 Editors on Their Favorite Jeans of All Time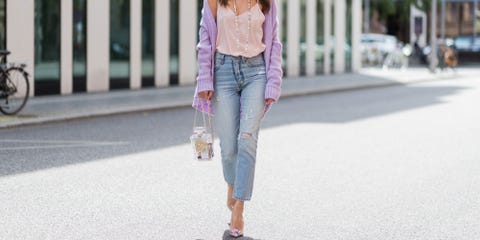 The thing about great jeans is that once you find the right fit (the ones that don't need tailoring and fit like a damn glove), it's hard to quit. Here, 12 Marie Claire editors and contributors weigh in on the best jeans they've ever worn, from life-long favorites to recent flings. Bonus? Many of the styles listed are affordable guilty pleasures, which just shows that it doesn't take designer denim to feel comfortable and chic.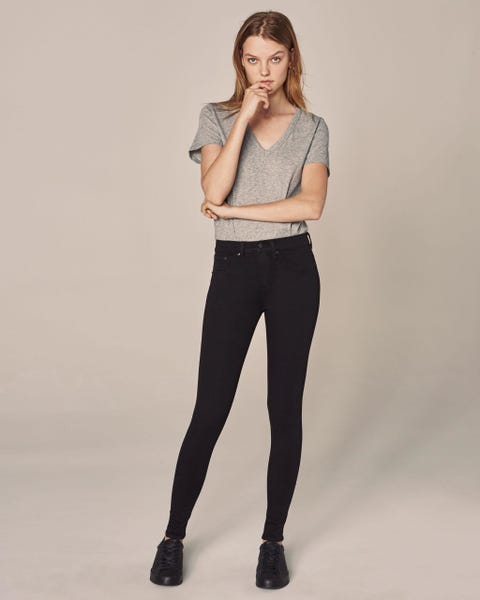 Taylore Glynn, Beauty and Health Assistant
"I only have eyes for two kinds of jeans: the baggiest of boyfriends and skinnies so tight they could function as a tourniquet. Anything in between does nothing for my hourglass figure, and I've ripped the belt loops off of many pairs to yank slouchy, stretched-out waistbands back up over my hips. Unpopular opinion? Broken-in denim sucks. Since college, I've worshipped at the altar of Rag & Bone: their offerings compress my thighs and lift my ass, never lose their shape, and hit the optimal length for my long legs (that cropped business makes me look like an overgrown Keebler elf)."
RAG & BONE High Rise Skinny, $198
BUY IT: rag-bone.com.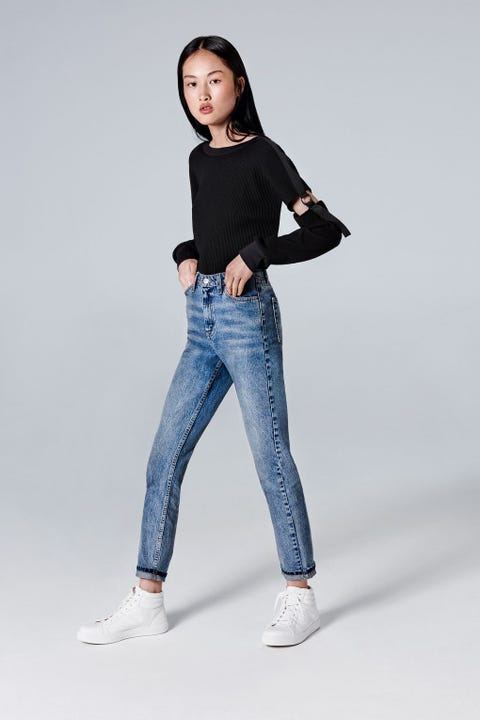 Chelsea Peng, Assistant Editor
"I love denim more than it loves me. But for all my struggles being short-torso-ed and relatively long-inseamed in a world that doesn't always carry odd-number waist sizes, I've still found some brands that are always there for me. AYR makes a cropped style with a subtle kick flare (nothing similar available right now, unfortunately) that's super soft and stretchy, while Topshop's mom jeans are exactly the sort of long-crotched, man-repelling denim go for. And because they're classic and carve out a thigh gap like no other, J. Brand. Forever."
MOTO Mid Blue Mom Jeans, $70
BUY IT: topshop.com.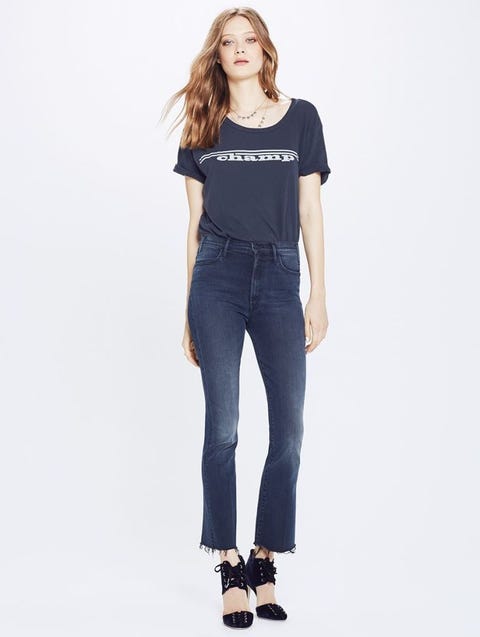 Carolina O'Neill, Senior Fashion and Accessories Editor
"I love a cropped leg (it's so Parisian chic!) and this MOTHER cropped style feels effortless. The leg opening is just big enough so that it doesn't hug my athletic calves too tightly, and the high-waisted top coupled with the kick flare bottom is super slimming. AND—no tailoring required. If they're too long, just pull out the scissors. It's how I did mine!"
MOTHER Denim Hustler Ankle Fray, $215
BUY IT: motherdenim.com.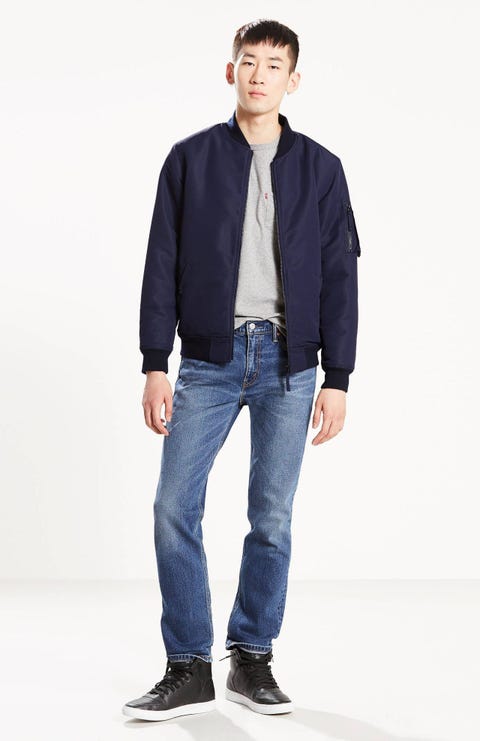 Alexandra Engler, Associate Beauty and Health Editor
"The first time I 'borrowed' a pair men's Levi's, I was 17 and they were my brother's gloriously broken-in, stonewashed 501s. I wore them all summer. To this day, a good pair of 501s reminds me of late nights around a campfire. I just like the way men's jeans feel: The material is thicker and more durable with less constricting cuts and lines. Plus, I like the contrast between the tomboy-ish look and my curvy-ish frame. A decade later I'm still 'borrowing' (or occasionally buying vintage) men's Levi's. Right now I'm wearing 511 Slim Fit in Bebop. They sit super low on my hips and look great with a bodysuit and fun, playful stilettos."
Levis 511 Slim Fit Jeans, $70
BUY IT: levis.com.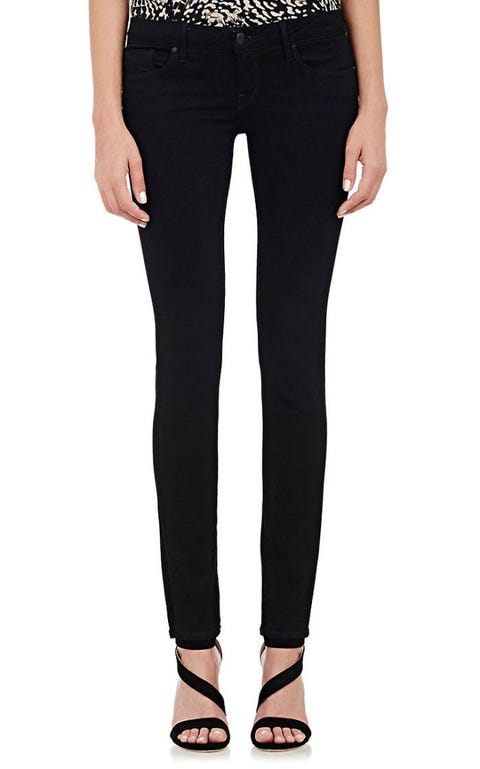 Lori Keong, Assistant Editor
"I've lived in Gap jeans since my awkward teens in every style under the sun. For some reason, their petites are the only jeans that fit my short, hippy frame well. However, I was recently turned onto L'Agence jeans, and they are the best dark skinny jeans any all-black New Yorker could want. They fit snug in the leg (so no slim fit action when you really need skinny), and they have never faded ever, no matter how many laundry cycles they endure. The regular length is sliiightly too long, so I've had to alter them, but it's small change for the perfect skinny jeans. Special shoutout to 3x1's exceptionally flattering high-waisted denim, too."
L'Agence Chantal Skinny Jeans, $225
BUY IT: barneys.com.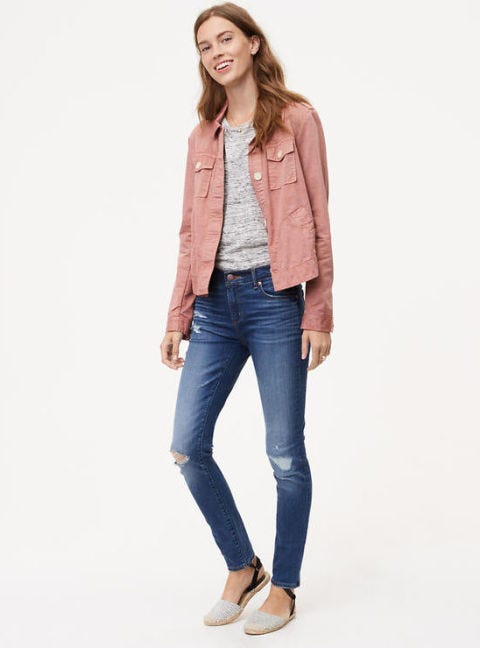 Mehera Bonner, Entertainment Editor
"The only jeans I can function in are by Anne Taylor Loft (yes, feel free to judge me)—more specifically, their mid-rise skinny jeans. I am very tall at 5' 11", and finding jeans that fit is the actual worst. But there's something about Anne Taylor jeans that make me look shorter without actually shortening my legs. I don't know what their deal is, but I can only assume they're magical. The jeans are insanely flattering on the butt, hit just above the hip bone, and fully hide any muffin top emergencies. Plus, they are always on sale. I don't know why Anne Taylor isn't promoting the hell out of these, so I guess I'll do it for them. This has been a PSA."
Ann Taylor Loft Modern Skinny Jeans, $80
BUY IT: loft.com.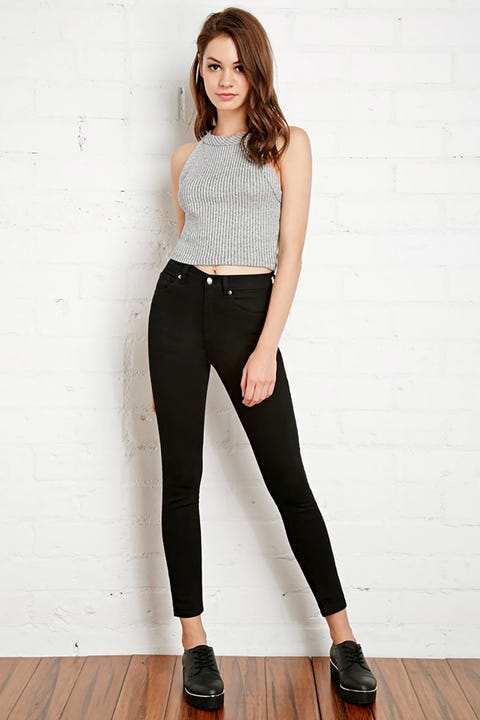 Samantha Leal, Senior Editor
"I LOVE jeans. I'm a big Citizens of Humanity girl for anything—they pretty much nail every style, aren't too long (I'm 5'2"!), and aren't *too* pricey. (Plus they make your butt look great.) I'm also in love with Mother's crop fray jeans. They're perfectly distressed at the bottom, are great for any height (especially us shorties), and they get bonus points for being a favorite among Hollywood right now. Lastly, for the budget buyer in me who hates spending mad money on anything, I buy Forever 21 jeans all. the. time. I'm currently in love with the high-rise black jeans which go for a whopping $10 and fit great."
Forever 21 High Rise Skinny Jeans, $10
BUY IT: forever21.com.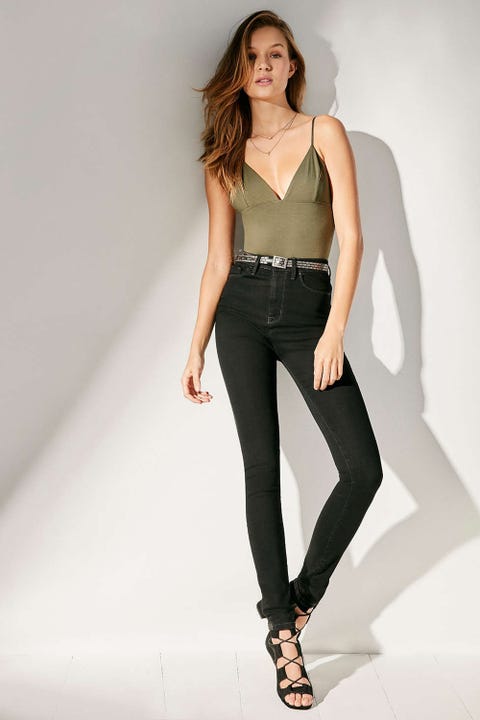 Rosa Heyman, Senior Editor, Social Media & Video Strategy
"My favorite pair of jeans come from Urban Outfitters—the BDG jeans in a high rise, slim fit. Everything about these jeans is flattering. I love the high-rise cut of the pant (they make my legs look extra long), but also the denim is thin so the waist doesn't feel bulky. It sort of sucks you in, which I always think is requisite of a good pair of jeans, and makes me look like I have a booty, which I don't really have."
Similar style: BDG Twig High-Rise Skinny Jeans, $58
BUY IT: urbanoutfitters.com.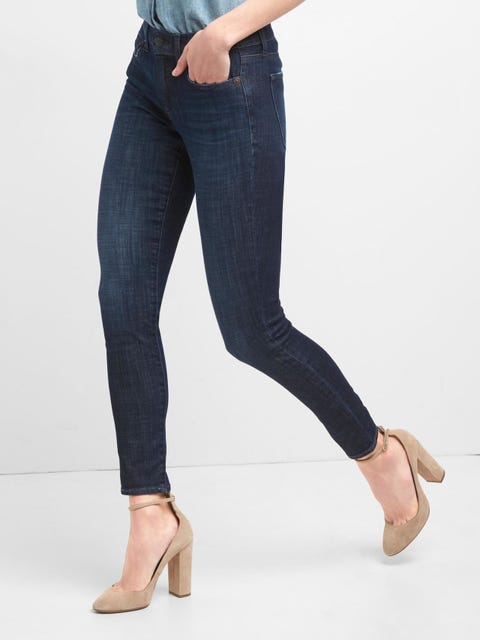 Kelly Tunney, Contributor
"When it comes to pants, I have somewhat…problematic (read: larger) thighs. So I've always struggled in the denim department. Generally, I look for a stretchy jean in a dark wash. When I first moved to New York, I had a part time job at Gap while interning and fell in love with their jeans. The True Skinny is basically the Legging jean but better, with a higher rise that looks great from the back and a skinny fit through the ankle. I have far too many pairs, mostly in black."
GAP Stretch 1969 True Skinny Jeans, $42
BUY IT: gap.com.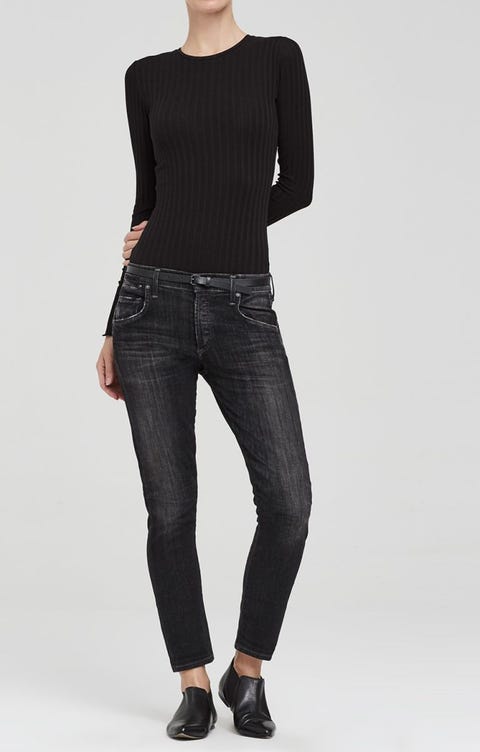 Andi Henke, Contributor
"I'm a West Coast girl still a little stuck in my Abercrombie & Fitch days when it comes to denim. The more beat up and slouchy— the better! My go-to's are my Citizens of Humanity distressed boyfriend jeans. The pockets sit lower than most jeans, which I feel is flattering for girls with any sort of booty. Seriously, there's nothing I hate more in jeans than teeny-tiny pockets that are too high up. Also, I love a skinny jean but there's something equally sexy and cool about jeans that aren't too constricting."
Citizens of Humanity Emerson Slim Fit Boyfriend, $248
BUY IT: citizensofhumanity.com.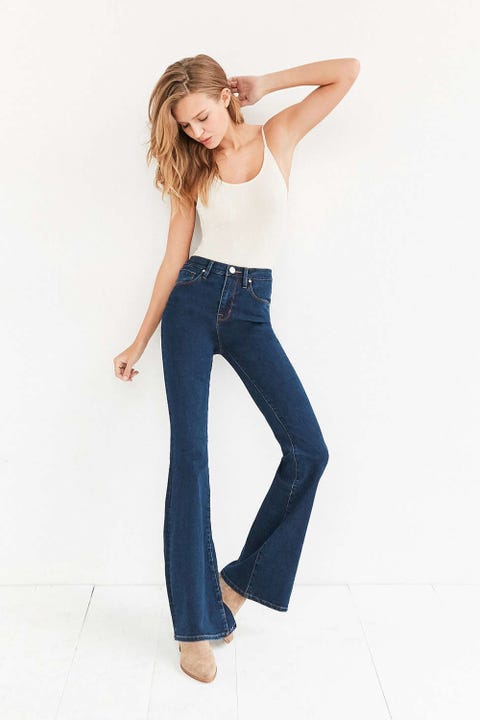 Lauren Valenti, Beauty Editor
"For most of my life I was that girl that NEVER wore jeans. Then I happened upon a $10 pair of high-waisted BDG flares on an Urban Outfitters sale rack and nothing was the same. They fit me like a glove and I felt like a new, foxier version of myself. I actually searched several locations to buy up as many pairs as possible. I think I have like five pairs of them. They ended up being the gateway to a full-blown, '70s-inspired denim addiction and I'm not mad about it. They also came into my life at a time where I was fully embracing my hourglass figure, which is not something I'd always done. They cinched my waist and made my sizable butt look more pert."
BDG Morrison High Rise Flare, $64
BUY IT: urbanoutfitters.com.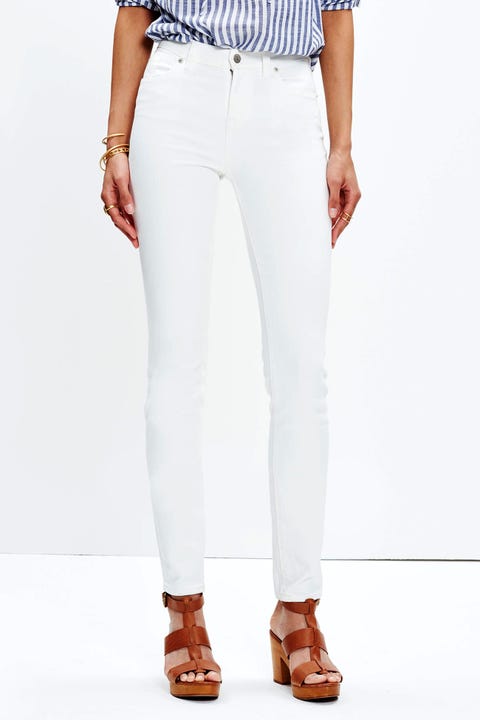 Lauren Bernstein, Branded Content Senior Editor
"I currently own four pairs of Madewell Alley Straight jeans in addition to two pairs of white Skinny Skinny jeans. So yeah, you could say that when I find something I like, I buy it in bulk! I generally like a slim cut jean that sort of kicks out above the ankle (balances the hips), but at 5'10" tall, a lot of "cropped" styles look like they shrank in the wash. So I wear "regular" length jeans when I'm looking for something cropped. The Skinny Skinny's have a 29" inseam which is a perfect cropped length for me—but they also come in 'Tall' and 'Taller,' which I appreciate for when I want a slightly longer cut."
Madewell Skinny Skinny Jeans, $125
BUY IT: madewell.com.
This content is created and maintained by a third party, and imported onto this page to help users provide their email addresses. You may be able to find more information about this and similar content at piano.io