Meet the Project Runway Designers
Get to know the new designers of the eighth season of Project Runway!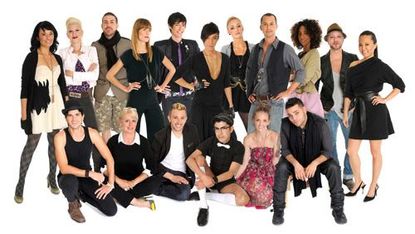 (Image credit: Courtesy of Lifetime Television)
Get to know the Season 8 contestants, and predict who you think will win it all.
1/18
Season 8 Contestants
Let the fashion fun begin! More designers than ever in Project Runway history are competing in this season's expanded 90-minute competition. Alongside host Heidi Klum, mentor Tim Gunn, and judges Michael Kors and Nina Garcia (Marie Claire's fashion director), click through and predict who will be in...and who will be saying "Auf Wiedersehen" each week!
2/18
April Johnston
Age: 21

Hometown: Mooresville, North Carolina

Current city: Savannah, Georgia
3/18
A.J. Thouvenot
Age: 26

Hometown: St. Louis, Missouri

Current city: St. Charles, Missouri
4/18
Kristin Haskins-Simms
Age: 38

Hometown: Philadelphia, Pennsylvania

Current city: Philadelphia, Pennsylvania
5/18
Casanova
Age: 33

Hometown: Fajardo, Puerto Rico

Current city: Astoria, New York
6/18
Gretchen Jones
Age: 28

Hometown: Fairplay, Colorado

Current city: Portland, Oregon
7/18
Christopher Collins
Age: 30

Hometown: Encinitas, California

Current city: San Francisco, California
8/18
Andy South
Age: 23

Hometown: Waianae, Hawaii

Current city: Honolulu, Hawaii
9/18
Peach Carr
Age: 50

Hometown: Winfield, Illinois

Current city: Lake Forest, Illinois
10/18
Michael Drummond
Age: 31

Hometown: St. Louis, Missouri

Current city: St. Louis, Missouri
11/18
Ivy Higa
Age: 30

Hometown: Seoul, South Korea, and Kailua-Kona, Hawaii

Current city: New York City
12/18
Mondo Guerra
Age: 32

Hometown: Denver, Colorado

Current city: Denver, Colorado
13/18
Jason Troisi
Age: 33

Hometown: Greenwich, Connecticut

Current city: Greenwich, Connecticut
14/18
Valerie Mayen
Age: 28

Hometown: Corpus Christi, Texas

Current city: Cleveland, Ohio
15/18
McKell Maddox
Age: 29

Hometown: Brigham City, Utah

Current city: Layton, Utah
16/18
Nicholas D'Aurizio
Age: 31

Hometown: Hackensack, New Jersey

Current city: New York City
17/18
Sarah Trost
Age: 27

Hometown: Frazier Park, California

Current city: Toluca Lake, California
18/18
Michael Costello
Age: 27

Hometown: Los Angeles

Current city: Palm Desert, California