The 17 Best Engagement Ring Brands I Can't Stop Bookmarking
From Catbird to Mejuri.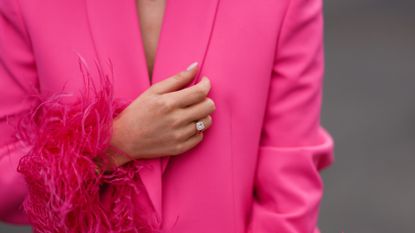 (Image credit: Jeremy Moeller/Getty Images)
Here's a fun fact about me: I think I'm getting engaged in 2023. I say "think" because, despite the fact that my boyfriend and I have spent hours talking about the fact that we want to spend our lives together, one can never be too sure about such important life decisions. Also, my boyfriend, while stylish in his own right, has no idea where and how to shop for engagement rings—he's well-versed in the best jewelry brands, but a little clueless about engagement ring brands specifically—and I'm feeling helpful. Therefore, I ventured on a journey into my Instagram shared folder to track down the best engagement ring brands.
But a packed Instagram saved folder does not a ring expert make. So, I turned to real experts—the people at the brands behind some of the most popular rings—to guide me through how to shop for an engagement ring, the differences between lab-grown and natural diamonds, different types of cuts, how diamond rings are priced (some brands are more affordable than I thought!), and which styles are popular right now.
The "Four Cs"
Before you start considering rings, it's important to understand what experts call the "Four Cs": Cut, Clarity, Color, and Carat. Think of them as guideposts if you're new to shopping. "The "four C's" are commonly the first thought when it comes to engagement ring shopping, but we always encourage shoppers to explore what feels beautiful and magical to them," says Leigh Batnick Plessner, the Chief Creative Officer at New York-based jewelry brand Catbird. Ahead, Plessner breaks down the "four Cs" for first-time buyers.
Cut: "Cut refers to the way the rough gem was sliced and faceted to increase its brilliance. Different cuts will reflect light differently."
Clarity: "Clarity is a rating on what some may call 'imperfections;' we prefer to call them 'one-of-a-kind characteristics."
Color: "Color is a scale for white diamonds ranging from pure white (D) to yellow (Z)."
Carat: "Carat doesn't always reflect the diameter of a stone which is important to remember; different cuts can hide or accentuate a stone's profile."
How Are Engagement Rings Priced?
While every engagement ring brand does pricing differently, the cost generally reflects the four aspects mentioned above, as well as other factors—if you got the ring customized, for example, or if more than one stone is added, or if the brand hand-makes all of their rings.
"The quality and the cut of the materials play a factor in pricing but also footprint and impact," says Plessner about Catbird's rings. "Our Wedding & Engagement collection is handmade locally, which is important not only from a carbon footprint perspective, but also allows us to work efficiently, eliminate middlemen, and offer exceptional quality and friendly prices."
The Best Engagement Ring Brands
Now that you're armed with the basics, keep scrolling for my personal favorite engagement ring brands. You'll also be able to find the price range of any given brand, any special services they offer, and details on their shipping and return policies if you're shopping online.
Catbird
Founded in 2004, New York City-based brand Catbird has become a go-to for anyone craving sweet, stackable jewelry with a whimsical touch. The brand gained a cult following thanks to adoring fans like Liv Tyler, Lorde, and Phoebe Bridgers. Catbird uses both cultivated and recycled diamonds in their settings.
Price Range: $230 to $12,500
Special Services: Catbird offers complimentary virtual or in-person consultation at the Catbird Wedding Annex in New York City. If you're unclear about what size or color metal you need for your ring, you can purchase a Home Try-On Kit for $25. The brand also offers engraving on select band styles, and has a concierge customer team that's always available via live chat and email. For more detailed information, check out Catbird's Wedding & Engagement Warranty.
Shipping & Returns: Shipping information can be found on Catbird's website, and return information too
Charles & Colvard
A pioneer in the lab-grown diamond space, Charles & Colvard has combined timeless elegance with sustainability. You can choose from their Forever One Moissanite and their Caydia® Lab Grown Diamonds in a selection of wedding bands, engagement rings, and fine jewelry.
Price Range: Up to $18,000
Special Services: Charles & Colvard offers free VIP virtual consultations for all clients. The brand also offers financing starting from 0%, free returns for up to 30 days, free warranty on products, plus free and fast shipping.
Shipping & Returns: Charles & Colvard offers free international shipping. If you need your ring faster, expedited shipping can be purchased separately at checkout. Insofar as a return policy, the brand offers 30 days for a free return.
3.01 CTW DEW Elongated Oval Forever One Moissanite Cathedral East-West Solitaire with Side Accents Ring 14K White Gold
Mejuri
You already know Mejuri for their selection of easy-to-wear small gold hoops and silver pieces. They work directly with suppliers to get you the best price on all of your fine jewelry pieces, including your engagement ring. Mejuri's Wedding Shop offers both engagement rings and wedding bands in five materials: 4k Yellow & White Gold, Diamonds, Titanium, and Black Titanium.
Engagement Ring Price Range: $128 to $3,100 (this includes Mejuri's standard wedding bands)
Any Special Services Available: Mejuri offers engraving on most pieces in the collection for a personalized touch. Plus, you can book either in-person or virtual appointments with one of their experienced stylists.
Shipping/Return Policy: Because some pieces are made to order, it takes longer for Mejuri to produce and ship engagement and wedding bands. Estimated shipping dates are on every product page. Engraved pieces cannot be returned.
Popular Styles: "We're seeing more customers lean into bands as their engagement ring as opposed to a traditional solitaire," says Justine Lançon, Chief Creative Officer of Mejuri. " It is a modern and unique yet timeless approach to the engagement ring. Bands, such as our 3mm Bold Diamond Eternity Band and Pavé Diamond Soft Charlotte Ring, can also be stacked with any of your existing pieces, making it easy to switch up your stack based on your mood. These bands are also engravable, as our customers are always seeking that personal touch."
KATKIM
Los Angeles-based brand KATKIM has sustainability at its core. Every piece of jewelry is handmade in Los Angeles, and the brand has gained fans like Rihanna, Lady Gaga, and Dua Lipa. Their engagement rings are for those who are looking for something a little out of the box. Think: swirled, delicate shapes combined with chunkier gold bands.
Price Range: $1,480 to $42,600
Special Services: KATKIM offers one-on-one appointments with experts for their engagement rings and wedding bands, as well as pieces for special occasion gifting. These specialists will walk you through every single step of the engagement ring-buying process, including finding the most unique stone and style for you.
Shipping & Return Policy: All engagement rings—including customizable pieces— are final sale because every piece is handmade to order at KATKIM's studio. You cannot return or exchange either engagement rings or customized pieces.
VRAI
If you're looking for a modern, sleek engagement ring made with lab-grown diamonds, come to VRAI. Every stone is made from Diamond Foundry, its zero-emission and carbon-neutral foundry in America's Pacific West. The Diamond Foundry is also vertically integrated to guarantee transparency across all levels of design. Shoppers can choose from seven shapes and hundreds of customizable variations, including multi-stone rings and pavé bands.
Price Range: Starting at $1,000
Special Services: All fine jewelry—including engagement rings—from VRAI has the brand's Lifetime Warranty & Guarantee, so be sure to peruse that before purchasing. If you have a smaller ring that you want to get upgraded later, the band also has an Upgrade Program. VRAI also offers complimentary resizing within one full size—excluding eternity bands—as well as an annual shine and deep clean to keep your ring looking its best.
Shipping & Returns: Shipping time varies by type of ring and design, and the information for each is on the product page. The brand requires a $200 recycling fee that will be deducted from each engagement ring refund. This fee covers the cost of unsetting the stones and melting the gold so it can be reused. Every purchase of an engagement or wedding band from VRAI comes with the brand's Lifetime Care Package, which allows for complimentary resizing within one full U.S. size.