The 16 Best Engagement Ring Brands I Can't Stop Bookmarking
From Catbird to Mejuri.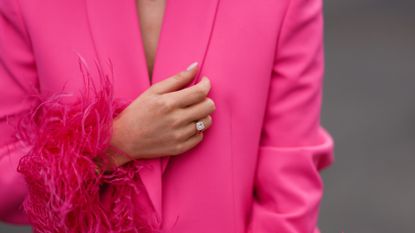 (Image credit: Jeremy Moeller/Getty Images)
Here's a fun fact about me: I think I'm getting engaged in 2023. I say "think" because, despite the fact that my boyfriend and I have spent hours talking about the fact that we want to spend our lives together, one can never be too sure about such important life decisions. Also, my boyfriend, while stylish in his own right, has no idea where and how to shop for engagement rings—he's well-versed in the best jewelry brands, but a little clueless about engagement ring brands specifically—and I'm feeling helpful. Therefore, I ventured on a journey into my Instagram shared folder to track down the best engagement ring brands.
But a packed Instagram saved folder does not a ring expert make. So, I turned to real experts—the people at the brands behind some of the most popular rings—to guide me through how to shop for an engagement ring, the differences between lab-grown and natural diamonds, different types of cuts, how diamond rings are priced (some brands are more affordable than I thought!), and which styles are popular right now.
The "Four Cs"
Before you start considering rings, it's important to understand what experts call the "Four Cs": Cut, Clarity, Color, and Carat. Think of them as guideposts if you're new to shopping. "The "four C's" are commonly the first thought when it comes to engagement ring shopping, but we always encourage shoppers to explore what feels beautiful and magical to them," says Leigh Batnick Plessner, the Chief Creative Officer at New York-based jewelry brand Catbird. Ahead, Plessner breaks down the "four Cs" for first-time buyers.
Cut: "Cut refers to the way the rough gem was sliced and faceted to increase its brilliance. Different cuts will reflect light differently."
Clarity: "Clarity is a rating on what some may call 'imperfections;' we prefer to call them 'one-of-a-kind characteristics."
Color: "Color is a scale for white diamonds ranging from pure white (D) to yellow (Z)."
Carat: "Carat doesn't always reflect the diameter of a stone which is important to remember; different cuts can hide or accentuate a stone's profile."
How Are Engagement Rings Priced?
While every engagement ring brand does pricing differently, the cost generally reflects the four aspects mentioned above, as well as other factors—if you got the ring customized, for example, or if more than one stone is added, or if the brand hand-makes all of their rings.
"The quality and the cut of the materials play a factor in pricing but also footprint and impact," says Plessner about Catbird's rings. "Our Wedding & Engagement collection is handmade locally, which is important not only from a carbon footprint perspective, but also allows us to work efficiently, eliminate middlemen, and offer exceptional quality and friendly prices."
The Best Engagement Ring Brands
Now that you're armed with the basics, keep scrolling for my personal favorite engagement ring brands. You'll also be able to find the price range of any given brand, any special services they offer, and details on their shipping and return policies if you're shopping online.
Catbird
Founded in 2004, New York City-based brand Catbird has become a go-to for anyone craving sweet, stackable jewelry with a whimsical touch. The brand gained a cult following thanks to adoring fans like Liv Tyler, Lorde, and Phoebe Bridgers. Catbird uses both cultivated and recycled diamonds in their settings.
Price Range: $230 to $12,500
Special Services: Catbird offers complimentary virtual or in-person consultation at the Catbird Wedding Annex in New York City. If you're unclear about what size or color metal you need for your ring, you can purchase a Home Try-On Kit for $25. The brand also offers engraving on select band styles, and has a concierge customer team that's always available via live chat and email. For more detailed information, check out Catbird's Wedding & Engagement Warranty.
Shipping & Returns: Shipping information can be found on Catbird's website, and return information too
Charles & Colvard
A pioneer in the lab-grown diamond space, Charles & Colvard has combined timeless elegance with sustainability. You can choose from their Forever One Moissanite and their Caydia® Lab Grown Diamonds in a selection of wedding bands, engagement rings, and fine jewelry.
Price Range: Up to $18,000
Special Services: Charles & Colvard offers free VIP virtual consultations for all clients. The brand also offers financing starting from 0%, free returns for up to 30 days, free warranty on products, plus free and fast shipping.
Shipping & Returns: Charles & Colvard offers free international shipping. If you need your ring faster, expedited shipping can be purchased separately at checkout. Insofar as a return policy, the brand offers 30 days for a free return.
Mejuri
You already know Mejuri for their selection of easy-to-wear small gold hoops and silver pieces. They work directly with suppliers to get you the best price on all of your fine jewelry pieces, including your engagement ring. Mejuri's Wedding Shop offers both engagement rings and wedding bands in five materials: 4k Yellow & White Gold, Diamonds, Titanium, and Black Titanium.
Engagement Ring Price Range: $128 to $3,100 (this includes Mejuri's standard wedding bands)
Any Special Services Available: Mejuri offers engraving on most pieces in the collection for a personalized touch. Plus, you can book either in-person or virtual appointments with one of their experienced stylists.
Shipping/Return Policy: Because some pieces are made to order, it takes longer for Mejuri to produce and ship engagement and wedding bands. Estimated shipping dates are on every product page. Engraved pieces cannot be returned.
Popular Styles: "We're seeing more customers lean into bands as their engagement ring as opposed to a traditional solitaire," says Justine Lançon, Chief Creative Officer of Mejuri. " It is a modern and unique yet timeless approach to the engagement ring. Bands, such as our 3mm Bold Diamond Eternity Band and Pavé Diamond Soft Charlotte Ring, can also be stacked with any of your existing pieces, making it easy to switch up your stack based on your mood. These bands are also engravable, as our customers are always seeking that personal touch."
KATKIM
Los Angeles-based brand KATKIM has sustainability at its core. Every piece of jewelry is handmade in Los Angeles, and the brand has gained fans like Rihanna, Lady Gaga, and Dua Lipa. Their engagement rings are for those who are looking for something a little out of the box. Think: swirled, delicate shapes combined with chunkier gold bands.
Price Range: $1,480 to $42,600
Special Services: KATKIM offers one-on-one appointments with experts for their engagement rings and wedding bands, as well as pieces for special occasion gifting. These specialists will walk you through every single step of the engagement ring-buying process, including finding the most unique stone and style for you.
Shipping & Return Policy: All engagement rings—including customizable pieces— are final sale because every piece is handmade to order at KATKIM's studio. You cannot return or exchange either engagement rings or customized pieces.
VRAI
If you're looking for a modern, sleek engagement ring made with lab-grown diamonds, come to VRAI. Every stone is made from Diamond Foundry, its zero-emission and carbon-neutral foundry in America's Pacific West. The Diamond Foundry is also vertically integrated to guarantee transparency across all levels of design. Shoppers can choose from seven shapes and hundreds of customizable variations, including multi-stone rings and pavé bands.
Price Range: Starting at $1,000
Special Services: All fine jewelry—including engagement rings—from VRAI has the brand's Lifetime Warranty & Guarantee, so be sure to peruse that before purchasing. If you have a smaller ring that you want to get upgraded later, the band also has an Upgrade Program. VRAI also offers complimentary resizing within one full size—excluding eternity bands—as well as an annual shine and deep clean to keep your ring looking its best.
Shipping & Returns: Shipping time varies by type of ring and design, and the information for each is on the product page. The brand requires a $200 recycling fee that will be deducted from each engagement ring refund. This fee covers the cost of unsetting the stones and melting the gold so it can be reused. Every purchase of an engagement or wedding band from VRAI comes with the brand's Lifetime Care Package, which allows for complimentary resizing within one full U.S. size.
Brilliant Earth
Founded in 2005, Brilliant Earth uses both natural and lab-grown diamonds to create their wedding bands and engagement rings. Shoppers can choose from four metals—white gold, rose gold, platinum, and yellow gold—as well as a variety of settings. The brand is great if you're looking for classic, timeless pieces in a variety of cuts and sizes.
Price Range: $490 to $5,150
Special Services: Brilliant Earth offers virtual appointments with ring specialists. Plus, they offer a "Find My Matching Wedding Ring" service which allows you to select the metal type, diamond shape, and style of your engagement ring and see it styled alongside a variety of different wedding bands. With their Virtual Try-On feature, you can see how it looks on your hand directly from your phone.
Shipping & Returns: Brilliant Earth offers complimentary 30-day returns for a full refund. For eligible orders, the return, exchange, and resize policy timelines begin when your purchase is available for shipment or pickup. The brand also offers free shipping on all rings, loose diamonds, and loose gemstone orders, and will supply you with a return label.
Logan Hollowell
Pieces from Logan Hollowell are made by hand in Los Angeles using 14k and 18k recycled gold and gemstones that have been ethically sourced from around the world. Pieces are made with intention and are made to last as heirlooms in your collection.
Price Range: Diamond engagement rings are priced from $10,000 to $75,000+. Gemstone rings are priced between $2,000 and $30,000+
Special Services: Each Logan Hollowell ring is made with a hand-selected stone, and any gemstone can be used. The brand offers lab-grown diamonds, too, and can accommodate any preferences you have about the origin of your stone. Worldwide, in-person, and virtual appointments are available, and the majority of stones are GIA-certified.
Shipping & Returns: The brand offers insured worldwide shipping. Returns are unavailable on made-to-order engagement rings.
Devereux
Devereux is the place to shop for a ring if you have an heirloom that you'd like to refurbish, or are otherwise interested in shopping for a vintage ring for the special person in your life. The brand exclusively uses recycled gold and reclaimed diamonds in their pieces, offering a variety of made-to-order pieces as well as a selection of one-of-a-kind antique rings via a separate collection called Lore. You can meet with the brand for bespoke design services not just for your engagement ring in your life, but for any jewelry you want to update—the brand is centered around pieces that have meaning to you, and only you.
Price Range: Custom engagement rings from Devereux start at $3,000
Special Services: Devereux specializes in reworking family rings into new creations as well as refurbishing antique engagement rings, so this is the spot for you if you have a stone that will need an update.
Shipping & Returns: Customized antique pieces ship within 72 hours of purchase, and returns on those are accepted within 7 days. Custom pieces are final sale and are nonrefundable.
The Clear Cut
New York City-based brand The Clear Cut specializes in custom natural diamond engagement rings and other fine jewelry. While many options on the site are custom-made, there are some styles that are ready to ship. Their team of GIA Graduate Gemologists walk you through the process from beginning to end, and the brand prides itself on timeless pieces with a future-forward approach.
Price Range: $5,000 and go above $500,000
Special Services: Every client that works with The Clear Cut has the chance to create a one-of-a-kind NFT. The NFT will contain all of the important documents that come with your ring, including any GIA certificates and insurance reports, as well as any changes or upgrades you make in the future, and any special photos or videos that came with your engagement. Everything will be encrypted and saved on the blockchain for life. Plus, everyone who works with The Clear Cut to create their ring has access to the brand's gem portal, which grants them access to a GIA-certified gemologist throughout the entire process via an online portal. This means that the entire process can be done virtually. The Clear Cut does not sell lab-grown diamonds.
Shipping & Returns: All rings are made to order in New York City. Shipping generally takes between 3-5 weeks. Because the rings are custom-made, there is nop possibility for refund or exchange. Repairs and resizes are available, and some pieces are available for upgrades.
Design Mantra: "In our mission to become this generation's jeweler for life, we're working toward making the diamond buying experience more simplified and less intimidating for the new generation of consumers," says Founder and COO Olivia Landau. "Rather than walking up to your traditional diamond counter and pointing at a ring already complete, like a lot of our parents did, our process starts with the diamond itself, and you have a diamond pro in your back pocket guiding you the entire way. For a lot of people, a diamond ring is one of the most significant purchases of life—we want our clients to feel supported and comfortable!"
Ring Concierge
The Ring Concierge is a New York City-based brand with fans like Jessica Alba and Shay Mitchell. Founded by Nicole Wegman in 2013, Ring Concierge designs engagement rings, wedding bands, and other fine jewelry. You can buy both ready-to-ship and bespoke options, and they offer an at-home try-on program so you know you're making the right decision before you buy.
Price Range: Bespoke rings start at $10,000
Special Services: The brand's range of bespoke engagement rings begins with in-person and remote consultations with a GIA (Gemological Institute of America) Certified diamond specialist.
Shipping & Returns: The brand recommends speaking with a diamond specialist between 8-10 weeks before you would like to have your finished ring. Tighter deadlines can be negoiated. All Ring Concierge bespoke engagement rings always come with fully insured shipping and require signature upon delivery. Because all rings are custom-made for each individual client, Ring Concierge does not offer the ability to cancel, refund, or exchange an order once it is placed. However, every bespoke engagement ring has a lifetime warranty.
Brand Identity: "I started Ring Concierge in 2013 after going through the engagement ring shopping process myself and realized there was a void in the market for a brand that understood how a female millennial wanted to shop," says Nicole Wegman, founder and CEO of Ring Concierge. "I launched the brand to create a transparent, female-first experience that empowered women to be a part of the process. Each client works one-on-one with a diamond specialist to educate them and help them navigate the process."
Simon G.
Pieces from Simon G. are red carpet staples—Ayo Edebiri recently wore a piece by the brand to the SAG Awards. The Los Angeles-based fine jewelry brand has over 40 years of experience and can be found in over 900 locations worldwide. All Simon G. pieces are made-to-order, so the brand has no in-stock or ready-to-ship pieces.
Price Range: Rings start at $820 up to $11,000, but the average price for the collection is around $2200, not including the center stone
Special Services: Every aspect of every ring is customizable at Simon G.; matching bands are available for each ring. The rings also have a lifetime warranty and you can shop in one of their stores as well as online.
Shipping & Returns: Customized rings from Simon G. are available in between 4 and 6 weeks, and shipping is free in the United States. Rings that haven't been customized and were purchased online are eligible for a refund within 14 days. However, return polices do vary by location.
Love Adorned
New York City-based brand Love Adorned gives prospective brides an abstract and dreamy take on the modern engagement ring. The brand focuses on vintage and one-of-a-kind pieces, and offers pieces that feature a variety of stones—not just diamonds.
Price Range: $1,000 to $16,000
Special Services: Aside from creating a full range of customized pieces, Love Adorned's founder, Lori Leven, will also source antique and vintage pieces to include in your ring.
Shipping & Returns: Online orders can be returned for a full refund within 10 days of receipt. In-store purchases can be returned for store credit within 10 days of purchase.
Stephanie Gottlieb
Specializing in both bespoke and readymade pieces, Stephanie Gottlieb is known for their range of classic-feeling pieces with a twist. You can choose from one of three main collections when shopping on the site: The Ring Vault houses the brand's selection of ready-made pieces; the Signature Settings tab allows you to shop iconic settings so you can design your own ring; and the Prisms by SG collection focuses on stones sized between 0.75ct-1.99cts,
Price Range: Bespoke engagement rings start at $20,000
Special Services: The bespoke bridal collection at Stephanie Gottlieb operates via a high-touch concierge-style service where consultants work with each client to find their perfect cut. All rings are handcrafted in New York City. Cleaning and maintenance on your ring is complimentary within your first year of purchase. After the first year, you can book an SG Spa Day for your ring. It costs $100 and focuses on cleaning and general upkeep for your ring.
Shipping & Returns: Because rings are custom-made, they are not eligible for returns. However, the brand does offer trade-in options, but each situation is handled on a case-by-case basis and pricing is based on market value at any given point.
MESSIKA
Founded in 2005, MESSIKA was founded to give age-old diamonds a fresh edge. The engagement rings available for purchase on the site are an untraditional take on the classic pieces and show founder Valerie Messika's take on diamonds.
Price Range: $2,390 $25,520
Special Services: You can get your MESSIKA customized with a range of designs, and the brand offers engraving.
Shipping & Returns: You have up to 14 days for all exchanges and refunds on your engagement from MESSIKA.
Yi Collection
Yi Collection specializes in colored engagement rings. Founded by Yi Guo, a former stylist and editor at Vogue China, Yi Collection takes inspiration from Guo's travels to Sri Lanka and Myanmar, the sapphire and ruby capitals of the world.
Price Range: $1,300 and up
Special Services: All in-stock orders ship in under 1 week, and free international worldwide shipping is available,
Shipping & Returns: Custom orders take between 1-2 weeks for production, and there are ready-made rings available to buy on the site. Returns are accepted within 10 days of receiving the order, for a full refund, and custom orders are final sale.
Greenwich St. Jewelers
Greenwich St. is a second-generation family-owned boutique in TriBeCa, New York. Founded in 1976, the company offers fine jewelry from emerging designers, custom design work, as well as an extensive selection of both engagement and wedding rings. Plus, Greenwich St.'s in-house brand G.St Ceremony, makes pieces with recycled gold and other responsibly sourced gemstones. These pre-set rings can be purchased both online and in-store.
Price Range: $3,800 and up
Special Services: When you buy a complete engagement ring from Greenwich St. Jewelers—meaning that both the center gem and the ring setting are purchased from the company—you get Lifetime Engagement Ring Care. Greenwich St. also offers both in-person and virtual appointments.
Shipping & Returns: Returns may be made within 10 days of receipt of your purchase. Returns of online engagement ring purchases get special consideration. Made-to-order, custom-made, or sized engagement ring purchases are final sale and may not be returned or exchanged. U.S. Ground shipping & returns are complimentary. Greenwich St. Jewelers also ship worldwide.
Types of Stones and Diamonds
While natural diamonds are traditional, there are many more options for engagement rings now, including lab-grown stones—which can also be called "cultivated stones"—as well as different stones altogether, like emerald or sapphire.
What Is Moissanite?
"Moissanite is a rare, naturally occurring white mineral, also known as silicon carbide," says Don O'Connell, President and CEO of jewelry brand and moissanite pioneer Charles & Colvard. "[It] is extremely tough and durable, and second only to a diamond in its resistance to scratching and abrasion," he continues.
What Are Recycled Diamonds?
If you do want to buy a natural diamond ring, you might notice that brands use terms like "conflict-free" or "recycled" to describe them. The former term refers to the ways in which the diamonds were sourced. Meanwhile, "recycled stones were previously in finished goods that were dismantled for the raw materials," Plessner explains.
Meet The Experts
Julia Marzovilla is the E-Commerce Editor at Marie Claire, where she covers everything from the latest beauty and fashion launches and sales to celebrity outfits and news. She also creates shopping guides that span every vertical on the site. Prior to joining the Marie Claire team, she contributed similar shopping stories to sites such as Bustle, InStyle, The Zoe Report, Who What Wear, and STYLECASTER. In her spare time, Julia can be found creating shopping guides for all of her friends, spending too much money on yet another pair of black boots, and cooking in her far-too-small kitchen.