The 14 Best Affordable Jewelry Brands of 2023
Every one of our favorite pieces retails for less than $150.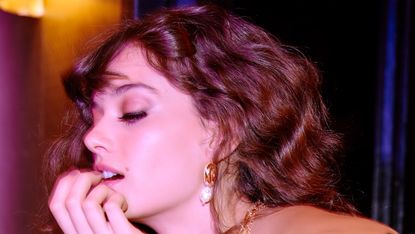 (Image credit: TYLER JOE)
Marie Claire Newsletter
Celebrity news, beauty, fashion advice, and fascinating features, delivered straight to your inbox!
Thank you for signing up to Marie Claire. You will receive a verification email shortly.
There was a problem. Please refresh the page and try again.
Most fashion fans would agree that an outfit is never complete without a piece of jewelry or two. And sure, it would be nice to be decked out in all diamonds and solid gold, but not everyone has the budget for that level of luxury—and that's okay! Luckily, some of the best jewelry brands out there are affordable and just as fabulous as higher-end brands. To prove it to you, we rounded up the best affordable jewelry brands to round out your look while still sticking to your budget. And because there's nothing worse than buying a pretty piece only for it to turn your finger green, we've consulted jewelry experts Tenisha Wilde and Connie Nam to get the lowdown on exactly what to look for when shopping for affordable jewelry.
For whatever you're in the market for, this list has got you covered. Whether you're looking for a statement ring or necklace to add to your collection, or looking toward warmer weather with your search for the best gold anklet, you're sure to find your next favorite among these affordable jewelry brands. Rest easy knowing that the majority of the pieces from these brands come in at under $150 (even more come in at under $100). Happy shopping!
What to Look For in an Affordable Jewelry Brand
When shopping for affordable, yet quality jewelry, it's best to consider a piece's base metal and plating metal as this will impact that piece's overall longevity, explains Astrid & Miyu founder Connie Nam. "Ideally the plating material will be a layer of real gold, usually 14k or 18k," she says. Meanwhile, sterling silver, 9k gold, and 14k gold are all base metals known for their durability.
If real gold is a bit out of your price range, gold-filled or stainless steel gold-plated are great quality options, too, says Ten Wilde founder Tenisha Wilde. "Since gold-filled jewelry is mechanically bonded to the base rather than plated with a thin layer of gold, this is why it's typically longer lasting than gold-plated," she explains. On the other hand, Wilde says that stainless steel is a great base metal option as it's "more durable and resistant to the elements that will typically cause tarnishing."
All in all, though, Wilde stresses not to be afraid of trying out different gold-plated options since everyone's skin reacts differently to different base metals. "Some people find they are sensitive or allergic to brass, this includes the 'finger turning green' we all know or hear about," she adds. "If you're on the more sensitive side, stainless steel or hypoallergenic pieces may be your best bet as far as gold-plated goes."
Best Affordable Jewelry Brands
Jenny Bird
Jenny Bird is a celeb-loved jewelry brand that looks and feels luxe, but is still affordable enough for everyday people like you and me. From their designer-dupe earrings to their cool choker necklaces, each piece is timeless, elevated, and looks so much more expensive than it actually is.
Ten Wilde
For gold jewelry you can turn to for any outfit, look no further than Ten Wilde's stunning collection. Each piece has a little something different about it to feel unique, yet they all still have a classic vibe, so they fit anywhere in your wardrobe. I especially love the Y2K vibes of their personalized nameplate necklaces.
Yam
Given that MC's Style Editor Emma Childs is a fan of the handmade jewelry brand Yam, you know it's a winner. Designer and founder Morgan Thomas creates updated nostalgic pieces using deadstock materials and vintage silhouettes. Yam's pieces are fun and playful, yet wearable enough for every day.
Astrid & Miyu
Astrid & Miyu houses the kind of jewelry pieces that feel sentimental and personal. From their birthstone huggies to their zodiac necklaces, each piece feels like it was made especially for you and can be worn for years to come. "For us, the most important thing is offering our community meaningful pieces, which they can personalize and build into their own unique collections," adds Nam.
SVNR
SVNR is considered one of the best sustainable jewelry brands out there. Each piece is made from found, reused, upcycled, and natural materials, and the brand is committed to sustainable manufacturing processes. Rest assured that your look will have an added freshness with pieces from SVNR.
Hart Jewelry
Hart Jewelry is full of playful designs, yet all of its pieces still feel timeless. Founder Hart Hargerty was inspired by the spirituality of jewelry; with her custom-designed charms, you can inject your own personal meaning into a one-of-a-kind necklace.
Sarah Chloe
After the birth of her daughter, jewelry designer Zahava Ryzman was inspired to create a custom bangle, and after several requests, she started a full-fledged line aptly named after her daughter, Sarah Chloe. The brand's fine pieces are made to be personalized, making them the ultimate gifts.
Jordan Road Jewelry
For those wanting to elevate their everyday look, Jordan Road is the jewelry brand for you. All of its pieces are thoughtfully designed to be stacked in numerous ways, so you'll never run out of looks.
Roxanne Assoulin
Roxanne Assoulin's website says all you need to know about the brand: "Jewelry that makes you smile." With crystals, beads, and charms in just about every color your can imagine, all of the pieces in this line are sure to spark joy.
Tai
Born and raised in Bangkok, LA-based designer Tai Rittichai started Tai with the goal of bringing details of fine jewelry to fashion pieces. Not only can you find dainty gold chains, but you can also find fun charms and beads among their pieces.
Notte
Founded by former accessories trend director Jessica Tse, Notte is the jewelry line for maximalists. Described on their website as a "fun mix of New York quirk with a hint of la dolce vita daydreams," the line is filled with enamel pendants, charm earrings, and a ton of color.
Joey Baby NYC
Pearl lovers, rejoice! Joey Baby NYC is all about making high-quality, trendy jewelry with freshwater pearls. The brand's handmade pieces are all incredibly easy to style and are sure to take your 'fit up a notch.