5 Trends That'll Be the Backbone of My Fall 2023 Wardrobe
Study the runways.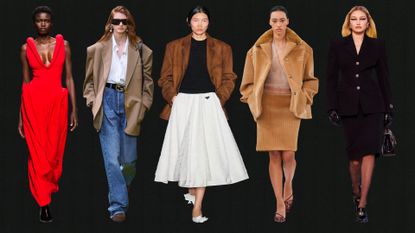 (Image credit: Getty Images)
Marie Claire Newsletter
Celebrity news, beauty, fashion advice, and fascinating features, delivered straight to your inbox!
Thank you for signing up to Marie Claire. You will receive a verification email shortly.
There was a problem. Please refresh the page and try again.
As someone who dislikes summer more and more as I get older, the words "taper off" are music to my sunburned ears. Part of what I love most about the transition from summer to fall is the back-to-school shopping. And the first step when planning my wardrobe for the new season is to study the runways (because March was a long time ago).
I don't like to try a ton of new trends each season and instead prefer to zero in on a select few that I know will work with my existing wardrobe. After investigating the fall/winter 2023 runways, I've concluded that there are five particularly wearable trends that I'd gladly plan all of my fall outfits around. In case you're ready for some fall shopping inspiration, scroll on for my trend picks, then shop them before everyone else.
Luxe Basics
The fall runways of Gucci, Bottega Veneta, Khaite, Coach, and Versace, among many others, were covered with highly wearable looks. Even brands that you don't typically think of for casual denim looks were covered with them, and as someone who doesn't live in a big city and works from home, I'm 100% here for it. Accordingly, I'll be happily filling my wardrobe with luxe basics that can easily be dressed up or down.
Red
The red trend didn't just start with fall—it's been the color to wear for all of 2023, but it was really apparent after seeing the fall/winter collections. It was everywhere. Speaking of fall, I tend to gravitate toward red the most when there's a chill in the air. I typically wear a lot of neutrals, which are the perfect match for red, so I know that the bold color will be right at home among my other clothes.
Cinched-Waist Blazers
After season upon season of oversize blazers (which kind of swallow me at 5'4"), I've officially welcomed the fitted-blazer trend back into my closet. I like that they can be worn in place of a top. Perhaps it'll be the fall version of what vests were this summer.
Full Skirts
I don't know about you, but this Prada circle skirt has me feeling a certain kind of way. If you don't love wearing slim silhouettes all the time, you're probably glad to have an alternative to the tight midi skirts and slinky slip skirts that have been at the forefront in recent times.
"Notice Me" Outerwear
There's beautiful outerwear to choose from every fall, but some years, it's more at the forefront than others. I noticed a prioritization of statement-making jackets and coats on the fall/winter runways, and I'm feeling quite inspired to invest in a couple of new ones myself this season.
This article was originally published on Who What Wear.
Celebrity news, beauty, fashion advice, and fascinating features, delivered straight to your inbox!
Senior Editor, Who What Wear
I'm Allyson. Nice to meet you! I've been a Who What Wear editor for over eight years, I started with the company as our co-founder Katherine Power's assistant back in 2014. I'm now senior editor and work remotely from Raleigh, North Carolina. Prior to joining Who What Wear, I worked in the entertainment industry at companies like Sony Pictures Television. I'm originally from Baton Rouge, Louisiana, and I have a BFA in musical theater. In terms of my personal-style preferences, I gravitate toward denim, which I love to punch up with accessories and cool outerwear.