The Supermodels of the 1960's
They don't call the decade the Swinging Sixties for nothing.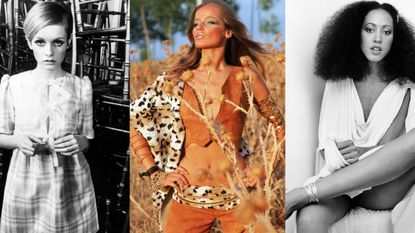 (Image credit: Getty Images)
Marie Claire Newsletter
Celebrity news, beauty, fashion advice, and fascinating features, delivered straight to your inbox!
Thank you for signing up to Marie Claire. You will receive a verification email shortly.
There was a problem. Please refresh the page and try again.
They don't call the decade the Swinging Sixties for nothing. Amid major social movements, a musical revolution, and changing fashions a new crop of fashion muses emerged, who redefined beauty and carved out the term "supermodel."
1/20
Jean Shrimpton
As one of the world's first supermodels, Jean Shrimpton spearheaded the new wave of cover girls spawned from the Swinging London movement. She was discovered by photographer David Bailey (whom she'd go on to have a higly-publicized 4-year relationship with) in 1960 and went on to cover countless fashion magazines and popularize the mini-skirt.
2/20
Veruschka
For German-born Veruschka, it was an infamous scene in the 1966 film Blow Up that catapulted her to international fame. Richard Avedon called her "the most beautiful woman in the world," and she went on to become one of the highest-paid models in the world. Back in 2010, 71-year-old Veruschka walked the runway during the Giles Spring 2011 show at Paris Fashion Week.
3/20
Twiggy
Inarguably the Queen of Mod, Twiggy was crowned "The Face of '66" by the Daily Express at just 16-years-old. Her signature look — a cropped haircut, spider lashes, and boyish frame — was the epitome of modern and landed her on the cover of every major magazine. She retired from modeling in 1970, but continues to be a fashion icon to this day.
4/20
Donyale Luna
Donyale Luna was the world's first African American cover girl. She was known for her exquisite 5-foot-11 frame, razor-edged bone structure, and almond-shaped eyes. In addition to modeling, she starred in many of Andy Warhol's underground films, as well as Federico Fellini's Fellini Satyricon (1970). She died tragically due to an accidental overdose at the age of 34.
5/20
Penelope Tree
Penelope Tree was first photographed by Diane Arbus at the age of 13. After a much-talked-about appearance in a high-slit dress at Truman Capote's Black and White Ball in 1966, Richard Avedon and Cecil Beaton plotted to make the 17-year-old Tree a supermodel. She became a regular on the Swinging London scene and represented a new kind of beauty. When John Lennon was asked to describe Tree in three words, he called her, "Hot, hot, hot, smart, smart, smart!"
6/20
Peggy Moffitt
Peggy Moffitt had one of the most distinct looks in the business thanks to her razor-sharp, asymmetrical haircut by Vidal Sassoon, Kabuki-inspired makeup, and affinity for extreme fashion. She made international headlines in 1964 when she wore a topless monokini bathing suit created by her dear friend designer Rudi Gerenreich in a photograph that appeared in Women's Wear Daily.
7/20
Pattie Boyd
Pattie Boyd was the muse behind two of rock 'n' roll's greatest songs: "Something" by The Beatles and "Layla" by Eric Clapton. She began her career as a model in 1962, where she was photographed by the likes of David Bailey and Terrence Donovan. She met her future husband George Harrison when she was cast in A Hard Day's Night.
8/20
Linda Keith
Linda Keith was another model who inspired pivotal musicians of the '60s. She served as a muse to The Rolling Stones (she dated Keith Richards), as well as Jimi Hendrix, whose career she helped catapult after wathcing him perform in a New York City club. She is portrayed by Imogen Poots in the Hendrix biopic Jimi: All Is by My Side.
9/20
Linda Morand
The Jackie O look-a-like was discovered while studying art in New York City by Eileen Ford herself in 1965. She became notorious not just for her resemblance to the former first lady, but for being one of the first American models to model for French haute couture shows.
10/20
Anne Saint-Marie
One of the most photographed and predominant models of the 1950s and 1960s, Saint-Marie exuded a confidence in her photographs that lead path for the modeling style of the era. She was the model and muse for her husband Tom Palumbo.
11/20
Cybill Shepherd
Before Moonlighting and The L Word, Shephard got started as a model at age 16 years old. She was voted "Miss Teenage Memphis" in 1966, and won the 1968 "Model of the Year" award, which led to her being a fashion star in the decade. Her 1970 cover of Glamour is what sparked director Peter Bogdanovich to cast her in her breakout role in The Last Picture Show.
12/20
Jean Patchett
Patchett is mostly notable for her nearly 20-year long career beginning in the late 1940s until the early 1960s. The subject of one of the most famous Vogue covers of all time, she was mostly known for being a "remote" model, instead of the warm and friendly models of the era. A favorite of Irving Penn and Erwin Blumenfield, Patchett was one of the earliest supermodels.
13/20
Marie Helvin
Marie Helvin was discovered by a model scout on a trip to Japan when she was 15, and eventually signed to e the face of Kanebo cosmetics. She moved to London, where she worked for Yves Saint Laurent, Versace, and Valentino. Meeting photographer David Bailey when he was photographing her for Vogue lead to their marriage at age 23. She retired from mainstream modeling in the 1980s, but continues to make appearances in British Vogue and as a judge on Britain's Next Top Model.
14/20
Naomi Sims
There's no denying this fact: Naomi Sims is the first African-American supermodel. In the 60s, after several rejections from agencies due to her race, Sims's breakthrough came when she bypassed the agency route and went directly to photographers, covering the August 1967 edition of the New York Times fashion supplement. She was one of the first models signed to the new Wilhemina Models, and was the first black model on the cover of both Ladies Home Journal and Life.
15/20
Pat Cleveland
Pat Cleveland was discovered on a subway platform by Carrie Donovan, fashion editor at Vogue at age 16. She was first featured in Vogue as a fashion designer, which lead to her being featured in a national runway tour as a model for Ebony. She put her design aspirations on hold and pursued modeling, signing with Wilhemina Models at age 18 (after she was rejected from Ford Models... based on her race.) She eventually found herself disillusioned with the racism of American modeling and relocated to Paris, working as a house model for Karl Lagerfeld and Chloé.
16/20
Wilhelmina Cooper
One of the most famous models of the 1950s and 1960s, Wilhelmina made the cover of 255 magazines during her career's tenure. She modeled in America, Paris, and hold the record for the most covers of American Vogue–28 times. She married Bruce Cooper in 1965, and two years later–at the height of Wilhelmina's career–together they founded Wilhelmina Models, which was the only other modeling agency other than Ford Models at the time.
17/20
Benedetta Barzini
Barzini was discovered on the streets, but Diana Vreeland was the person who saw potential in Barzini, arranging for her to shoot with famed photographer Irving Penn. She was on the cover of the very first issue of Vogue Italia, and eventually joined Andy Warhol's Factory. In a twist, she eventually retired from modeling to become a Marxist and feminist organizer in Milan, and currently is a professor at the University of Urbino in Milan.
18/20
Hiroko Matsumoto
Matsumoto was discovered by fashion designer Pierre Cardin in 1960 during a trip to Japan, and he fell in love with her immedaitely. She'd eventually go to him with Paris and become his top model and the first Japanese woman to be the face of a French clothing collection. She retired from modeling in 1967. But, sadly, she would not remain out of the news: Her daughter was kidnapped at just 20 months old, but—thank god—safely returned following a hefty ransom.
19/20
Anne de Zogheb
The daughter of a Lebanese diplomat, de Zogheb was signed to Ford Models and was on the cover of French Elle at age 17. She's predominately known for marrying singer Paul Anka in a ceremony at Paris-Orly Airport in 1963, and she now works as an art collector.
20/20
Sunny Harnett
Sunny's career began in 1957, where she was predominately known for being featured in Vogue and listed as one of Harper's Bazaar's 26 greatest models of all time. A favorite of photographers Richard Avedon and Edgar de Evia, Sunny retired from modeling in 1964 and began working as an assistant to the legendary co-founder of Ford Models, Eileen Ford. She passed away at 63 in 1987 from injuries sustained in a house fire.
Celebrity news, beauty, fashion advice, and fascinating features, delivered straight to your inbox!
Amanda Mitchell is a writer and podcaster with bylines at Marie Claire, OprahMag, Allure, Byrdie, Stylecaster, Bon Appetit, and more. Her work exists at the apex of beauty, pop culture, and absurdity. A human Funfetti cake, she watches too much television, and her favorite season is awards season. You can read more of her work at amandaelizabethmitchell.com or follow her on Instagram and Twitter @lochnessmanda.