Editors handpick every product that we feature. We may earn commission from the links on this page.
Build Your Perfect Office Wardrobe a la Olivia Pope
Your new workplace look? It's handled.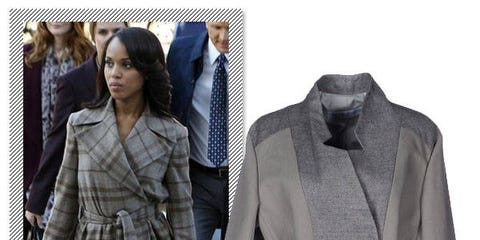 "Courtesy of ABC/Calvin Klein"
Your new workplace look? It's handled. Being Olivia Pope isn't easy, but emulating her office style can be. Here, we show you to how to achieve her look with 12 key pieces.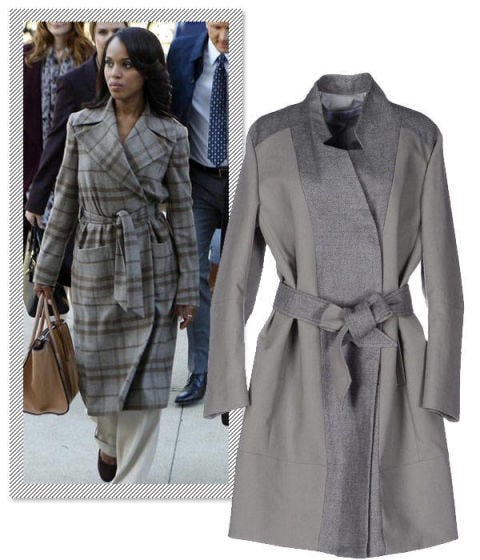 "Courtesy of ABC/Calvin Klein"
The Coat
Olivia Pope's no-nonsense style is best exhibited in her statement coats. They might be muted in color, but everything about their strong, streamlined silhouette exudes confidence. During the colder months, forgo a puffer coat and opt for a full-length number in an elegant wool or jacquard. See By Chloé Jacket, $425;
yoox.com
.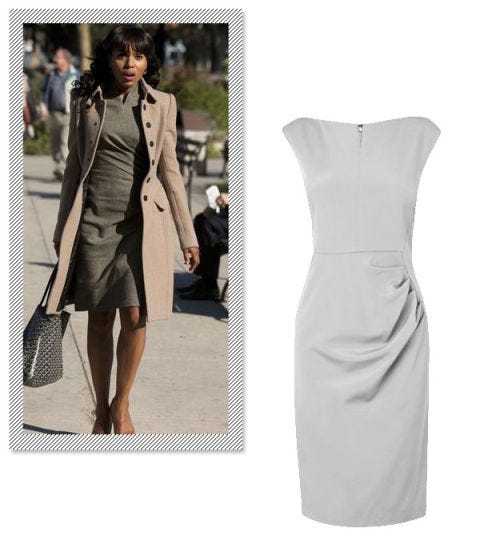 "Courtesy of ABC/L.K. Bennett"
The Dress
Much like women everywhere, Olivia Pope's day-to-day requires a lot of running around. However, a polished head-to-toe look is practically a job requirement. The classic shift dress is a perfect jumping off point thanks to its sophisticated and no-fuss silhouette. Invest in a clean-cut style in a neutral or color-blocked hues. L.K. Bennett Tancy Fitted Dress, $395;
uslkbennett.com
.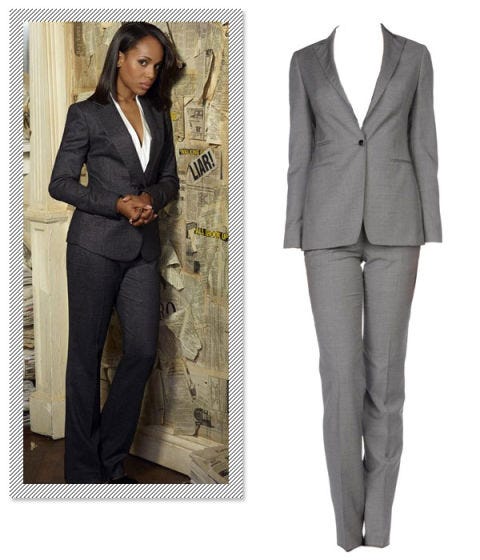 "Courtesy of ABC/Tagliatore"
The Suit
The suit is the pièce de résistance of power dressing and no one illustrates that better than Olivia Pope. She injects modernity into the workwear staple by knixing boxy forms in favor of feminine cuts and immaculate tailoring. Channel your inner gladiator at the office by sporting a commanding pantsuit — preferably one with a shawl collar jacket. Tagliatore Women's Suit, $426;
yoox.com
.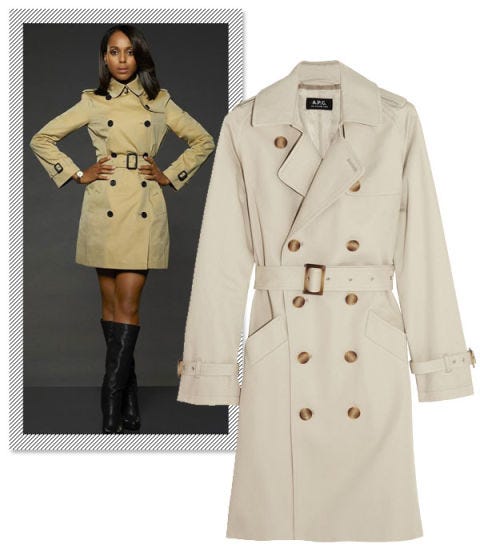 The Trench
The trench coat is a tried-and-true classic, but Olivia Pope makes it all her own by incorporating a few feminine touches. Whether it's the waist-cinching belt or above-the-knee hemline, her trench is not the old heavy-duty raincoat you inherited from your grandparents. When shopping for your own, make sure it's a style that can withstand the elements, but always be concious of fit and details. A.P.C. Cotton-Twill Trench Coat, $635;
net-a-porter.com
.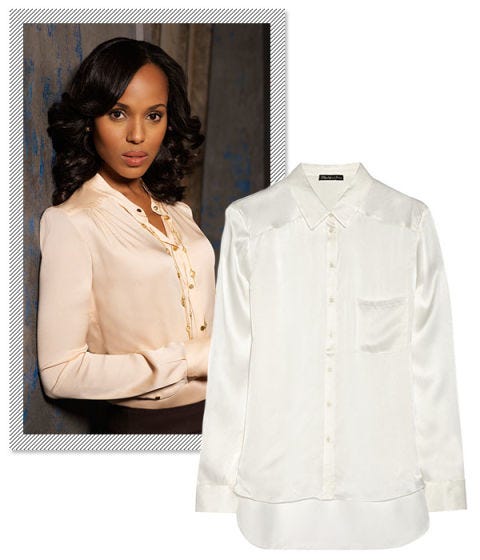 "Courtesy of ABC/Elizabeth and James"
The Blouse
When it's time for Olivia Pope to get down to business, it's all jackets off, and what lies beneath is typically a luxe blouse. You can't go wrong with a simple button-down, but choosing one in a sumptuous fabric, such as silk or satin, will make it all the more exquisite. Elizabeth and James Shawn Silk-Satin Shirt, $265;
theoutnet.com
.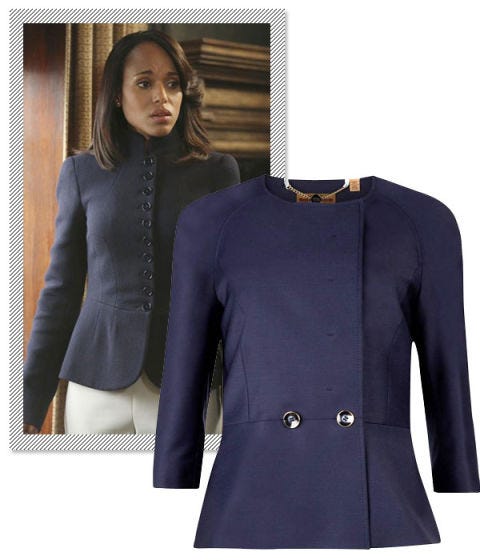 "Courtesy of ABC/Ted Baker"
The Jacket
One of Olivia Pope's favorite ways to accentuate her waist is with a tailored dress jacket or blazer. Most often, it'll boast a subtle peplum with full length or three-quarter sleeves. The key to pulling off this genteel look is proper tailoring for that made-to-fit illusion. Ted Baker Zivia Peplum Jacket, $448;
bloomingdales.com
.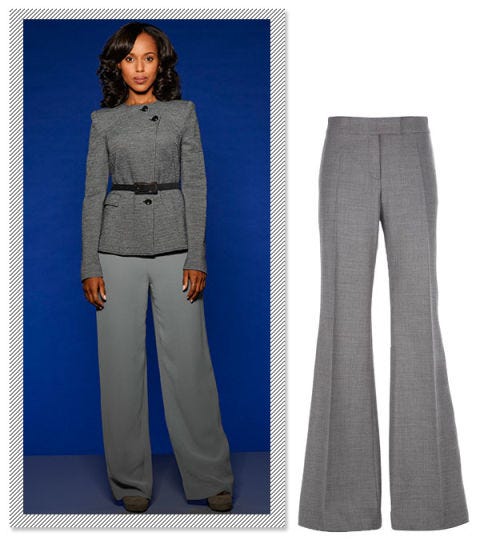 "Getty Images/Courtesy of Stella McCartney"
The Trouser
Time and time again, Olivia Pope reminds us that
she
wears the pants. Like a modern day Katherine Hepburn, she proves that trousers can be just as sexy as dresses or skirts. Typically, she goes for a sleek wide leg or straight-cut style that's tailored to perfection. Her bottoms call attention to her killer stems, but are never overstated. Stella McCartney 'Erin' Flared Trouser, $381 (was $635),
farfetch.com
.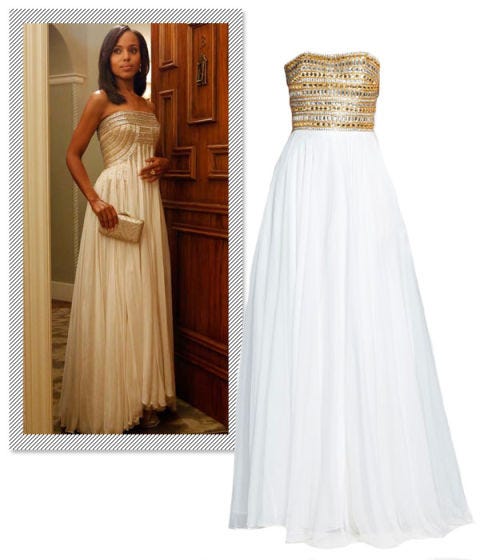 The Gown
Most women don't have the black tie agenda that Olivia Pope does, but every so often a work event requires you to put on the ritz. As she has proved ever-so-memorably, this can be your time to truly shine. Choose a striking gown that will standout. Remember, Olivia didn't make it to the top by playling it safe. Sherri Hill Embellished Strapless Chiffon Gown, $550;
nordstrom.com
.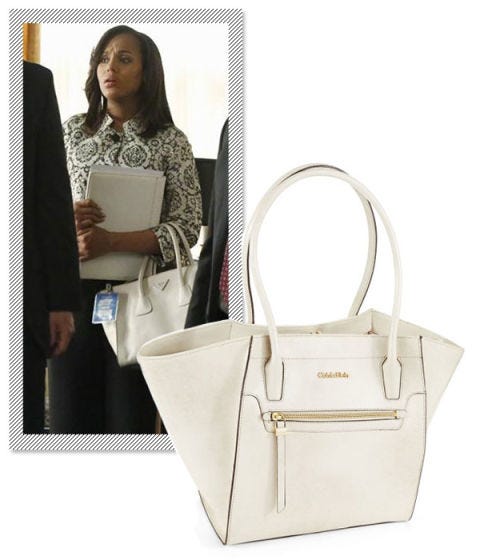 The Bag
A dainty little purse won't do for Olivia Pope's on-the-go lifestyle. She needs a carry-all handbag that does the job, but still looks postively chic. Typically, you'll find her arm adorned with a structured, leather tote in a neutral hue. Forget bells and whistles, you want a bag that goes with everything and keeps your essentials in safekeeping. Calvin Klein Leather Tote, $428;
lordandtaylor.com
.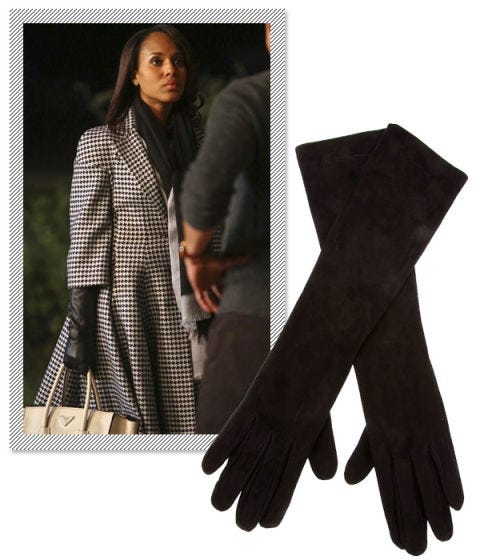 "Courtesy of ABC/Giorgio Armani"
The Gloves
Full-length gloves can be intimidating, but if you want to get on Olivia Pope's level, get ready to slip them on. They not only keep your hands cozy during the colder months, but serve as a refined complement to rich winter ensembles. Stick to a dark hue in leather or suede for the most versatility. Giorgio Armani Long Leather Gloves, $302.14;
farfetch.com
.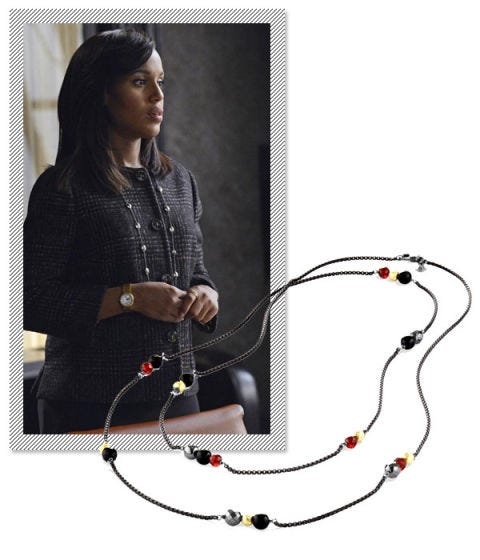 "Courtesy of ABC/David Yurman"
The Jewelry
Olivia Pope tends to be a jewelry minimalist, but you'll always find her in one or two understated pieces, such as a watch or long beaded necklace. Her delicate gems are versatile, throw-on pieces that enhance her overall look, but never distract — which is a perfect approach for the office. David Yurman Bead Necklace, $650;
davidyurman.com
.
"Courtesy of ABC/Stuart Weitzman"
The Shoe
Shoes are another accessory where Olivia Pope takes a less-is-more approach. She loves classic styles and has a special affinity for stacked platform heels. As any faithful
Scandal
fan knows, Olivia is constantly on her feet, yet never fails to deliver her signature power strut. Comfort is
always
king. Stuart Weitzman Women's Mae Platform Pump, $398;
amazon.com
.
This content is created and maintained by a third party, and imported onto this page to help users provide their email addresses. You may be able to find more information about this and similar content at piano.io