6 Ways to Accessorize Your Swimwear Like a Celeb
Because your bathing suit needs styling too.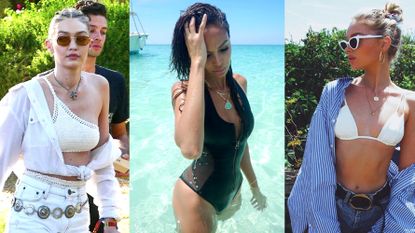 (Image credit: Splash/Instagram/Instagram)
Gone are the days of just throwing on a cover up and heading to the beach. This season, it's all about the total look, and no knows that better than our favorite celebrities. From Bella in a ball cap to Gigi channeling her inner cowgirl, the inspo for accessorizing is endless. Below, check out how to style your perfect beach look, because let's be honest, now's the time to squeeze in those last few summer instagram posts.
The Little Things
Intimidated by all of the accessorizing options out there? Start with the small things (it's true, sometimes less is more). Even just simply layering necklaces, like Elsa Hosk did here, instantly transforms that plain white bikini you've had in your drawer all summer. For a pop of color add a silk hair scarf.

Shop similar: 1.Sommer Swim bikini, (opens in new tab) $138; 2. ByChari mini diamond necklace (opens in new tab), $270; 3. Miansai gold statement necklace (opens in new tab), $250; 4. Gavala vintage headtie (opens in new tab), $45.
The Turquoise Touch
Take it from Joan Smalls: it's okay to get all matchy-matchy when the thing you're matching is the ocean. Pair turquoise blue jewelry with a sporty black one-piece to create a look as fresh as the water you're in.
Shop similar: 1. Cover Swim one piece (opens in new tab), $175; 2. Zoe Chicco turquoise pendant, $265; 3. Madewell gold chain (opens in new tab), $34; 4. Bronzallure Magnesite pinky ring (opens in new tab), $77.
The '90s
Make like Kaia Gerber and trade your typical straw fedora for a bucket hat this summer. Is there a trendier way to block out those UV rays? Don't quite feel like you're on the beach? Add a puka shell earring and you're there.

Shop similar: 1. Eres black bikini, (opens in new tab) $250 ; 2. CrushClub93 shell earrings (opens in new tab), $25; 3. Ganni bucket hat (opens in new tab), $35.
The Tomboy
Accessorizing doesn't mean you need to be bedazzled. If you're going for a sportier look like Bella Hadid's, it's actually all about the practical details. Opt for a ball cap and hands-free fanny pack, and you could easily go from beach to baseball game.

Shop similar: 1. Fella black bikini top, (opens in new tab) $140 paired with Zeus + Dione short (opens in new tab), $332; 2. Miu Miu fanny pack (opens in new tab), $1,250; 3. Rag and Bone ball cap (opens in new tab), $150.
The Hoop & The Hat
I think it's safe to say the hoop trend is going absolutely nowhere. Pair a medium-sized hoop with an oversized straw hat, like Emily Ratajkowski. This summer, our straw hats are getting quite the update—the bigger the better.
Shop similar: 1. Faithfull The Brand bikini, (opens in new tab) $150; 2. Jennifer Fisher hoops (opens in new tab), $795; 3. Artesano woven hat, $220