Editors handpick every product that we feature. We may earn commission from the links on this page.
12 Actually Cool Bucket Hats to Buy for Summer
Yes, you can make this trend work. Here's how.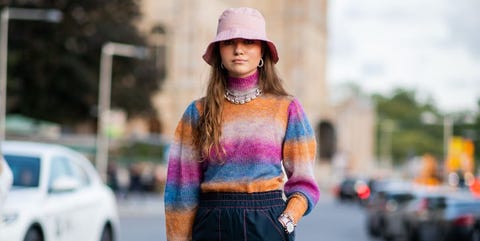 Christian Vierig
Getty Images
Like dad sneakers or tiny sunglasses, bucket hats incite a lot of opinions. On one side, you have your fearless friends who dive right in. On the other side are the wary fashionistas thinking, "It's a cool style, but I could never wear that." I fell into that latter group. I witnessed every designer, from 3.1 Phillip Lim to Fenty x Puma, sending bucket hat creations down the runways, but I wasn't completely sure that I myself could ever rock one. It seemed so dad-ish, and truth be told, I generally don't have a head for hats. (That's why all my winter jackets have a built-in hood.)
Then one day, while on vacation, I completely forgot my one straw hat, which I have just out of sheer necessity. As a last resort to avoid a sunburn on my head, I slipped my boyfriend's blue bucket hat (with a fish print) on. Now, his wasn't the stylish ones you saw on the runways (sorry, babe), so I was slightly embarrassed because I was in a full on "dad has gone fishing" look. But, I don't know when, maybe it was after a few selfies and a piña colada, I started loving the bucket hat on me. It kept my head cool, it was slightly oversized for a comfortable fit, and I actually looked cute with it on in photos. I was reluctant to give the bucket hat back when the sun went down, which gave my BF, who has sworn by this style for years, the ultimate satisfaction. Since I couldn't keep stealing his, I went on a search for my own and I'm now a proud owner of this pink one from ASOS.
However, the story doesn't end there. I desperately want another one for my collection and found 12 cute options for this season. Whether you're that fearless fashionista or the apprehensive bucket hat shopper, the versatile selections below will convince you to buy one for summer. And yes, you 100 percent can rock it.
This content is created and maintained by a third party, and imported onto this page to help users provide their email addresses. You may be able to find more information about this and similar content at piano.io