16 Rainbow Jewelry Pieces to Add a Splash of Color to Any Outfit
Allow me to present the best of the best.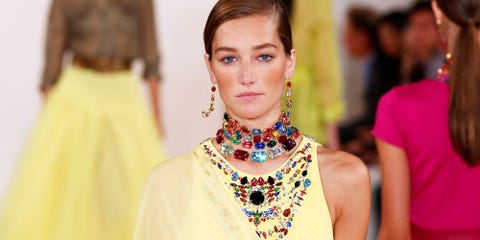 Peter Michael Dills
Getty Images
This season we're seeing seashell accessories take hold of the jewelry world, but I want to remind everyone not to forget about this other micro trend: rainbow jewelry. It's previously popped up on the spring 2015 runways, and brands like Roxanne Assoulin has built a loyal following with its colorful necklaces and bracelets. Rainbow jewelry is one of the easiest ways to brighten up your summer outfits, and it comes in all shapes and sizes. (I personally love slipping on a dainty multi-colored gemstone ring or bracelet.) There's a certain charm and elegance to these pieces, so don't save them for "special occasions"—wear them every day. Ahead, I found 16 cheerful and wearable rainbow accessories to go with your outfits seven days a week.
For Your Best Friend
Color Crush Sun Beam Bracelet
April Soderstrom
aprilsoderstrom.com
$68.00
Think of these April Soderstrom bracelets as the 2019 office-approved version of the friendship bracelets you made at camp. Wear them all together or alone for a fun pop of color to your Monday outfit. Going on vacation this summer? Try styling this set with a white maxi beach dress to really enhance the bohemian vibes.
Best for Making a Statement
Rainbow Lite Bracelets
Roxanne Assoulin
net-a-porter.com
$300.00
Roxanne Assoulin has made a name for herself with her fun rainbow jewelry line. Her most recent collection is playful without making you feel childish. To keep the look sophisticated, wear this set of five bracelets with a simple outfit or team these bracelets with one of Assoulin's other rainbow-hued pieces, like a choker or a strand necklace.
For Wearing Every Day
Diamond Bar Ring
If you're looking for a subtle way to wear the rainbow trend, opt for a barely there ring with tiny colored gemstones. This one will fit right in with your regular stack for a hint of color without going overboard.

For Brightening an Outfit
Crystal Capped Hinge Bracelet
Alexis Bittar
bloomingdales.com
$195.00
This Alexis Bittar bracelet allows you to try out the rainbow trend in a quirky, unexpected way. The brand crafted a rhodium-plated bracelet that gives off a rainbow glow rather than using traditional colored beads or gemstones. You'll need little else on your wrist when you're wearing this bracelet.
For Pairing With a High Ponytail
Rainbow Statement Earrings
Stella + Ruby
shopbop.com
$45.00
These earrings are perfect for when you want to dress up your classic little black dress for a night out. The fun dangly set won't break the bank either at $45. A tip for making this the statement piece in your outfit: keep the rest of your accessories simple.
For the Beach
Rainbow Stretch Bracelets
Panacea
nordstrom.com
$34.00
To highlight your sun-kissed skin even more, slip on this set of warm teal and orange hued bracelets this summer. When worn separately, they're an easy way to add rainbow pieces to your collection. When worn together it's a full-on arm party.
For Stacking
Amara Stackable Rings
Gorjana
bloomingdales.com
$55.00
Bored of your thin gold stackable rings? This set of three from Gorjana (FYI Michelle Obama loves this brand) will switch things up. Pair one or two of these rainbow cubic zirconia pieces with your classic gold bracelets without changing your usual accessory routine.
For Every Season
Multicolor Stone Bracelet
Aqua
bloomingdales.com
$86.80
If there's one piece of jewelry I wear every day, it's a silver bracelet. This option from Aqua is so thin, the chain looks nearly invisible. The brightly-colored stones, however, won't go unnoticed. If you're looking for a gift for someone special this spring (ahem, Mother's Day), present them this bracelet.
For a Black-Tie Event
Petite Candy Hoop Earrings
Sylvia Toledano
barneys.com
$140.00
Most French brands are known for being low-key and subtle, think Sézane or Rouje, but Sylvia Toledano is known for her dazzling oversized jewelry collections that were inspired by her childhood in Africa. These hoops instantly transport you to the faraway destination with its colorful pieces of red and yellow onyx, amethyst, turquoise, and carnelian.
For Lazy Summer Days
Jade Colorful Stones Necklace
Dannijo
dannijo.com
$245.00
You already love NYC-based brand Dannijo for its rainbow slip dresses, so it shouldn't come as a surprise that their jewelry collection is just as fun. This necklace in particular was inspired by "sunny, happy days at the beach," and it shows. The turquoise and resin beads look like they were discovered on the sandy shores of the Caribbean.
For Wearing Over a Cover-Up
Beaded Imitation Pearl Layered Necklace
Madewell
nordstrom.com
$18.98
Madewell is beloved for its amazing jeans and basics, but I especially love their jewelry, which can be seriously underrated. Case and point: this necklace. The two-strand design gives you the layered look in an instant and the multicolored beading will make it super easy to pair with the other necklaces and chokers already in your collection.

For the Evening
Rainbow Hoop Earrings
8 Other Reasons
8otherreasons.com
$44.00
We already love lucite handbags, so why not invest in lucite earrings? These chunky transparent hoops mimic the arch of a real rainbow to bring the attention to your ears and face. Wear with a white t-shirt and your favorite pair of light-washed jeans.
For Catching Someone's Eye
Multicolor Tennis Choker
Joolz by Martha Calvo
revolve.com
Dainty rainbow necklaces can pack a punch too as this choker can attest to. This delicate accessory will add a bit of sparkle to your everyday ensembles. Try layering this choker with other gold or silver chains to amp up your neck party.
•••
For more stories like this, including celebrity news, beauty and fashion advice, savvy political commentary, and fascinating features, sign up for the Marie Claire newsletter.
This content is created and maintained by a third party, and imported onto this page to help users provide their email addresses. You may be able to find more information about this and similar content at piano.io