Editors handpick every product that we feature. We may earn commission from the links on this page.
The Best Workout Shoes, According to Experts
Nike trainers and the founder of Gotham Footcare weigh in.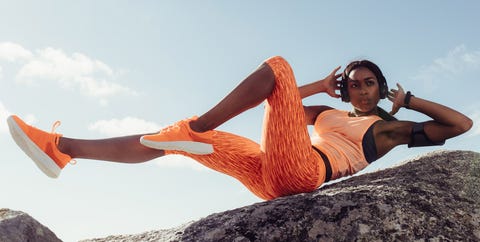 Finding the right fitness shoe, whether you're a runner, an avid biker, a boxer, or a CrossFit enthusiast is more complicated than you might think. Not all gym shoes and sneakers are created equal. Some activities require more support, while, for others, increased flexibility is better. (For example: You shouldn't necessarily wear your running shoes to play tennis.) Not to mention the fact that the athleisure category just keeps growing, leaving you with dozens of fashionable options that may not be as functional as you need. To help make sure you look and feel good during exercise and don't twist an ankle, we spoke to several experts with robust knowledge of performance footwear. Nike Master Trainer Kirsty Godso, who specializes in high intensity activities, Nike Run Coach Jes Woods, and podiatrist Miguel Cunha, the founder of Gotham Footcare, all weighed in on the best types of shoes for however you like to sweat. Whether you're doing cardio in your living room or training for a marathon, you'll find a shoe that works for you.
1
For Running Short Distances
Legend React
For casual runners who clock three to four miles a couple times a week, choose a pair of Nike react sneakers. "The shoe is lightweight and cushioned, so it's supposed to make running feel fun," says Woods. The "joyride" model works well, too.
2
For Long Distance Running
Adrenaline GTS 19 Running Shoe
Brooks
jackrabbit.com
$129.95
If you're looking for a sneaker that offers stability (perhaps you suffer from over-pronation, like I do), opt for a more supportive style, like this one from Brooks. I personally run in this (following the recommendation of an employee at NYC running chain Jack Rabbit), and it's saved my feet on multiple occasions. Running is high impact, and this ultra-cushioned pair absorbs some of that.
3
For Cross-Training
FuzeX TR Cross-Trainer Shoe
When looking for a sneaker for HIIT (that's high-intensity interval training) or CrossFit classes, make sure to choose one that is designed for multi-directional activities, especially side-to-side movements, like speed skater jumps or grapevines. This one from Asics has "a lighter weight midsole compound than traditional Asics standard EVA midsoles with enhanced cushioning and durability," says Dr. Cunha. The sneaker works for classes like Zumba or recreational (read: not too competitive) games of basketball, too.
4
For Boxing
Box Hog 3 Shoes
If you're heading to the ring, look for high tops, which are considered the "traditional" choice because of all the ankle support they provide. This pair from Adidas has vented mesh for breathability. The back has reinforced support for when you twist and dip to avoid opponents.
5
For Everyday Wear and Casual Runs
Joyride Run Flyknit
Speaking of joyride, this Nike sneaker is made with tiny foam beads, which are strategically placed in pockets underneath your foot. The beads absorb any impact you might feel from the ground. The shoes run a little snug, so order a half size up for a looser fit.
6
For Mountain Cycling
X1 Infinito
Cycling shoes come in many styles and offer different features, depending on the type of cycling you're doing. For mountain biking, look for shoe options that have "a stiff carbon sole with a bit of flex in the toe," says Dr. Cunha. "Mountain shoes usually use heavier-duty leather or suede with armoring on the toes and heels to withstand more rugged uneven terrain." This one from Fizik ticks all those boxes.
7
For (Light) Hiking
Air Zoom Pegasus 36 Trail
Prefer to exercise in the great outdoors? Day hikers could try Nike's trail shoes, which according to Woods, "feels like a running shoe you can wear on trails and isn't stiff to walk in." This shoe is breathable and well-cushioned, and the lugs on the outsole provide plenty of traction. If you're thinking about more than a few miles or something particularly steep, sorry, but you probably need a proper hiking boot.
8
For Indoor Cycling
Bont Vaypor S
Bont Cycling
https://www.bontcycling.com
$379.00
This shoe is designed for speed and comfort. It's "semi-custom for riders who choose function over form," says Dr. Cunha. It may not be the most stylish, but it doesn't compromise comfort or functionality. Top features: "A stiff carbon sole, which can be heat molded, and an extremely efficient feel while pedaling."
9
For At-Home Workouts
FuelCore Nergize
New Balance
newbalance.com
$54.99
For an overall sneaker you can rock at your local gym on days you're mixing some cardio and some strength or when you're simply doing workouts at home, get this New Balance pair. It has comfy cushioning for all day support and has a performance fit. Order a half size up.
10
For Basketball
Question Basketball Shoes
Reebok
reebok.com
$120.00
Basketball players looking for a proper sneaker to shoot hoops in should check out this Reebok pair. The kicks white toes were inspired by the "OG Red that Allen Iverson wore during his rookie season," and is one the top-selling sneakers for the brand. The hexagonal cushioning in the shoe provides all-day comfort, so you can hang out at the court until sunset.
11
For Low-Intensity Workouts
TechLoom Bliss Sneakers
APL: Athletic Propulsion Labs
shopbop.com
$200.00
Workouts such as barre, pilates, yoga, and jiu jitsu are often done barefoot, so you technically only need a sneaker to get you to and from class. For a shoe you can easily slip on and off, opt for this no-laces style from APL. It's lightweight and has a cushioned midsole for that post-workout jog home.
•••
For more stories like this, including celebrity news, beauty and fashion advice, savvy political commentary, and fascinating features, sign up for the Marie Claire newsletter (subscribe here).
This content is created and maintained by a third party, and imported onto this page to help users provide their email addresses. You may be able to find more information about this and similar content at piano.io