The Jewelry Trends You'll Wear With Your 2020 Outfits
Start taking notes.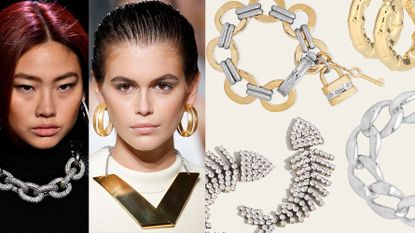 (Image credit: Design by Morgan McMullen)
Every time we need to perk up our outfits, jewelry comes to the rescue. With the right chunky necklace or pair of sparkly statement earrings, your blazer/dress/sweater looks even more stylish. (Personally, I never leave the house without earrings on, even if it's just a simple pair of diamond studs.) And with all the spring/fall 2020 runway offerings, jewelry options are bound to be plentiful and fresh, just like your favorite 2020 handbags or shoes. We've gone ahead and pinpointed the nine jewelry trends to know for the season—and even provided similar get-it-now options—so you don't have to wait a minute longer to shop. After all, your outfit is in need of new accessories.
•••
For more stories like this, including celebrity news, beauty and fashion advice, savvy political commentary, and fascinating features, sign up for the Marie Claire newsletter (subscribe here).
1/45
Animal Motif Jewelry
Whether it was a giant scorpion collar at Balmain or the fish charms hanging off the necklaces at Dior, designers found some way to incorporate animals into their jewelry. The pieces looked whimsical and edgy—the adult upgrade from your childhood accessories. Elsewhere on the fall 2020 runways, Carolina Herrera had bird earrings while Erdem's silver earrings featured flamingos (or possibly storks?).
2/45
Sewit Sium Rearing Cobra Earrings
These cobra hoops are statement-making but somehow subtle enough for everyday.
3/45
SVNR Ningbo
This fish single earring will be a summer show-stopper paired with a simple hoop or a pearl drop on your other ear.
4/45
Kenneth Jay Lane White Elephant Head Bracelet
Kenneth Jay Lane is the king of animal-inspired costume jewelry and this bracelet is a classic style of his. Layer with other gold bangles or heavy chain bracelets for a bold look.
5/45
Mignonne Gavigan Bird Earrings, Toffee
To quote Portlandia: "Put a bird on it."
6/45
Statement Chokers
Gucci (left), Moschino
Across the spring and fall 2020 runways, statement chokers popped up around models' necks. Gucci piled on two of the accessories while Jeremy Scott of Moschino included one in a larger set of layered necklaces. Other brands like Monse and The Blonds debuted buckle options. Look for extravagant chokers come autumn 2020 to wear with your V-neck sweaters and knitted cardigans. The theme for accessories, it seems, is go big or go home.
7/45
Coup De Coeur Spike Choker Necklace
Your usual look of delicately layered necklaces could use some edge. That's where this choker comes in. It reminds me of a fancy animal collar, but is strictly meant for humans.
8/45
Area Scalloped Choker
Rhinestones, colored or not, were big on the fall 2020 runways so why not incorporate this design into a choker? It will add something sparkly to your everyday ensembles.
9/45
Dylan Lex Gilded West
The brushed gold gives it an antique feel but the pendant keeps it edgy.
10/45
Fallon Jewelry Monarch Pearl Choker Necklace
Pearls are everywhere right now for both ladies and men (see: ASAP Rocky). This choker looks great layered with other metal chains, which make it a little less prim and proper.
11/45
Everyday Objects
Fendi (left), Monse
If you're wondering, "Are those pens?" on the ears of models at Fendi's fall 2020 runway show, the answer is yes. The look of everyday objects turned accessories was an unusually cool trend on the runways because it was one of the first things to catch our eyes. When your outfit needs that unexpected touch, earrings like these will ensure everyone gives your outfit a genuine compliment.
12/45
Anthropologie Pin Drop Threader Earring Set
This looks like an ordinary pair of clothing pins, but they're actually earrings! Once you're over that jarring fact, adorn your lobes with them.
13/45
2 Finger Rings New Edge Razor Ring
Razor jewelry is an iconic punk staple, but this double finger ring feels more elevated (and less sharp!) than the DIY version.
14/45
Marla Aaron Baby Lock Sterling Silver
One of jewelry designer Marla Aaron's signature pieces is her carabiner-inspired baby lock. Add this to any existing necklace as a charm or link together chains or a long or layered look.
15/45
Maria Tash Short Chain Handcuff Clickers
These mini handcuffs are meant to hook two side-by-side piercings together. They'll make for a great conversation starter.
16/45
Supersize Hoops
Proenza Schouler (left), Balenciaga
Give your dainty hoop earrings a break and invest in a large pair for 2020. The oversize style was spotted on the spring 2020 runways from designers like Carolina Herrera and Sies Marjan. Updated takes on the design include door-knocker styles like the Balenciaga ones and double hoops from Proenza Schouler. These hoops are all about standing out, not blending in.
17/45
Jennifer Fisher Baby Lace Up gold-plated hoop earrings
Jennifer Fisher knows how to make a strong hoop. These twisted version pumps up the volume and texture making them your new everyday go-to.
18/45
Guess Gold-Tone Bamboo Hoop Earrings
Bamboo hoops have become so ubiquitous that they now hold their own as a jewelry staple. These from Guess are statement-making but won't break the bank.
19/45
Lorraine West Jewelry Nipple Hoops in Brass
These hoops have a special "feminine" touch to them. They're simple enough to wear every day but a total conversation starter.
20/45
Melody Eshani 1998 Door Knocker
A more colorful take on a classic Door Knocker style are perfect for warm weather dressing.
21/45
Colorful Stones
Ulla Johnson (left), Anna Sui
Spring tends to bring a renewed energy to our wardrobes; we shed our puffers and ankle boots for barely-there sandals and whispery cotton dresses. To welcome sunnier days and add some cheer to your look, opt for bright baubles in various hues. Colorful accessories were plentiful on the runways and designers weren't afraid to play with proportions.
22/45
Adore Adorn Desert Drip Dangle Earring
The varying warm shades of these crystals will look stunning on every skin tone and pretty much with anything you wear.
23/45
MaryJane Claverol Delphine Bracelet
A pop of color is always a welcome addition to any stack of layered bracelets. It also helps free up any rules if you have a thing about mixing metals.
24/45
Epifene Andalucia
Colorful stones mixed with strong statement gold are a winning combo when it comes to a "one and done" accessory.
25/45