Editors handpick every product that we feature. We may earn commission from the links on this page.
12 Slip-On Sneaker Options That Are Easy to Wear and Super Stylish
Anyone else hate tying their shoelaces?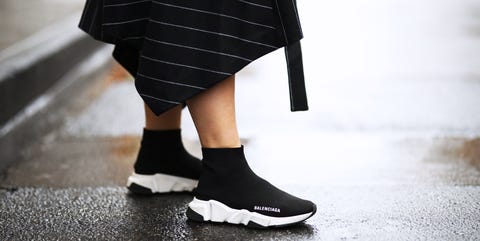 Jeremy Moeller
Getty Images
Sneakers are a wardrobe staple—you can always find a pair suitable for every outfit and occasion. As sneaker lovers who are always seeking the next best pair, we've rounded up kicks in almost every category, from chunky "dad" sneaks to crisp, white sneakers. (For the ultimate guide, you'll have to check out the best sneakers for 2020.) Now we're here to tackle another category of kicks: your simple, no-hassle, get-up-and-go slip-on sneaker. This lace-free style comes in leather, prints, pastel colors, platform styles, and ranges in price from the super affordable to the super luxe. What we're trying to say is that options for slip-on sneakers are endless, thus giving you many opportunities to find the perfect pair. Before you go searching on your own, we present to you some of our favorite slip-on sneaker styles below. Just add to your checkout cart.

This content is created and maintained by a third party, and imported onto this page to help users provide their email addresses. You may be able to find more information about this and similar content at piano.io