Editors handpick every product that we feature. We may earn commission from the links on this page.
The Best Swimsuits for Your Body Type
Embrace your small chest or curves.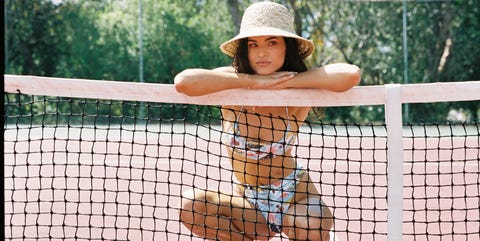 Courtesy of Frankies Bikinis
The whole idea of "buying a swimsuit based on your body type," isn't exactly as clear cut as everyone makes it seem. For example, I would categorize myself as slender and small busted, but with decently sized hips and a butt. I also have a long torso. You'd think string bikinis would look great on a slender person and they might for some, but it looks terrible on my lengthy frame. So while the body type categories are good starting points, when it comes down to the nitty-gritty parts of my figure, I find myself not identifying with any categories at all.
I know I'm not alone in this scenario—shopping for swimsuits, whether you have triple D cups or no curves at all, is almost always confusing and taxing. It takes a few trips to the store and/or several online returns to find a bikini or one-piece that works. As summer 2020 approaches, I want to help everyone find the swimsuits that flatters their figures. Instead of categorizing your body into athletic, pear-shaped, etc. look for a swimsuit that will highlight (or conceal) the areas you want. Focus less on boxing yourself in and more on where you want to accentuate your body and how that swimsuit can help achieve this. Ahead, shop swimsuits that will appeal to everyone, from small-chested girls to those with tummy curves.
This content is created and maintained by a third party, and imported onto this page to help users provide their email addresses. You may be able to find more information about this and similar content at piano.io