Editors handpick every product that we feature. We may earn commission from the links on this page.
The Best Espadrilles for Summer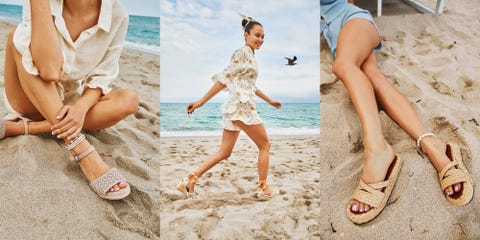 The espadrille, the quintessential warm-weather shoe, has an intriguing history. From humble to haute, espadrilles date all the way back to the 13th century: The simple roped style was initially considered a shoe for the lower classes. In the '70s, Yves Saint Laurent, along with Spanish manufacturer Castañer, made history by creating the first wedge espadrille, a style that has remained a classic to this day. The shoe has been beloved by some of the most stylish women in history—I'm talking Jane Birkin, Audrey Hepburn, and Grace Kelly, among others. Espadrilles evoke a feeling like no other shoe can (trust me, I'm not staring at my sneakers longingly). Espadrilles make you look and feel like you belong on a vacation somewhere special. Even if the furthest place I'll be going this summer is down the street to Washington Square Park, I can look and feel like Jane Birkin in Provence. All you need to add are flare jeans, a striped tank, and a basket bag— that's the power of simple, timeless pieces. Below I've rounded up the chicest espadrilles for summer, no grand plans needed.

This content is created and maintained by a third party, and imported onto this page to help users provide their email addresses. You may be able to find more information about this and similar content at piano.io