Editors handpick every product that we feature. We may earn commission from the links on this page.
Hiking Boots That Are Actually Stylish
Fashion and also function.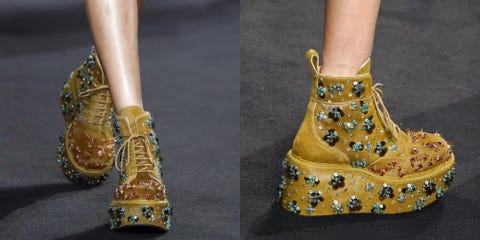 While many of us have been self-isolating in the comfort of our homes, the city slickers among us have been confined to their very charming, very small apartments. I've never particularly been one for the outdoors, but after several weeks in lockdown, I find myself craving fresh air and my suburban roots. The outskirts of New Jersey that I spent my youth trying to escape now sound like an oasis. Needless to say, I haven't exactly enjoyed hiking in the past, but after this I might change my tune. Whether you're planning to trudge up hills outdoors or just want a chic, easy boot to throw on for any and all activities, we rounded up the best hiking boots of the season. Disclaimer: these are fashion-focused and not necessarily chosen for their functional value, so don't hike up Mount Everest just yet. However, you will look pretty damn cute (especially in the leopard pair) when you can head into the great outdoors again.
This content is created and maintained by a third party, and imported onto this page to help users provide their email addresses. You may be able to find more information about this and similar content at piano.io