Editors handpick every product that we feature. We may earn commission from the links on this page.
Chic Aprons That Will Look Great Next to Your Banana Bread
'Cause you don't want your sweatpants covered in flour, now do you?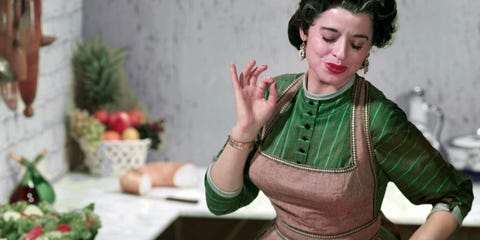 Tom Kelley Archive
Getty Images
Not to complain, but cooking three meals a day for months on end wasn't something any of us were fully prepared for going into quarantine. Which, at points, wasn't such a terrible thing. Mastering a killer banana bread or trying your hand at homemade dumplings were highlights, but low-lights definitely include blender explosions all over the go-to-sweatsuit. If only we had... a cute apron. A kitchen accessory that once felt limited to retro homemakers, messy kids, or professional chefs definitely serves a place in the modern post-COVID kitchen. (That is, if everyone continues to still make bread after all of this is said and done.) In any case, we've rounded up our favorite luxury aprons that should suit any kitchen style. From vivid prints to subtle, soft linens, click through to find yours and consider your white sweatsuit living to see another day.
This content is created and maintained by a third party, and imported onto this page to help users provide their email addresses. You may be able to find more information about this and similar content at piano.io