11 Graphic T-Shirts From Amazon You'd Actually Wear
Cheeky, not cheesy.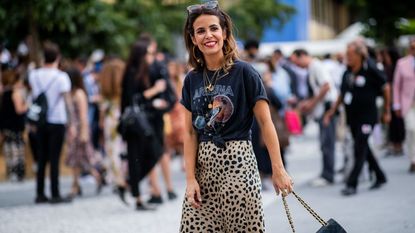 (Image credit: Getty Images/Christian Vierig)
Graphic tees can add a laidback playfulness to your outfits and tone down statement dresses or skirts, but selecting one that doesn't scream "'I'm at a bachelorette party" or skew too young (your 13-year-old self loved the Abercrombie graphic logo tops) can be difficult. The trick is to look for designs that are cheeky, not cheesy, and styles you'd feel comfortable wearing around your friends and family. We've identified 11 such options—all from Amazon. The styles span from tie-dye palm tree graphic shirts to the iconic boob outline tee (which you can wear while drinking out of your boob outline coffee mug). The tees all offer a dose of personality to your ensembles without throwing your fashion back to your teenage years. Sounds ideal, right? Click ahead to shop all the tees—and then check out the best leggings we've found on Amazon.
A Tie-Dye Graphic T-shirt
1. Re/Done '90s Oversized Palm Tee
If the all-over graphic print is not in your style vocabulary, try wearing a smaller design like this multicolored palm trees tee from Re/Done. The graphic blends in with the tie-dye background, giving it a fresh take for summer.
A Yoga Graphic T-shirt
2. Unfortunate Portrait Women's Haute Yoga Tee
This punny t-shirt will speak to the fashion girl who practices yoga on the regular. The top is made from 100 percent cotton and can be worn with your workout leggings or with a denim skirt on days you're not practicing the tree pose.
3. Madeworn Rock Janis Joplin Glitter Tee
Madeworn is known for its meticulously constructed and distressed tees that replicate your favorite vintage band tops. You don't have to spend hours at your local thrift store hunting down that Janis Joplin shirt—just scoop this one up and wear it until it's even more faded and comfy.
A Graphic Tree T-shirt
4. Mother The Little Sinful Tee
This "home grown" t-shirt can be interpreted in a variety of ways, though if you're from California it may hold an even more special meaning for you. Keep home close to your heart, always, when you wear this top.
5. Blackmyth Cute Graphic T-Shirts
You don't need to completely free the nip in public when you have this cheeky t-shirt on. The boob outline is equal parts funny and striking to those who glance your way.
A Mickey Mouse Graphic T-shirt
6. Disney Gold Mickey Mouse Pose T-Shirt
Disney fanatics always have at least one piece of clothing that shows off their love for the movies and shows. We're team Mickey Mouse when it comes to the ultimate icon you should have on a graphic tee.
A Grocery Bag Graphic T-shirt
7. Thank You Have a Nice Day Grocery Bag T-Shirt
I'm not a fan of plastic bags, but I do love the nostalgia that comes with the "thank you have a nice day" messaging that appeared on them. Rock this shirt and don't forget to bring your own reusable produce and grocery bags the next time you head to a supermarket.
A Pasta Graphic T-shirt
8. EAT SPAGHETTI TO FORGETTI YOUR REGRETTI Funny Pasta T-shirt
There's always that one person in your friend group that loves pasta, like really loves pasta. Gift her this funny tee when her birthday rolls around along with her favorite box of locally-produced penne.
An Animal Graphic T-shirt
9. Unfortunate Portrait Women's Animals Tee
Can you name all the animals on this t-shirt? Kudos if you can because I'm slightly struggling, but that won't stop me from loving this shirt since it features one of my favorite creatures: the giraffe.
A Wave Graphic T-shirt
10. Romwe The Great Wave Off Kanagawa Graphic Print Tee Shirt
This graphic print of waves represents the ones crashing along the coastal prefecture, Kanagawa, which is just south of Tokyo. If you find the water soothing or love the ocean, this waves graphic is perfect for you.
A Sequin Graphic T-shirt
11. Milumia Summer Sequin Lip Print Short Sleeve T-Shirt Top
If you bite your lips a lot, this t-shirt will serve as a reminder to kick that habit. Instead, let the sequin motif channel out all those nervous energies from you.
Marina Liao is the former fashion news editor at MarieClaire.com, where she covered celebrity style (from Meghan Markle to Katie Holmes), fashion trends, and shopping advice, plus conducted original interviews with industry insiders. She's also had many opportunities to write content in other areas such as beauty, food, tech, and even home. Her previous fashion stints include POPSUGAR and Cosmopolitan.