The 20 Best White T-Shirts on Amazon, According to Reviews
Every closet needs one.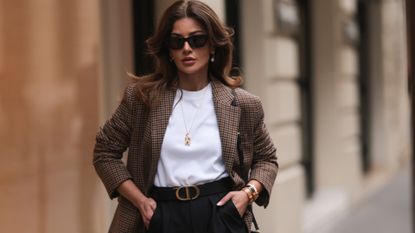 (Image credit: Getty Images)
No matter your personal style, there are some non-negotiable items you need in your closet. A little black dress for date night; a pair of all-year-round ankle boots; and a great leather jacket, to name a few. But there's one can't-live-without piece that's the highest on our list of closet must-haves: a white T-shirt.
Sure, a white T-shirt may be considered basic, but its endless styling possibilities make it the MVP of your wardrobe. Not only is it a perfect layering piece under summer dresses and winter sweaters, but it looks just as well on its own with jeans and a cool jacket. Thankfully, some of the best white T-shirts come with small price tags—and on Amazon.
If you're looking to add a basic tee to your collection, look no further than the small but mighty selection on the e-retailer, many of which have 1,000-plus reviews. From fitted V-necks to slouchy, relaxed styles, we've found plenty of affordable options backed by glowing reviews. Oh, and all the tees on this list cost $40 and under. Win-win.
Deals on White T-Shirts from Amazon
The Best White T-Shirts on Amazon