Chic Upcycled Items You Won't Believe Were Something Else Before
Fast fashion whomst?!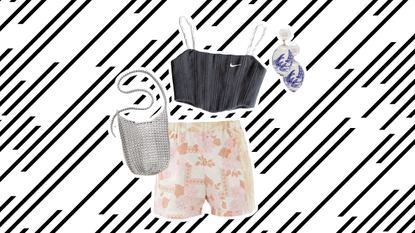 (Image credit: courtesy)
Marie Claire newsletter
Celebrity news, beauty, fashion advice, and fascinating features, delivered straight to your inbox!
Thank you for signing up to . You will receive a verification email shortly.
There was a problem. Please refresh the page and try again.
As a fashion editor and a self-proclaimed "hippie in heels," it's always a goal of mine to be a more mindful consumer, especially in the fashion space. (opens in new tab)But where to start? Shopping my closet and "renting" clothes on demand is a great place to start, but what about that insatiable craving for newness? Having long been a vintage shopper, there something exciting about taking it one step further and buying something that really feels one of a kind, not just an abandoned "great find." Upcycling by definition is "reusing [discarded objects or material] in such a way as to create a product of higher quality (opens in new tab) or value than the original." This poses the ultimate existential fashion question: Is the repurposed "old" as exciting as the "new"? I say yes, it absolutely can be. Here's a roundup of great upcycled pieces from designers and companies who are driving the idea that preexisting materials can most certainly become shiny new things.
1/20
Serendipitous Project "Starry Night" Earrings
These stunners are one of a kind and made from parts of vintage jewelry, so no—your sister can't twin with you this time, sorry girl!
2/20
Rentrayage Grey Ruffled Embroidered Sweatshirt
Rentrayge's brand message is to keep it vintage and keep it local, but also keep it fresh by mixing textures and details, like on this old college crewneck.
3/20
Re/Done Upcycled Bandana Face Covering
Wear a damn mask!!! These ones by Re/Done (my vintage denim go-to) are made from vintage bandanas and will go with pretty much everything.
4/20
Soko Arlie Maxi Wood Hoop Earrings
These wood hoops are made from off-cuts of pieces that normally would be scrap waste, but due to their small size make perfect jewelry pieces.
5/20
Res Ipsa Women's Kilim Loafer
These one-of-a-kind loafers assembled from Turkish rugs somehow seem to go with everything and guarantee you a look that no one else can cop.
6/20
Rave Review Jade Floral Upcycled-Bedsheet Cotton Shorts
Made from a vintage bedsheet (!), these shorts are the breezy summer go-to you didn't know you needed until this moment.
7/20
Samaria Leah Mo Jeans
Samaria Leah repurposes vintage jeans with the utmost attention to detail, adding unique twists like lacing and safety pins that mimic fringe to create a one-of-a-kind pair that you definitely don't have in your closet already.
8/20
SVNR Belitung Earring
Made with deadstock porcelain beads, these earrings give new life to otherwise discarded items and look amazing while they're at it. Mix and match for an individualist take.
9/20
Asata.Maisé Mini Patchwork Baguette
Asata Maisé's love of vintage fabrics fuels her line, which consists of contemporary shapes and silhouettes but uses retro prints and patterns to give you instant style. She is constantly restocking, so stay tuned!
10/20
Marine Serre Moon Intervened Upcycled Graphic Tee
Designer Marine Serre has made upcycling materials part of her brand's ethos, and devoted her entire Spring/Summer 2020 collection to this technique.
11/20
Sole Rebels Easy Ridin Comeback Sandal
With soles made from repurposed tires, these flip-flops are also entirely vegan, so a win-win on all fronts.
12/20
Remade USA Norman Bucket Bag
Remade USA takes leather jackets and repurposes them into a handbag that suits any season. This bucket bag will be the go-to you'll grab for years.
13/20
almost.on.time Basic Black Nike Sweats Corset
A fitted corset made from Nike sweats? Absolutely. These are all sold out, but stay on top of the drops for one-of-a-kind sexy sportswear that will make everyone you know insanely jealous.
14/20
Flat Fifteen Yellow & Black Tartan Scallop Handle Bag
This super sweet lil' puffy bag, inspired by those "your Aunty would probably wear to Church on a Sunday," is made from remnant and vintage fabric and beads from used jewelry. It's puffed up from stuffing used to fill toys and furniture.
15/20
A Shirt Story White Tuxedo Pleated Front Shirt
Made by former fashion editor Sasha Igelhart, these thrifted men's shirts are given new life with rhinestone buttons and raw-edge hems. It's those subtle details that make classic shirting feel more interesting. Personally, I keep grabbing my oversized tuxedo version in lieu of a tee under a cardigan or wear it long and untucked for a tunic-like vibe.
16/20
Cled In The Loop Ring
Cled cuts and polishes discarded glass to create "Eco Gems" that appear in several colors and shapes throughout the collection. Their Loop Ring makes for great modern friendship jewelry—gift one to your bestie in another color.
17/20
Hermès Petit H Pouch
Being green never looked as luxurious and unexpected as it does when it's from Hermès. The brand's Petit H collection consists of reworked pieces made from deadstock materials, like this mini scarf pouch. It's also low-key thrilling to know that the pattern and color each item will be a "surprise" upon ordering, due to availability.
18/20
Pyschic Outlaw Supply Chore Coat Classic Sleeve
Rebecca Wright will take a quilt of your own and transform it into one of several different silhouettes, making this one of the most original and personal pieces of clothing in your closet.
19/20
Chopova Lowena Tartan-Print Asymmetric Skirt
Designers Emma Chopova and Laura Lowena pleat vintage textiles from Bulgaria into skirts and attach them to a leather belt that includes natural imperfections. Each skirt is one of a kind, made with the simple idea that not one bit will go to waste.
20/20
Bottletop Bellani Bag
Chainmail bags are a hot trend right now, but this one stands out; it's handmade from ring pulls on soda tabs.
Julia Gall is the former Style Director at Marie Claire, covering all things fashion, as well as styling tips, wardrobe upkeep and sustainability. Check her out at @juliasgall.