The 29 Best Eco-Friendly Gifts for Sustainable Giving
Guilt-free shopping, right this way.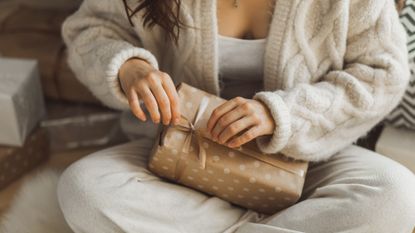 (Image credit: Getty Images)
When the holidays roll around, I can't help but feel more concerned about the environment—and you probably do, too. More gifts inevitably mean more waste and plastic, plus all of the extra emissions from manufacturing. And don't even get me started on all of the wrapping paper! Nowadays, it's more important than ever to shop for sustainable, eco-friendly gifts, and thankfully more and more brands are making it easier to do so.
Every brand on this list is making an effort to prioritize sustainability, from zero-waste products to recycled materials to transparency in production (and sometimes all of the above). Whether it be from one of our favorite sustainable fashion brands or eco-friendly small businesses, the beauty and fashion items on this list come guilt-free and are sure to last your recipients for years. Meanwhile, the home and beauty products listed—cleaning sprays, body care, food bags, and so on—will replace the more harmful products in your giftee's collection.
Brooke Knappenberger is the Editorial Fellow at Marie Claire, where she writes across the board from fashion and beauty to books and celebrities. As a pop culture junkie, Brooke obsessively consumes and writes about the latest movie releases, streaming TV shows, and celebrity scandals. She has over three years of experience writing on fashion, beauty, and entertainment and her work has appeared on Looper, NickiSwift, The Sun US, and Vox Magazine of Columbia, Missouri. Brooke obtained her Bachelor's Degree in Journalism from the University of Missouri's School of Journalism with an emphasis on Magazine Editing and has a minor in Textile and Apparel Management.