This is how Georgina Chapman gives back with the Magic Bus program.
"We train local people to teach and mentor so it's not an outsider coming in and telling them what to do."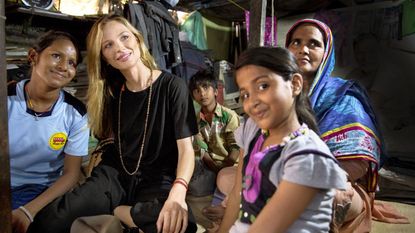 (Image credit: Courtesy)
Half of India's poorest children never receive a primary education. It's a statistic painfully on display in Mankhurd, a Mumbai suburb that is the epicenter of the country's tailoring and embroidery business and home to more than 670,000 people. Enter Marchesa designer Georgina Chapman. To give back to the area in which many of the brand's intricate gowns are embroidered, in 2014 she partnered with nonprofit Magic Bus, whose goal is to break the cycle of poverty by encouraging children to finish school. The organization (which got its name after founder Matthew Spacie drove a bus into an Indian slum in 1999 and provided children living there with a trip as an escape) works with more than 400,000 youth globally and entered Mankhurd in 2008. Since Chapman came on board, participation in Mankhurd's program has grown from 438 children to nearly 2,500—and counting. "We train local people to teach and mentor so it's not an outsider coming in and telling them what to do," explains Chapman.
One such community youth leader is Parvati Pujari. Among the initial women to participate in the Magic Bus program, she was the first girl to finish school in her community and the only one to graduate from college (her two older sisters had dropped out of school and were married by age 12, a common practice). By comparison, no girl in the Magic Bus program has gotten married before the age of 18. "It's not because these families aren't progressive; it's because they don't realize there's any other option," says the designer. "We aren't building bathrooms or wells, but these powerful stories are just as tangible."
India has always been a special place for Chapman. Her ancestors lived there, and it was while traveling through the subcontinent that she and cofounder Keren Craig became inspired to launch Marchesa. "I'll never forget stepping off the plane when I first visited at 16 and being shocked by the smells, colors, and architecture," she says. "It was intoxicating and has stayed with me forever." So much so that she named her daughter after the country and hopes to bring 7-year-old India one day: "I want her to understand and play a part."
This article appears in the September issue of Marie Claire, on newsstands now.
Celebrity news, beauty, fashion advice, and fascinating features, delivered straight to your inbox!