Would You Rock a Mini-Dress At Your Wedding?
Personally, I don't know that I'd want to declare my undying matrimonial devotion in a miniskirt.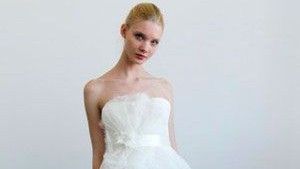 (Image credit: Marchesa)
Marie Claire newsletter
Celebrity news, beauty, fashion advice, and fascinating features, delivered straight to your inbox!
Thank you for signing up to . You will receive a verification email shortly.
There was a problem. Please refresh the page and try again.
Remember the "November Rain" video, back when Axl Rose was still kind of trashy-hot? It starred a young Stephanie Seymour, then Axl's paramour, as a super-sexy bride. Because the wedding was totally rock 'n' roll, Stephanie wore a supershort skirt that barely covered her ladyparts, with a long, wide train in the back. But she also wore a veil, so you knew she was classy. (And then she died in the video, but that's neither here nor there.)
Anyway, "November Rain" was the first thing that sprang to mind when I checked out this Marchesa wedding gown from the Fall 2010 collection on Aisledash (opens in new tab). Personally, I don't know that I'd want to declare my undying matrimonial devotion in front of God and family while wearing a white lace cocktail mini dress, but maybe I'm just uptight. I suppose a wedding isn't any more or less sacred if your hemline is sky-high, right? And to be fair, Marchesa designed a slightly more demure dress than the Fredericks of Hollywood-esque getup Stephanie Seymour wore when she fake-married Axl. Unlike Stephanie Seymour, the Marchesa model doesn't appear to be in any danger of flashing what Snooki would call her "cuca." And that's really what a wedding is all about: making sure your Great-Aunt Isabel doesn't catch you in a Paris/Britney moment.