Green Fashion: From the Margins to the Mainstream
Eco designer Samantha Pleet is part of a growing crop of sustainable designers who are redefining what it looks like to be environmentally aware.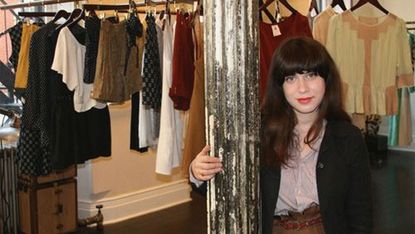 (Image credit: Maria Eugenia Miranda)
Just four years ago, eco designer Samantha Pleet (opens in new tab) was selling her recently launched clothing line, TG-170, in a small, independent store that sells clothes from lesser-known designers in the Lower East Side of Manhattan. Now, anyone anywhere can purchase some of Pleet's earth-friendly styles through Urban Outfitters' online store.
Like Pleet's designs, eco fashion has gone from the margins to the mainstream in the last 10 years. Nowadays, the trend is more than organic T-shirts with a political logo on them, says Sass Brown, an expert on sustainable fashion who came out with the book Eco Fashion in September.
"There's still this stigma about it being, you know, ugly or basic or boring. And that's not the case anymore," says Brown.
Pleet is part of a growing cadre of designers in "ecouture." Her classic silhouettes have a tinge of 1950s style with a modern twist. Old films, books, music, and traveling inspire her, but she stays true to her brand by keeping up with sustainable practices.
From coconut buttons to recycled micro-fiber as faux-suede leather, Pleet tries it all. She also makes it a point to manufacture her clothes in New York City's Garment District, instead of outsourcing production.
"It's really about the clothes first," says Pleet. "And if they're interested in supporting sustainable design, maybe they'll be researching that and find me there."
8 More Lines That Are All About Sustainable Style
Bodkin

Founded by former fashion editor Eviana Hartman, Bodkin offers comfortable yet chic wardrobe staples.
bodkin.us (opens in new tab)
John Patrick Organic
Wool, vegetable tanned leather, and organic materials are elements in the fall/winter 2010 line at this design company.
johnpatrickorganic.com (opens in new tab)
Edun
Committed to encouraging trade in Africa, Edun falls under another category of sustainable design — fostering economic growth in developing countries.
edun.com (opens in new tab)
Noir

This Danish company proves that green can be gorgeous. It's all high-end here.
noir.dk (opens in new tab)
Linda Loudermilk

Fierce and innovative, this brand isn't afraid to try something new.
lindaloudermilk.com (opens in new tab)
Ajna

Modern yet traditional, this ethnic-chic line supports artisanal trades and textile development around the world.
ajnacollection.com (opens in new tab)
Alabama Chanin

Each piece for this line is carefully and slowly crafted to the tune of sustainable standards and the slow pace of life in the South.
alabamachanin.com (opens in new tab)
Sublet Clothing

Another product of the vibrant green fashion field in New York City, Sublet Clothing prides itself in creating garments that have simple silhouettes and thoughtful details.
subletclothing.com (opens in new tab)