From Catwalk to Coachella: Fashion Week Accessory Trends Spotted at Indio
Check out the cool trends that made it from the fashion shows to the festival grounds.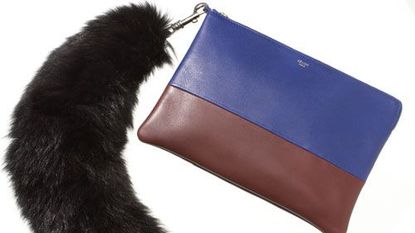 (Image credit: Archives)
What happens on the runway stays on the runway—or at least in style's capital cities, right? Not a chance. While trekking around the tents last weekend, we were astounded by the number of designer-inspired accessories sported by festival-goers. The best part about seeing this trickle-down of trends up close, of course, was that the stylish girls and guys we admired had each put their own spin on their add-on of choice—no head-to-toe copies of runway looks here! Read on for a handful of soon-to-be-ubiquitous accessories that made it onto our fashion radar at Coachella; hopefully, you'll feel inspired to take a style cue or two yourself!
FOX TAILS - A current favorite here at Marie Claire's offices, Céline's fluffy Pre-Fall 2011 fox tails were originally shown clipped to the label's covetable, colorful pouchettes for an effect that was equal parts polished and playful. And in Indio, we noticed likeminded accents on many a 21-century flower child. Whether dangling from one's arm, belt loop, or cross-body bag, furry tails were almost as popular as The Strokes tees on the Empire Polo Field.
CARABINER CLIPS - We don't think there's a single member of the fashion flock who hasn't fallen head-over-heels for Proenza Schouler's neon camping-cord bracelets at this point. We even recently found that they make for a pretty sweet DIY! It seems like many a Coachellite followed Jack and Laz's lead last weekend, using mountaineer-style carabiner clips to secure their water bottles, scarves, sunglasses, and hats to their belt loops and bags. We even spotted several dangling from music fans' wrists, just as the Proenza boys intended. Check out the PS pieces at proenzaschouler.com for $125 each, or get crafty and fashion your own version!
FEATHERED HAIR ACCESSORIES - This earthy trend never really seems to wane, and for Fall 2011, plumage was worked into makeshift headbands at Yigal Azrouël, popped into ponytails at Gucci, and stuck into sleek topknots at Cushnie et Ochs. And though feather accents have long been a Coachella favorite, we saw them in more iterations than ever this time around. From full-on headdresses (only recommended for the truly brave, or if you're seriously aiming to channel Tiger Lily) to more manageable clip-in pheasant hair extensions, guinea-hen headbands, and Gucci-esque plume-strewn ponytails, it's clear that birds of a feather really do flock together.
PINK STREAKS - There's a new wild-child catwalker in town, and her name is Charlotte Free. The 18-year-old California girl walked the Fall '11 runways at Charlotte Ronson, Vivienne Westwood, and more, rose-hued locks flying all the while. Her free (no pun intended) spirit, piercing baby blues, and that trademark mane make her one of the season's freshest faces. And at Coachella, where multicolored dye jobs are de rigueur, we spotted more girls than ever (and even a dude or two) rocking pink highlights of their own. The best part? If your personality (and day job) make cerise streaks a viable option, getting the look is as easy as picking up a bottle of Manic Panic ($12.99 at manicpanic.biz).
BRIGHT WATCHES - Oversized, electric-colored timepieces were on full display throughout the weekend-long West Coast event. Similar watches made a major statement at Balenciaga's spring show, too, where models buckled them on with designer Nicolas Ghesquière's rockabilly-meets-punk looks. Unlike many of the accessories on our list, these particular add-ons serve a practical purpose—with hundreds of shows crammed into just 72 hours, you need to keep track of the hour in order to make that Kanye performance on time! Plus, a neon-toned watch looks incredibly cool mixed amongst your other bracelets, baubles, and—of course—your Coachella admission wristband.
COLORFUL HOOPS - Miuccia Prada's bright and bold Spring 2011 collection was widely acknowledged to be one of the season's strongest; the fruit-print separates, megawatt stripes, and cool platform creepers had many an editor crushing big-time. And at this year's Coachella, we spotted multiple takes on one of the collection's sweetest accessories—Crayola-hued plastic hoop earrings—on dozens of desert visitors. Below, see how we worked the dramatic Prada originals into our March 2011 issue.
TOMS - Heels are obviously out of the question at an outdoor music festival, but last weekend, we were pleasantly surprised at the number of feet not shod in rubber flip-flops. Rather than slip on typical thongs, a ton of concertgoers opted for the fashion industry's charitable shoe of choice: TOMS. You may be familiar with the brand's mission statement--for every pair of TOMS purchased, the company donates a pair to a child in need—but did you know that twin mega-moguls Mary-Kate and Ashley Olsen's label The Row is set to collaborate with the footwear brand for Fall 2011? TOMS + The Row designs will offer the same slip-on design of the original kicks, but in a luxe Italian wool-and-cashmere blend. At $98 to $150 per pair, you may not want to rock these babies at next year's Coachella, but they're a chic option for city wear.
SUNBURN - We kid, we kid. In all seriousness, though, it's impossible to overstate the importance of slathering on sunscreen each and every time you head outdoors this summer, whether you're off to a music festival, pool party, or afternoon barbecue. We spied way too many lobster-hued attendees at Coachella, and while beet-red faces did in fact make it onto the catwalk at Viktor & Rolf, we have a sneaking suspicion that this particular trend isn't intended for widespread adoption.
Marie Claire email subscribers get intel on fashion and beauty trends, hot-off-the-press celebrity news, and more. Sign up here.