Indie Designers Promise Fun & Edgy Looks for Fall
Marcy Guevara, host of Hello Style and MC's Big Girl in a Skinny World, shares an insider look at NYC's curvy girl extravaganza.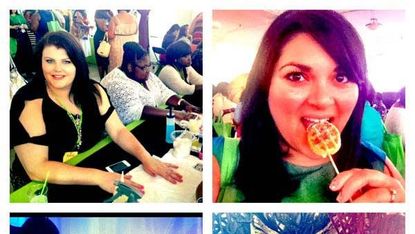 (Image credit: Archives)
There wasn't a shortage of electrifying looks at the Full Figured Fashion Week Indie Designers Showcase. From the runway to the gorgeous audience, it was a night of inspiring fashion.
My second full day of Full Figured Fashion Week started with the Sonsi "Be-you-tiful" party. The guest list was comprised of the who's who of plus-size bloggers and the flashes snapped as we got manicures, makeup, and checked out some of the fall previews from lines like SWAK and Sydney's Closet. SWAK intrigued me with its Fashion U — where customers vote on which looks will be produced — and its trendy yet affordable pieces.
I had a blast hamming it up for the cameras and mingling with my fellow plus-size pioneers. With fabulous giveaways (of course I didn't win anything) and delicious treats, it was a great way to kick off the day. There was lots more to see, so I headed straight to the Affinia Hotel where 25+ brands provided a fun shopping event the full-figured fashionistas call "Curves in the City." I loved getting a peek at the Queen Grace line from Marina Zelner and perusing the adorable vintage selection from one of the retailers.
The night's main event was the Indie Designer Showcase, and everyone was ready to shine. The models were styled, the runway prepared, and the guests in their seats ready to be wowed. Wowed we were. I was inspired, awed and ready to steal some of the frocks right off the models from Youtheary Khmer, whose whimsical approach was a breath of fresh air. Also a standout, Ashley Nell Tipton's looks were so perfectly styled with glittery oxfords complementing the adorable colors and prints in her line.
Nicci Gilbert's CURVATO is a stunning collection of fierce, feminine pieces that are bold, well-structured and for perfect for accomplishing the "sexy-sophisticate" look. SK Wilbur's presentation was a sweet confection of fun looks, perfect for Fall. Chinoo also surprised me with its unique twist on traditional silhouettes and edgy jumpsuits. Get excited for 17 Sundays out of Australia with their fab prints, cool colors and perfect line for the casual-chic woman.
Keep checking in for my last update from the finale runway show, and our interview with Full Figured Fashion Week's Model of the Year, Ashley Graham!
Tweet me @themarcyminute with your fashion dilemmas, distress, and/or diva-liciousness!