Maison Martin Margiela for H&M Makes Its NYC Debut
Maison Martin Margiela's collaboration with H&M launched with a nine-story shindig in New York last night. Yes, even Kanye was there.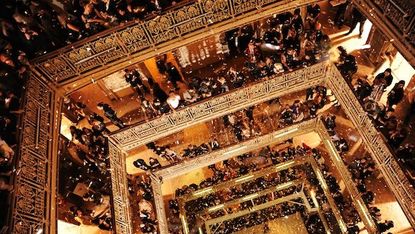 (Image credit: )
One the most common conundrums when it comes to high-end designers creating a line for a mass retailer is figuring out how they can reach a wider audience while still staying true to their brand's vision and aesthetic. At the launch party for its collection for H&M in New York last night, Maison Martin Margiela—one of the last luxury labels that we'd ever expect to collaborate with a fast-fashion brand—proved that it can be done with aplomb.
In keeping with Margiela's avant garde, slightly mysterious persona, the event was housed in a hauntingly beautiful abandoned building at 5 Beekman Street in the financial district. On each of the nine stories, there was a very different scene—from an H&M pop-up shop, to video installations, to performance art, to a live dance routine choreographed by Anne Teresa de Keersmaeker. Much like Margiela's pieces themselves, the party was a feast for the eyes, complete with a confetti shower and light show towards the end of the evening. Many of the Parisian label's celebrity fans turned up to show their support, including Sarah Jessica Parker, Julianne Moore, Helena Christensen, and—he of the "what's that jacket, Margiela?" lyric himself—Mr. Kanye West.
We were lucky enough to be able to browse the 100+ pieces for both men and women, and were thrilled to see some of our favorite iconic Margiela pieces—especially the wedges with a clear heel—reissued especially for the H&M collaboration. So, not only are you scoring a special piece from H&M, you're buying a little piece of history! Read on to see some snaps from the launch and a few full looks from the Maison Martin Margiela with H&M collection, which hits shelves nationwide on November 15.