Exclusive: Q&A with Up-and-Coming "It" Model Bo Don
Our Fashion Features Editor, Jesscia Minkoff, sat down with rising model Bo Don. Get the exclusive interview here!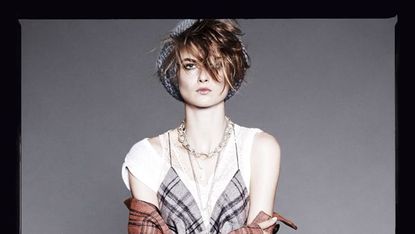 (Image credit: Archives)
Photo: by Jan Welters
Name: Bo Don
Age: 21
From: Holland
Where do you live now? Right now I live in New York. When I first started modeling I was here for a bit and then I moved to Paris for eight months. Now I live on the Lower East Side with two of my friends.
Do you have any siblings? I have a brother. He is 18.
How were you discovered? I was shopping with my aunt in Holland when I first got scouted but I was in school at the time so I didn't think it was the right thing for me. But when I finished school I got scouted again and I decided to give it a try.
What was your first runway show? My runway debut was Balenciaga. I was 18 and I was so nervous. I had just started modeling about a month before and I had to practice for a week because the shoes were so high. Before that I had only done a lot of test shoots.
What was your first editorial? I've shot for Italian Vogue but my first big editorial was the cover of Self Service magazine that I did recently. I had two editorials and the cover, shot by Collier Schorr.
Do you have a favorite photographer or one that you like working with? I don't really have a favorite. I like to work with different people because everyone has their own vision.
Who are some of your favorite designers? I like Alexander Wang.
How would you describe your personal style? Simple. I like a lot of black and I wear a lot of jewelry. I am kind of boyish.
Do you like to go shopping? I like fashion and I am really into what designers do but on a normal day I don't really wear designer clothing. When I go to stores I am drawn to the rack with the most black on it.
What are you wearing today? Black vans, black G-Star skinny jeans and a black G-Star leather jacket. My jewelry (silver bracelets and rings) is from my mom and my aunt.
What is your favorite item in your closet? This G-Star leather jacket that I am wearing. I have had it for a long time and I basically wear it everyday.
Tell me about when you cut your hair. I had long hair for a while and it worked well. I was getting good jobs. But when you become a model you change a lot and I was bored with it. I didn't feel like it was me. I wanted to cut it and my agency was fine with it so we did it. It was right before I opened for Balmain.
Tell me about your tattoos (she has four). I have a J on my wrist — it is my brother's initial. His name is Jesse. I have a symbol on my finger, one under my foot and one on my upper rib. The one on my foot I just got with Iris [Van Berne]. It's a word that we use a lot.
What are the pros and cons of modeling? There are definitely more pros than cons. You get to travel a lot and that's good because I could never really stay in one place. You also get to meet a lot of talented people and the job is fun. The con is that my family is so far away.
Are you going to do the spring season this time around? I am still debating. I prefer editorials. During show season there are so many girls. It is fun but it is a lot less personal than a shoot. When you do a great editorial, in the end, you have nice photos and it makes you feel happy.
If you weren't a model what would you like to do? I don't think that I would be in school. I would probably be working at a bar (laughs).
Tell me about shooting the Highlands story for Marie Claire. It was really fun. We shot at a nice farmhouse. I really enjoyed the shoot even though it was raining. Everyone had good energy. The clothing was definitely my style. I saw everything and I was like "I want that!" There was amazing jewelry, too!
See Bo's full spread, "Clash of the Tartans," in Marie Claire's September issue.