Eric Daman on Reinventing Carrie Bradshaw's Legendary Wardrobe for The Carrie Diaries
We were lucky enough to snag a few minutes with the genius behind some of TV's most legendary costumes, Eric Daman, who just so happens to be reinventing Carrie's style for The Carrie Diaries.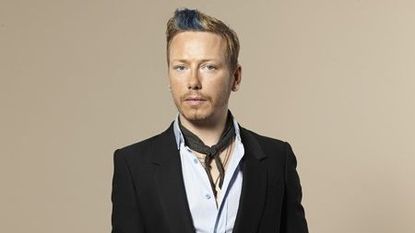 (Image credit: Marie Claire)
While the world was busy falling in love with Carrie Bradshaw on Sex and the City and the ladies of Constance Billard School for Girls on Gossip Girl, we were falling hard for the shows' fashions, too, with every billowing bohemian scarf and pair of pastel-shaded tights. We were lucky enough to snag a few minutes with the genius behind those costumes, Eric Daman, who just so happens to be reinventing Carrie's style for The Carrie Diaries on The CW.
Marie Claire: You grew up in Michigan, not exactly the most fashionable hotbed. Did you know you always wanted to go into costume design? Are there any ways in which your Midwest background influenced your career path?
Eric Daman: Growing up in the early '80s in the Midwest, it wasn't really an option to go into design — or to go into fashion in any capacity, really. I couldn't go online and check out designers or brands I liked, but I was always drawn to fashion magazines and I was always resourceful. I had a habit of driving an hour away in order to pick up a magazine, finding I was both urban- and clothing-oriented. How I was going to transform it into a career, I wasn't so sure, but I did always have a love for it. My urge and concern was much more towards fashion and lifestyle.
MC: You worked with Patricia Field on Sex and the City's costume design — which included an Emmy win! What traits from Carrie Bradshaw's age-30 character did you reflect on when pre-creating Carrie's fashion on The Carrie Diaries?
ED: It was really great to have those spades in my back packet. However, it was quite nerve-wracking, planning an homage to such an iconic style. I tried to think about who Carrie was before she became this iconic style fashionista. What is she most known for? What I came worked most with was her idiosyncratic style, how she did her own thing and walked to the beat of her own drum, styling herself in a very individual way. She has always infused vintage pieces with more modern, younger items. And as a teen growing up in Connecticut in '80s, she interprets more retro fashions as hip and cool. When the show began, Carrie's mom had just passed, leaving Carrie with a closet that is now entirely her own.
MC: Gossip Girl's Blair Waldorf's signature item in the show's early seasons was the headband. Does The Carrie Diaries' Carrie have such a signature item, per se?
ED: Carrie wears a "C" initial pendant, foreshadowing the "Carrie" nameplate. The pendant has an '80s feel to it — she wore it all season last season, so it was clearly a direct link. We've been trying to add in little pieces of flash-forwards and flashbacks, with vintage items, flower brooches, and more. It's important to have that in her style, since fans enjoy seeing that.
MC: When you first began recreating Carrie Bradshaw, did the character and the fashion inspiration behind the character come back easily? What did you do to get back into the Carrie groove?
ED: When I first started with The Carrie Diaries I was just finishing up Gossip Girl, so having to switch over and recreate that aesthetic was really exhilarating, but nerve-wracking. It's a big job to honor the style that was Carrie Bradshaw. So, I jumped in and read the script, watched a lot of old Sex and the City episodes, some old John Hughes Films, and then something to give her a bit of New York edge, like Desperately Seeking Susan. We needed to create a balance between an urban kid in Connecticut and a fashionista in New York.
Carrie is very resourceful in using her mom's closet and in infusing a New York style revolution and growth — she grows up with it. The greatest part of being a costume designer is having character arcs through wardrobe. Also, stylistically, Samantha, who gets introduced this season, influences a sexual revolution on Carrie's style.
The second season of The Carrie Diaries is set to premiere on Friday, Oct. 25 on The CW!
Celebrity news, beauty, fashion advice, and fascinating features, delivered straight to your inbox!