Beyoncé's Best Looks
Nobody does style quite like Queen B.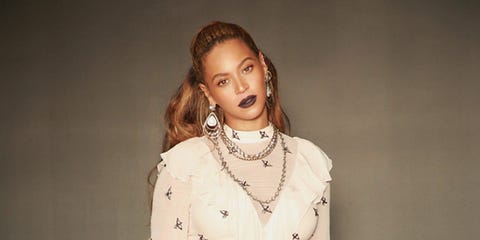 Few things are certain in life—but Beyoncé delivering serious style inspiration is one of them. This season, Queen Bey is all about injecting her look with a slew of ultra-vibrant prints. Click through for her fashion forecast and get your wardrobe on point.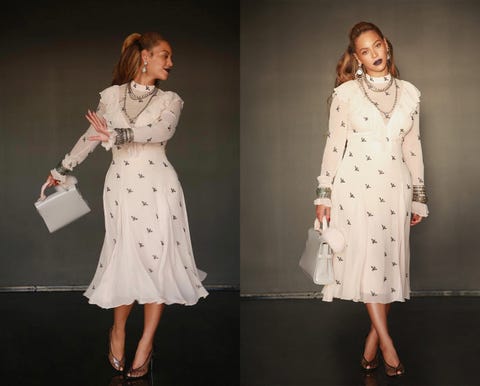 March 22, 2018
Beyoncé's latest Instagram look is perfect for Spring. The long-sleeved chiffon dress moves perfectly, and she accessorizes the look with the sweetest pair of transparent pumps.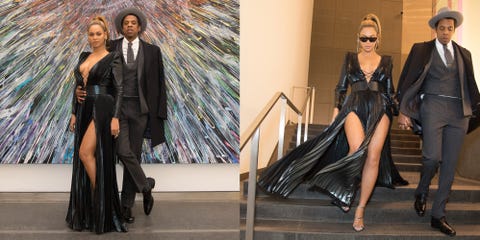 January 27, 2018
Beyoncé posted this look on Instagram, wearing a stunning gown with two thigh-high slits. Attending Clive Davis' Pre-Grammys Gala with husband Jay Z.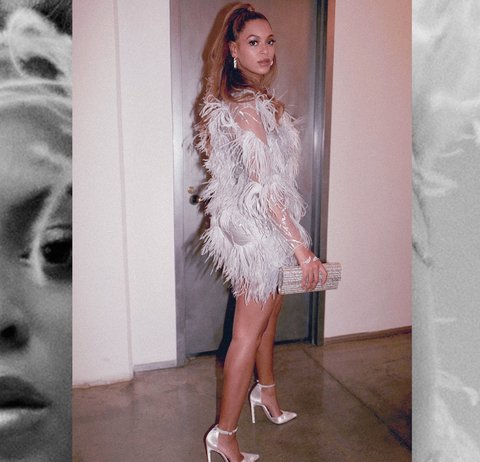 December 9, 2017
Beyoncé posted this look on Instagram, wearing a feathery holiday dress and heels.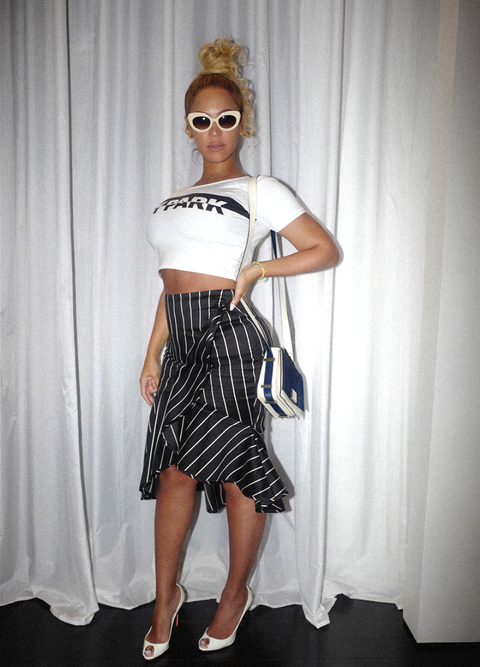 October 21, 2017
Beyoncé posted her latest look on Instagram, pairing an Ivy Park crop top, with a fitted skirt, and white toeless pumps.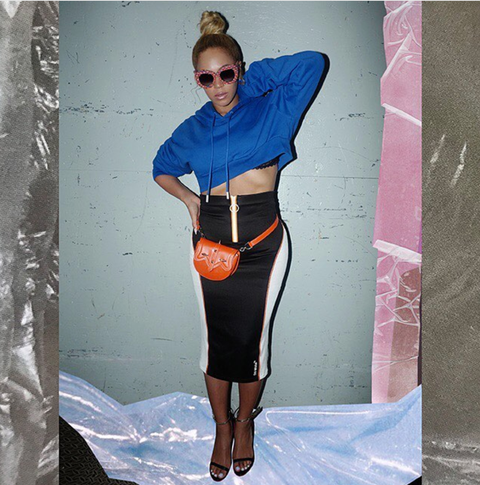 October 20, 2017
Beyoncé posted her latest look on Instagram, pairing a cropped blue hoodie with a black and white bodycon skirt.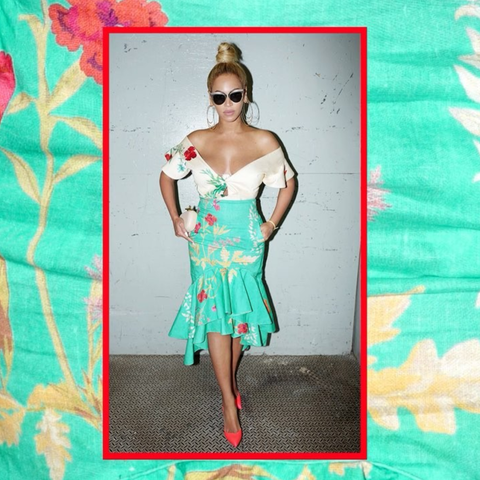 September 22, 2017
Beyoncé posted her latest look on Instagram. Comprising of a fitted floral dress, and a perfect pair of bright red pumps, the singer looked flawless as always.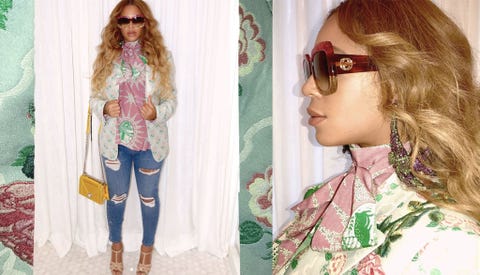 May 7, 2017
Beyoncé updated her Instagram with this incredible ensemble. Her pregnancy style has been incomparable, and this eclectic look is perfection.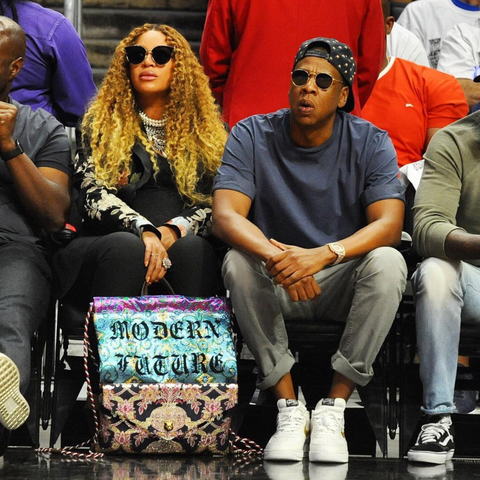 April 30, 2017
Beyoncé, the unofficial queen of courtside style, was seen at the Staples Center in L.A. watching the Clippers battle the Utah Jazz with hubby Jay Z. This time she sported a Gucci backpack from their latest collection, that has the words "Modern Future" printed on the front.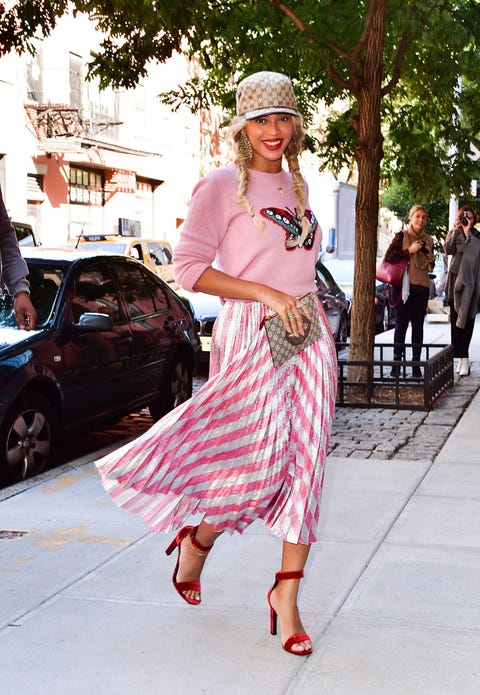 October 5, 2016
Fall may just be kicking into gear, but the Queen was giving us major spring vibes in a pink, butterfly-emblazoned sweater, striped midi skirt, and red velvet sandals.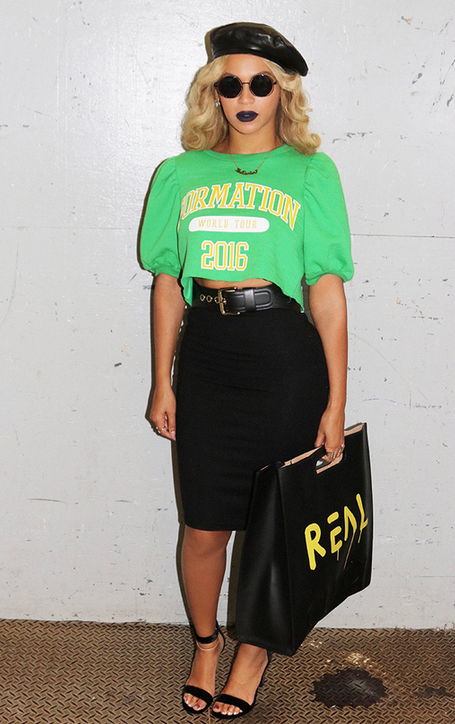 October 4, 2016
As she rounds out her Formation World Tour, Bey dons a neon green Formation T-shirt, waist-cinching belt, pencil skirt, and strappy heels. She punctuates the look with a leather beret and matching dark pout.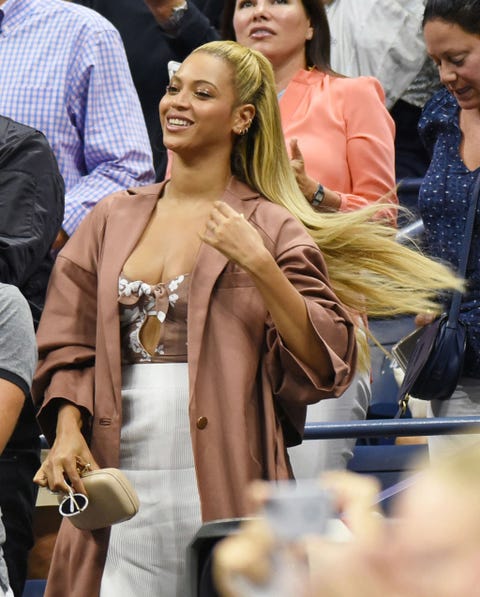 September 1, 2016
Bey cozied up next to Jay-Z at the U.S. Open wearing a floral corset top with a cleavage-bearing cutout paired with a mid-length, ribbed skirt. She layered the look with a dusty pink jacket, seamlessly transitioning into fall fashion.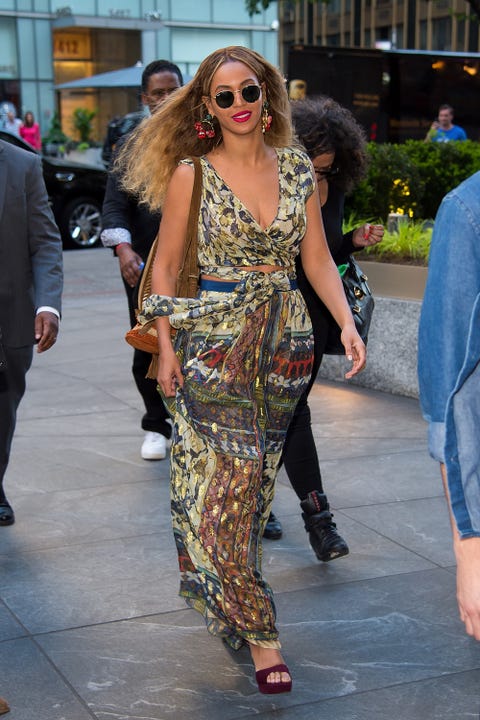 June 17, 2016
When she's not looking fierce AF in a bejeweled bodysuit or latex gown, Queen B likes to channel her inner boho babe, like she did here for a romantic date night with bae. But whether she's dressed in hippie chic or haute couture, she's always 100 percent flawless.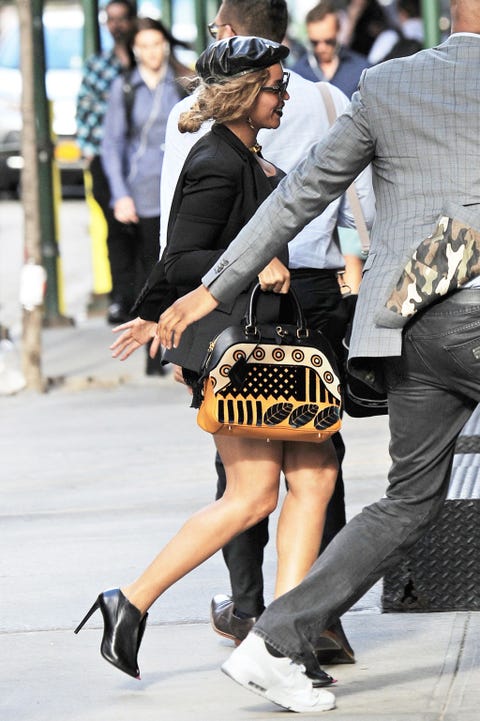 June 13, 2016
While out with her husband Jay-Z in NYC, Queen Bey made a sultry statement in all black with a leather beret, tailored blazer, matching shorts, and heeled ankle boots. She even punctuated the look with black lipstick.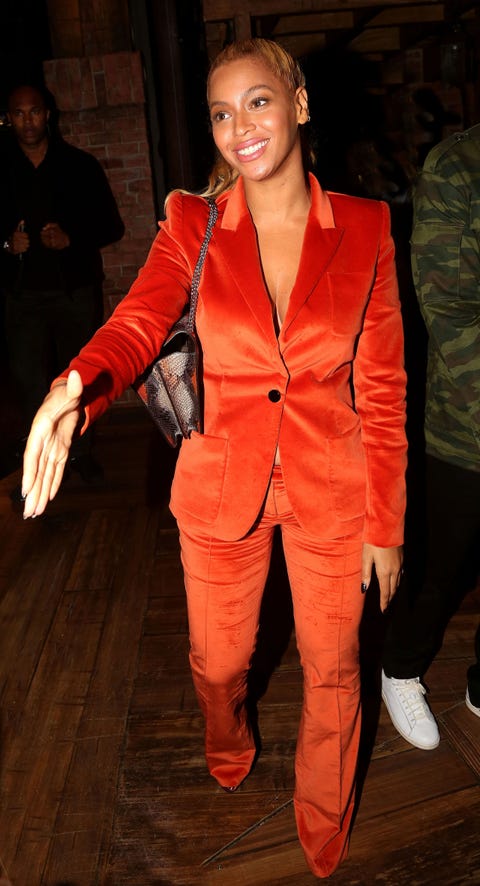 October 21, 2015
If anyone can pull of a bright orange velour suit, it's Beyoncé. This retro look is proof enough that if you're not currently tapping into the '70s, you should Bey.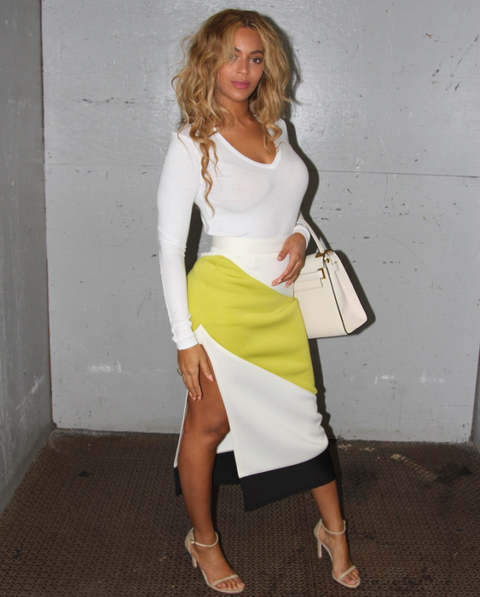 September 8, 2015
Bey laughs in the face of convention, so naturally she's not afraid to don white after Labor Day. She eases her style into fall with a long-sleeved V-neck top, high-waisted graphic skirt, and nude sandals.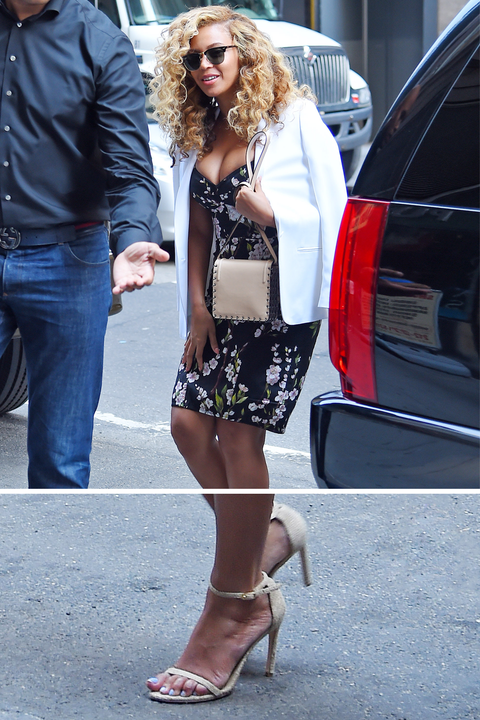 July 27, 2015
Like a bohemian siren, Bey struts her stuff in NYC wearing a form-fitting Dolce & Gabbana dress with a white blazer worn on the shoulders. On the footwear front, she keeps things sexy, yet simple in Stuart Weitzman's nudist silk sandals.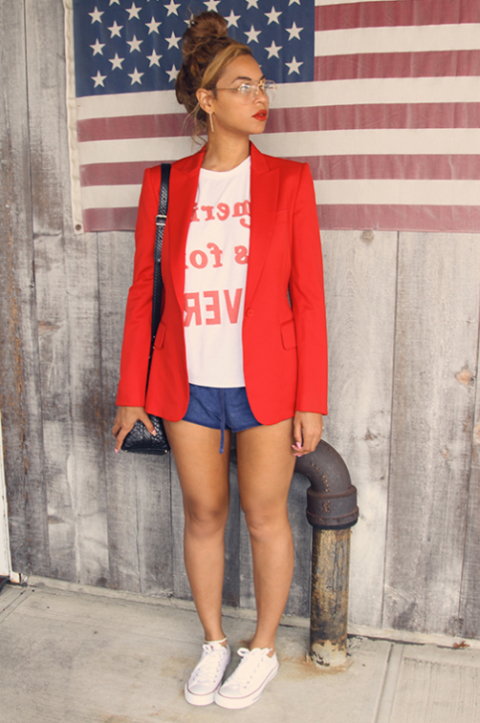 July 24, 2015
We never thought we'd see the day, but Bey is totally geeking out with her latest get-up, wearing a red blazer, graphic T-shirt, navy shorts, white tennis shoes, and classic square metal frame aviator glasses.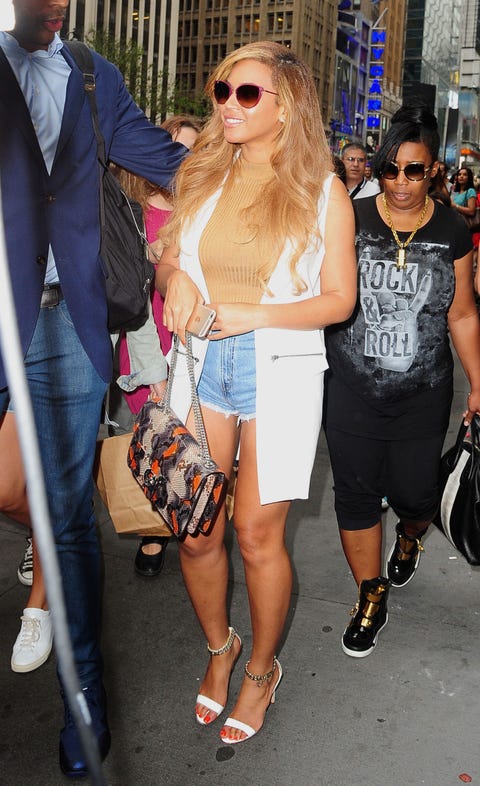 July 15, 2015
Braving the heat in NYC, Bey channels the '70s in a tan knit crop top, denim hot pants, and chain-strap heels. To modernize the look, she tops things off with a structured white vest.
This content is created and maintained by a third party, and imported onto this page to help users provide their email addresses. You may be able to find more information about this and similar content at piano.io