12 Muslim Women Shatter Stereotypes by Showing Off Their Style
It's time to banish the idea of the "oppressed" Muslim woman.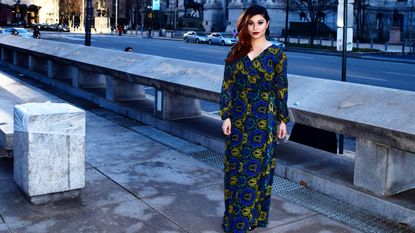 (Image credit: Courtesy Nafisa Rahman)
There is no singular look when it comes to Muslim women's style—despite what the Western world may think. Some women of the faith cover their heads, yes. But many don't.
Here, we've rounded up inspiring Muslim women who shatter stereotypes in very chic ways, and stand up for themselves every time they get dressed.
1. Nadira Abdul Quddus
"As a convert to Islam, it took me a while to find my style as a Muslim woman. Modesty is more than a scarf you wear or how you dress—it's also the way you carry yourself. I struggled to find a bridge between modesty and fashion that worked for me," the 29-year-old blogger/vlogger says. "That struggle is one of the reasons I started sewing and designing my own pieces. I've been sharing DIY tutorials on my YouTube channel, Nadira037, to help others create their own looks and I love the response from women worldwide. This maxi skirt is one of my fave pieces to wear and one of my favorite tutorials, too. I'm looking forward to starting a clothing line that provides modest fashion for women of all faiths." (@nadira037)
2. Anam Shahid
"My faith teaches that modesty is the best jewel of a woman, but modesty is a mindset," The Style Menu blogger, 27, says. "There's a lot of beauty and power in knowing exactly what you possess without putting it all on display." (@annieswift)
3. Lubna Hassan
"Growing up in a conservative Muslim household was always challenging, especially as a girl," says Hassan, 28. "There was always a frustration as to why I couldn't do and wear certain things, but now as an adult I do feel it all played a role in shaping who I am and how I dress. I wouldn't make the claim and say I'm the poster child for modesty but I'd like to think I've found a balance between what my religion asks of me and how I choose create my own style." (@lubnahassan)
4. Zahra Sandberg
The 33-year-old style blogger shares daily fashion inspiration on LoveZahra.com—and while some people think modesty only refers to the amount of skin you show, Sandberg sees things differently. "To me, modesty isn't about how much skin a woman decides to cover up, it is more about how she behaves, and how she treats others. Kindness, humbleness and generosity are all traits of the truly pious, modest Muslim," she says. (@zahra_sandberg)
5. Faria Sukanna
"My style is very simple. I like to wear a lot of neutral tones with a little pop of color, whether it's a fun lip color or patterned shoe," says Sukanna, 27. Coming from a Muslim family, I try to dress in what I feel is appropriate but still feel like I am being myself. There are always challenges, but fashion is something close to my heart. I love the artistic self expression and identity." (@centercitykitty)
6. Summer Albarcha
Albarcha earned attention as the face behind Hipster Hijabis, and like the name suggests, she does choose to wear the hijab. "I believe I have as much power over my fashion choice as a non-Muslim. While I am limited to certain options in clothing—such as having to avoid short shorts—I am also open to a new outlet of creativity, in which I'm always up for a good challenge," the 19-year-old says. "I decided to wear the hijab as a result of my upbringing, where I was always surrounded by amazing Muslim women in the community who didn't allow their religious values to create a barrier to their aspirations." (@summeralbarcha)
7. Malaika Ali:
"Growing up in a Muslim family, I was fortunate enough to have a strong mother who taught me to be proud of my religion and who I am. Being around her and my aunts really shaped my style because I wanted to emulate these fierce Muslimahs. To me modesty will always be in style, there is something beautiful about a woman who has it all but doesn't flaunt it out of respect for herself and her Lord," Ali, 23, says. (@mimiiali)
8. Haifa Wehbe
Wehbe, a Lebanese pop star, has faced a lot of backlash for her outfit choices, particularly after she appeared on an episode of the show Arab Star Academy. "I wore what I considered to be a quite modest long black dress but was surprised and hurt by the negative comments that followed my performance—some of the comments bordered on threats. But my fans were very vocal on social media and highlighted that in comparison to many high profile celebrities in the West, my fashion choice was quite unassuming," she says. "Fashion is very personal to me. It's a way for me to express my individual identity." (@haifawehbe)
9. Lilly Ghalichi
If you saw Lilly Ghalichi during her run as a cast member on Shahs of Sunset, you know she makes her own rules when it comes to style. "I would say my personal style is sexy chic. I definitely love to be glam, I love to dress up—I'm always overdressed for every occasion and I'm very okay with that. At the same time, I never push the envelope. I'm never too revealing. I try to keep it as sexy as possible while still being classy," the 32-year-old entrepreneur says. "I don't appreciate being forced to cover—it should be a woman's choice rather than a rule imposed on her. I think the hijab is a very beautiful thing and the women who choose to wear it are very strong and powerful women." (@lillyghalichi)
10. Nafisa Rahman
"I am a strong believer in women dressing whichever way they feel confident, however, coming from a Muslim background, developing your own style can get challenging," Rahman, the 27-year-old co-founder of the Instagram account @CenterCityKitty says. "I do feel lately that fashion trends have been favoring a more conservative look. I try my best to stay true to who I am while still respecting my faith and family. I usually like one item of clothing to be bold and vibrant. Since I'm a full-time teacher, comfort is everything. So on a typical day, I dress comfortably in skirts, maxi dresses, and blazers." (@centercitykitty)
11. Amara Majeed
The 18-year-old founder of The Hijab Project takes strides every single day to challenge misconceptions about women who wear the hijab. "I actually wear the hijab for feminist purposes; I see it as a political symbol or social motif," she says. "As for my style, I try to go for the chic and elegant look. I'm extremely feminine, so you're likely to catch me in lots of floral mini dresses paired with super high heels, and I wear skinny jeans with pretty much anything! As far as headscarves go, I like to go for colored solid prints along with a bold statement necklace." (@amara.majeed)
12. Irene Mahmud Khan
The 28-year-old Los Angeles-based photographer and blogger says she "constantly" hears that she shouldn't wear certain things as a Muslim woman, but she refuses to let the criticism get to her. "It's a very dense mindset to believe that dress dictates all. I consider myself a religious person but not necessarily a conservative person. I've had random people tell me that I should leave Islam completely, which is beyond unsettling. We all fall on a different place of the spectrum and we are all a work in progress," she says. (@irenesarah)
Celebrity news, beauty, fashion advice, and fascinating features, delivered straight to your inbox!