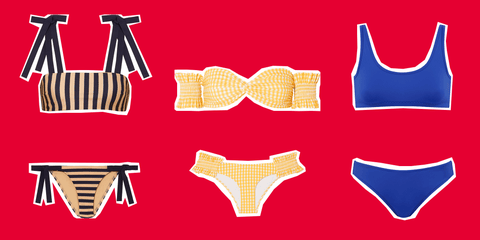 Design by Morgan McMullen
As you plot exactly how you'll spend these balmy summer days, the first question one might ask oneself is Mango margarita or tequila sunrise? (One in each hand, if you're me.) The second is Hmm, I need a new bikini, don't I? Why yes, yes, you do. To assist you in your search for The One a.k.a. the bikini that fits comfortably on your body and makes you feel great in photos, I pulled 13 of-the-moment swimsuits. Once you've made your decision, come find me and we'll cheers to your new purchase.
Outdoor Voices released its new line of swimwear with playful one pieces and mix-and-match bikinis. The H2OV collection targets fans who like #DoingThings in their swimwear, whether it's a game of volleyball on the beach or laps across the pool. This sporty two piece, in particular, protects against UV rays and is resistant to chlorine, sunscreen, and oil.

Outdoor Voices top, $55
Outdoor Voices bottom, $45
This off-the-shoulder gingham print bikini is for the gal who loves to sit out by the pool while sipping an aperol spritz. Physical exertion is out the picture because she's on vacation and all she wants to do is lay out and tan. Oh, and she'll obviously want her SO or BFF to take a photo of her in this adorable bikini for the 'gram.
Caroline Constas, $315
3
The High-Waisted Bikini
Bathing suits with scallop edging are great for ladies with smaller busts. The wavy designs give the illusion of depth in your chest and draw the eyes to the details—rather than your boobs. This swimsuit, while being very now is also a feminine cut that never goes out of style, so you can wear this season after season.
Marysia top, $150
Marysia bottom, $150
I want to plan a trip back to the Amalfi Coast just so I can wear this bikini (Italy and lemons go hand in hand). The yellow-and-pink hues of this fun print gives off the perfect seaside summer vibes. Bonus: the two piece is relatively affordable, so you can spend the rest of your money on a nice hotel (with rooftop infinity pool).
J.Crew top, $34
J.Crew bottom, $34
5
The Black Bikini With a Sexy Twist
If you're in the market for a new black bikini, opt for thicker-banded style. The top's straps are supportive, which minimizes the chance of a wardrobe malfunction as you splash around the pool with friends. To add some color to this monochrome look, style with a pair of retro red sunglasses.
& Other Stories top, $29
& Other Stories bottom, $29
This balconette-style bikini top comes with padded cups to give you a more defined chest area, and is reinforced with underwire, so your boobs will have enough support from underneath—making it suitable for multiple body types.
Diane von Furstenburg top, $170
Diane von Furstenburg bottom, $150
7
The Mixed Prints Bikini
The gingham print and daisy straps make this two-piece set feel ultra feminine, if that's your vibe. Don't hide this statement bikini under a solid cover up. Instead, find a white mesh option, like this one from ASOS, so you can still show off the swimsuit's flirty prints.
Topshop top, $38
Topshop bottom, $28
There's a reason this bikini comes in navy and beige: the colors supposedly complement a sun-kissed glow. Test out this theory by packing the swimsuit for your next warm-weather getaway. The top has an internal boning to help it keep its shape, so go ahead and shove it into your already-stuffed suitcase.
Zimmermann, $245
Both Rosie Huntington-Whiteley and Bella Hadid love Hunza G's seersucker swimsuits and I know why. The stretchy material is full of give and so soft against your skin. This two-piece comes in a sweet pale pink color that will highlight your bronzed skin.
Hunza G, $165
11
The Gingham Print Bikini
Take your gingham print game up a notch with this fruity bikini. The two seemingly contrasting designs actually complement each other surprisingly well, since the gingham serves as a neutral backdrop. And, when brought along on vacation, the swimsuit will also serve as a constant reminder to eat your daily dose of produce.

Onia top, $95
Onia bottom, $95
12
The Bustier-Style Bikini
This lined bikini top features light padding and underwire cups to support your boobs as you run across the scorching sand to embrace the ocean waves. Once you're tired of the water, unhook the straps of your bikini top (to avoid tan lines, although you're definitely wearing sunscreen, right?!) as you lay out to dry. You get two styles for the price of one swimsuit.
H&M top, $18
H&M bottom, $13
13
The Floral Print Bikini
Repeat with me: You can never have too many floral bikinis. This two-piece set from Cami and Jax offers both sweet and sexy vibes thanks to the feminine print and the cutouts. It's the swimsuit to pack if you're going on a tropical vacation.
Cami and Jax top, $125
Cami and Jax bottom, $100