The 21 Best Bikinis of 2023
Make it your hottest summer yet.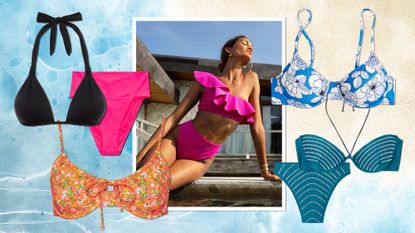 (Image credit: Future)
The second it hits 80 degrees in New York City, I can't stop thinking about running to the nearest pool or beach and donning my favorite swimsuit. But when I'm daydreaming about this scenario, what never crosses my mind is just how hard finding a swimsuit is, especially when it's a bikini. There's nothing worse than ordering a bikini from a swimwear brand only to find that the sizes are totally wrong and you feel majorly uncomfortable. Yikes. With a few trips to the beach planned for this summer, though, it's a process I can't escape, so I've made it my personal mission to uncover the best bikinis on the market.
As you might've guessed, I'm a pretty picky shopper when it comes to bikinis. The perfect bikini has to fit just right (a massive undertaking on its own), hold up well for multiple seasons, and have a style that pairs well with my summer glow. But, of course, with different body types and personal styles, the "perfect" bikini is going to mean something different for everyone. So to guide me in my search, I've enlisted the help of swimwear experts—Jessica Anderson, founder of 93 Play Street and Ninety Third Avenue, and Laura Low Ah Kee, co-founder of Left on Friday—for their pro tips to bikini shopping.
With their expert knowledge in mind, I've rounded up our favorite bikini picks in terms of coverage, quality materials, style options, size range, and support. On this list, you'll find a ton of different options to suit your bikini needs, whether you have a large bust, love minimal (or maximum!) coverage, or even if you prefer affordable swimsuits on Amazon. Soon, you'll be waving goodbye to all of your bikini woes.
What to Look For in a Bikini
The key to the best bikini for you is going to be finding a bikini that fits you well. A well-fitting bikini doesn't dig into your skin, feels comfortable enough to wear for hours on end, and has the right amount of coverage to suit your preference. Kee recommends shopping using your measurements (i.e. ribcage, full bust, waist, hip, torso, and cup size) rather than your clothing size to ensure a better fit.
And because we all have different body types, Anderson shared a few fit recommendations for specific shapes, below.
Smaller busts: Look for tops with built-in padding or a triangle top with crisscross straps for a cleavage boost.
Larger busts: Opt for tops with thick straps and wide vertical coverage.
Hourglass or curvy body shape: To make your waist look cinched and elongate your legs, look for ultra high-waisted bottoms that sit on the smallest part of your waist or low-rise bottoms that have a V-cut.
Plus-size: If you prefer more coverage, look for tops with thick straps and elastic straps for added support. If you prefer less coverage, go with a triangle or halter top with adjustable ties and thick straps for lift.
Postpartum: Look for tops that tie in the back to accommodate size fluctuation.
The material of your bikini is going to play a huge role in its fit, says Anderson. "Look for double-lined swimwear with the same material on the outside of the suit as on the lining on the inside," she advises. "Fast fashion uses thin mesh lining that can be less flattering on the body and irritating to sensitive skin."
Additionally, Kee says to consider the function of your bikini. For example, if you're heading to the pool or soaking up the sun, you'll want to look for a bikini that's made from chlorine and UV-resistant fabric. Or maybe you're going to the beach for a game of sand volleyball, in which case you'll need a bikini that's supportive and can handle the sand. Fabrics like elastane and polyester are popular in swimwear because of their comfortable stretch and durability.
Finally, Anderson recommends looking for a bikini that's easily adjustable. "Adjustability in swimwear is a must as it is natural for a woman's body to fluctuate in size based on her cycle—90 percent of the designs we have for both Ninety Third Avenue and 93 Play Street have sliders on the straps, ties, and hook closures with multiple options," she explains. Looking for adjustable features will ensure your bikini fits and feels great the entire season.
Best Bikinis