The Latest Rendition of the Hot Pink Trend? Barbiecore
Hot pink is everywhere in 2022.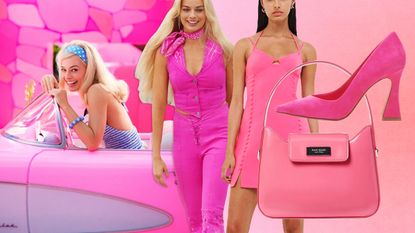 (Image credit: Future; Vince Camuto, Kate Spade, )
Fashion trends can usually be summed up by a timely silhouette (see: low-rise jeans, mini skirts (opens in new tab), cut-out dresses (opens in new tab)). But in 2022, the spotlight shifted towards a poppy-colored hue— hot pink. The latest rendition takes inspiration from the ultra-bright world of Barbie and Ken, aptly named the "Barbiecore" trend, which eschews the need for neutrals altogether.
The trend started on the Fall/Winter 2022 (opens in new tab) runways at Paris Fashion Week –most notable at Valentino's Pink PP Collection—and was worn off the runways by celebrities like Saweetie and on the red carpet at the 2022 Grammy Awards (opens in new tab).
Since then, an entire movement has unfolded with its influence spanning the worlds of clothing, beauty, and accessories. The trend was further amplified by paparazzi photos of Margot Robbie and Ryan Gosling on the set of Greta Gerwig's forthcoming Barbie movie when the duo was spotted in several vibrant pink '80s-inspired ensembles while sporting a fabulously fake tan (opens in new tab) for the role. Now, the entire internet has jumped on board Barbie's ultra-pink dream wagon.
"In the second week of June, we saw "Barbiecore" searches on the rise— and they've increased five-fold since then," explains Swasti Sarna (opens in new tab), Global Director of Data Insights at Pinterest (opens in new tab). "Now, pinners are increasingly shopping for the Barbiecore trend by searching for a variety of pink fashion statements. Searches have doubled and tripled for the terms "hot pink outfit aesthetic" and "hot pink dress casual," she says. Not to mention "hot pink swimsuit" and "hot pink shoes," which have increased by 50 and 85 percent on Pinterest searches.
Blake Geffen (opens in new tab), the co-founder of Vivrelle (opens in new tab), a membership club that allows shoppers to borrow luxury handbags and other accessories, noted that 96 percent of their pink inventory is out of stock, with an increased interest in hot pink and magentas bags.
If you, too, can't stop thinking about hot pink for 2022, keep reading for the latest and greatest on all things Barbie-themed fashion.
Hot Pink Clothes
A deep-Fuschia is only one of the many Barbiecore-inspired shades of pink trending this summer. Consider broadening your horizons with baby pink hues in frilly, ultra-femme silhouettes. Shop the perfect end-of-summer dresses (opens in new tab), a few cute matching sets (opens in new tab), and more below.
Hot Pink Shoes
If you've been following the top fall 2022 shoe trends (opens in new tab), you'll know that statement-making shoes are in for this season. The list runs the gamut from loafers (opens in new tab)to some of the best platform heels (opens in new tab)I've ever seen. Whichever trend you lean into, pick a pair that comes in a hot pink hue.
Hot Pink Bags
Whether you opt for a cute new shoulder bag or a pink version of your favorite laptop backpack (opens in new tab), one of these hot pink bags is begging to be added to your shopping cart.
Hot Pink Jewelry
Hot pink jewelry runs the gamut from in-your-face—chunky pieces are one of fall 2022's biggest jewelry trends (opens in new tab), after all— to discreet. Jewelry is perhaps the easiest way to incorporate a trend into your daily life, so allow one of these pieces to refresh even the most simplistic outfits for the upcoming fall season.
Hot Pink Accessories
In 2022, the hot pink Barbiecore trend is all about maxing out on playful pink accessories to achieve a totally pink-tinted lifestyle. Think colorful wine glasses, pink hair ties, clips, and more.
Meet the Experts