Selena Gomez's 32 Best Fashion Moments
From teenage red carpet queen to bona fide fashion darling.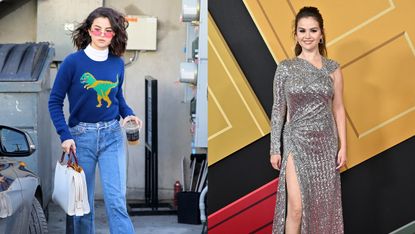 (Image credit: Getty Images)
It can be hard to go from "child star" to "serious adult actor," but—as Selena Gomez can attest—an important part of that evolution is through your clothes. The child actor from Wizards of Waverly Place (and before that Barney and Friends!) evolved her sartorial style from young teen with a cool style to adult star. Her first red carpet appearances date back to 2007, where the teen vacillated between casual denim outfits for less formal events and full-on ballgowns for more upscale ceremonies. Throughout her evolution as a style maven, Gomez has weathered health issues, unfair criticism from trolls, and career ups and downs on her way to stardom, but all throughout she has demonstrated an impressive confidence and sense of humor—not to mention a deep awareness of what she likes and feels good to her, style-wise.
Now, the singer, actor, Rare Beauty founder, and mental health advocate opts for upscale but still deeply sexy gowns that offer dramatic details, cutouts and/or leg slits, and a body-con fit. She has often favored pieces from Louis Vuitton and Coach for formal events, but she and her team have a good eye for designers (couture and otherwise). She can also be known to take fashion risks, whether it's through color, cut, or design. Below, see 32 of her most standout fashion moments of all time.
At the 2009 Creative Arts Emmy Awards
From the beginning, Gomez had the ability to really rock a floor-length dress—even when she was primarily known as being a Disney child actor. The Wizards of Waverly Place had been nominated for a Creative Arts Emmy, and she's wearing a gray-silver Marchesa Resort gown with contrasting accessories to the ceremony. Keep in mind that Gomez is literally only 17 here, but she looks particularly polished. It's a good start, and a sign of things to come.
At the 2019 American Music Awards
Gomez, who hadn't attended the AMAs in 2018, was back with a bang in 2019 with her first televised performance in two years. This lime green Versace—with matching pumps, because we love a tonal vibe—is brighter and more ornate than she sometimes chooses with her outfits. This was one of four outfits for the event, and Gomez also debuted a shorter bob haircut that was both perfect for her performances and perfect for a flouncy red carpet look like this.
At the Inaugural Rare Impact Fund Benefit Supporting Youth Mental Health, 2023
Gomez doesn't always lean this ornate in her red carpet dresses, but for this charitable event spotlighting mental health services and education for young people, this was the second of three(!) outfits Gomez debuted. After a silver Valentino dress, Gomez wore this custom Rahul Mishra couture gown. Mishra explained on his Instagram, "The look aims to imitate the petals of an Iris flower through intricate hand embroidery." It's...really stunning.
At the Deadline Contenders Television Panel, 2022
Coordinating with costar Martin Short (who wore a pink tie!), this is polished but still fun look for Gomez. According to the Red Carpet Fashion Awards, this is actually Mango—yay for affordable fashion on our celebrities! This is the equivalent of a work event for Gomez, who paired the pink with black heeled mules. The minidress has cutouts, but you can barely see them with the cropped jacket over top (it makes sense, since Gomez had to both stand and sit at the event, where she spoke about Only Murders in the Building).
At the Hulu's "Only Murders In The Building" FYC Event, 2022
If you can opt for Prada for a work-appropriate event, you always should! This white poplin dress strikes exactly the right note between polished and fun, with some simple accessories, silver shoes, and a fun red lip to give it a little something extra. For the Only Murders in the Building for your consideration event, it makes sense, since she would be doing a lot of socializing but would still want to feel fabulous. This isn't the only time Gomez has reached for Prada for an event, although it's not her standard go-to.
In Ganni in New York, 2019
If there's anything Gomez appreciates, it's the value of an outfit change. In a visit to New York to promote her latest music, she wore a grand total of eight, potentially nine(!) outfits in two days, as reported by ELLE. For my money, this one's the best: The Ganni dress has the visual interest of the zebra pattern, the beige bag is a nice complementary piece, and the knee high boots are the pop of contrast that the outfit needs (I probably couldn't prance around Manhattan in boots that are so high, but you know Selena can!).
At a Coach New York Fashion Week Show, 2017
Normally, I am not a "patches on denim" type of person—I have too many flashbacks of very bad '90s fashion. But here, Gomez manages to give us a "cowgirl but make it chic" look. Gomez had been just announced as the new face of Coach and that she would be designing bags for the brand too. So it would make sense that she would be wearing a chic, professional, yet still deeply stylish pair of jeans with a cropped leather jacket. I appreciate the deeper lipstick from her, too.
In Coach in Los Angeles, 2017
I...unabashedly love this Coach look (if there's anything better than a fun graphic sweater, I have yet to hear about it). Gomez pairs the dinosaur sweater with a white turtleneck, cropped flare jeans (very of-the-moment in 2017), white bag, pink heels, and matching pink sunglasses. Gomez's casual-wear isn't as over the top as her event gowns, but there's just as much to like, since she layers effectively, always opts for a great bag, and never ever picks a boring shoe.
At the 2016 Met Gala
One of a few Met Gala appearances, Gomez (who first attended the event in 2014) went outside of her comfort zone in Louis Vuitton: chunky boots, dotted dress, and leather bodice overlay (as noted by People, the dress was made custom by adding sequins to the skirt and neckline). If you look closely next to her black box bag, she's literally carrying a pair of sunglasses—a detail I love, because (even in the fanciest event ever) she's got a practical note to her outfit.
At the Music + Health Summit, 2023
Hopping on the Barbie pink train (because why not??) this fuchsia Giuseppe Di Morabito pantsuit is a vibrant, surprisingly bold choice for the singer and actor. In a matching pink lip and black and pink heels, it's giving me "I have to go to a meeting but also I'm the most fashionable person in the room" vibes (she was headed to a summit, so...mission accomplished!). I'm putting it out into the universe that she should wear this color more often and channel this vibrancy in all her red carpet looks.
At the Academy Museum Gala, 2022
For events, Gomez often favors dresses—form-fitting and sparkly being her preferred fit of choice—which makes this black pantsuit all the more special. I loooove that there are just a few moments of contrast, mainly in the white pedicure, silver ring, and silver chandelier earrings. The suit is Giorgio Armani, it fits like a dream, and the low-cut top underneath the blazer gives just a smidge of Gomez's trademark sultriness without making a big deal out of it. Love.
In Elie Saab in Paris, 2015
Gomez doesn't always go with a flowy a-line dress, nor does she often opt for Elie Saab (this is from the Resort 2016 collection, apparently, and the clutch is also Elie Saab), it was nevertheless a perfect look for walking around Paris, promoting your music, and channeling Parisian effortlessness. Normally I'm not a fan of a dress where the underlayer stops shorter than the overlayer, but given Gomez's pension for showing off her legs, I actually think this is a terrific choice.
At the 2017 American Music Awards
Gomez loves her long legs, and is absolutely all about showing them off—for good reason! This is a Coach leather minidress, with a bunch of decorative zippers (I appreciate the whimsy) and patch stars on the front. It's custom, of course, and if you know anything about Gomez's style, you know that she loves leather. This feels like a fun deployment of that love; As reported by Glamour, the dress is meant to be a riff on the classic Coach moto jacket, but retooled as a mini.
At the Taylor Swift Reputation Stadium Tour, 2018
Gomez has been friends with Swift since 2008 (they were both dating Jonas Brothers at the time, lol). Fans have loved their friendship, which was no more on display than when Gomez performed with Swift during her "Reputation" tour. It was a surprise appearance, with the pair performing "Hands to Myself" together and being incredibly sweet together. Oh and this black Osman jumpsuit both coordinates with Swift's jacket and looks amazing all on its own.
At the 2009 American Music Awards
Proving that Gomez has been a fan of sequins for a looooong time, this early red carpet appearance (her first at the AMAs) in a sparkly Talbot Runhof dress is just really cute and age appropriate. It's also foreshadowing of her future love of sparkles and red carpet glam, as well as her eventual style "uniform": simple accessories, a fun shoe, and a big focus on the dress. Even though she was still "just" a Disney star at the time, she still turned heads in this fun 'fit.
At the Golden Globe Awards Post-Party, 2013
In 2013, Gomez debuted a number of super-cool looks (and it marked an important transition for the aspiring actor into a more "serious" couture style), including this Atelier Versace mini with laser-cut details and gold beading. It feels exactly on brand: Fun (and sparkly, because of course), trendy, evolved, exciting, a little dramatic, and a similar-colored shoe to make the look tonal. What makes Gomez an icon, ultimately, is both consistency and evolution.
At the Met Gala, 2014
For her Met Gala debut, Gomez brought out this purple Diane von Furstenberg (technically wine-colored! I like it!). The theme was "Charles James: Beyond Fashion," and a number of guests debuted big ballgowns, but Gomez keeps it deceptively simple. The gown feels sleek and streamlined, but it's still got the details Gomez seems to like: pleating, ruching, with a bit of a train. Simple accessories plus a matching wine-colored lipstick keeps things looking simple but fashionable.
At the Cannes Film Festival, 2019
In Louis Vuitton matching separates, Gomez made her Cannes Film Festival debut (promoting The Dead Don't Die) with a classic look for her. Cannes, if you're unfamiliar, is all about the drama. The skirt has a high slit, which feels right for both the event and the starlet, as well as the fun corset-like bustier. She also showed off a Bulgari collar necklace, which is some major accessorizing that we don't always see from her. Gomez hadn't made many red carpet appearances in the past couple years, so her much-anticipated return did not disappoint.
Filming 'Only Murders in the Building,' 2023
Ok, so, granted that this is a scene from Only Murders in the Building (no spoilers, but Mabel needs a reason to get to a courthouse ASAP, and putting on her mother's wedding dress was the solution), but still! The photos of this scene were leaked in March 2023, and fans immediately started buzzing about what they meant. Fans were also, no surprise, delighted by how cute Gomez looked in a wedding gown—and even though it's a departure from the actor's natural style, it's still such a "wow" that I had to include it.
At the Golden Globe Awards, 2023
Nominated for her first Golden Globe, Gomez really brought the drama in this Valentino. You've got the column gown, purple puffed sleeves and matching trains, low cut top, high ponytail, Santoni platform shoes, and De Beers diamonds to round out the look. It's a major gown for a major star. Gomez doesn't always do a long train or huge volume (saving such add-ons for events like the Met Gala), but when she does, it's because she's aiming to make an impact. Mission accomplished!
At the Met Gala, 2018
Even though it's sheer, seeing Gomez break out such a major dress and matching train for (what else?) the Met Gala is such a lovely treat. This was Gomez's fifth appearance at the gala (the theme was "Heavenly Bodies: Fashion and the Catholic Imagination," and she kind of looks angelic so it tracks) and she is rather predictably in Coach. Believe it or not, Gomez called this her most "memorable" beauty disaster—because her the tanning lotion she'd applied ended up getting darker and darker throughout the event.
At London Fashion Week SS16, 2015
Selena loves leather! This all-black Louis Vuitton gown has a fun studded capelet for some cool visual interest (it also complements the full-body zipper, which is such a cool choice). Gomez is wearing—no surprise—matching platform shoes here with a cool black mani in a classic tonal moment. It makes me want Gomez to break out leather more on the red carpet, as well as play with texture: She's really rocking this style, and it clearly makes her feel va-va-voom.
At the 2013 MTV Video Music Awards
I love this Atelier Versace dress—we don't always see the "exposed bustier" look from Gomez, but she's absolutely nailing it. The silver cap-toe pumps are a nice break from tradition (she often favors a platform pump in a matching color), and she keeps the accessories minimal. It makes sense, since the dress has so much bling. This type of dress had a real moment during this time, and Gomez makes it look fashion-forward but fun.
At the 2017 Met Gala
Picking one of her go-to designers, Coach, Gomez went flowery and feminine at the 2017 Met Gala. (FYI, the theme was "Rei Kawakubo/Comme des Garçons: Art of the In-Between.") The standout piece, in my opinion, is the Tiffany & Co. choker necklace and matching gold sandals, which bring a little more heaviness to the look. Gomez was there with then-boyfriend The Weeknd, and even though it might not be terribly thematic, it still looks comfortable and fun.
At the Grammys, 2016
Giving us a major '90s throwback, Gomez stunned in this Calvin Klein Collection dress (one of two she would wear to the event—the second was a red Cushnie et Ochs look that was equally bombshell-y). Gomez was debuting a more serious and fashion-forward style in some sleek gowns, but she still kept things authentic to her innate style thanks to some sparkles. It's hard to see in this photo, but the gown has a gorgeous open back, which also feels very "Selena" to me.
At the Primetime Emmy Awards, 2022
Simple and sleek + the necessary amount of sparkles on the (Celine) gown and jewelry = classic Selena Gomez! Gomez would later share with Kelly Clarkson, "My dress was actually riding up the entire time...So a lot of people saw something they didn't want to see." And now that she mentioned it, I can see the lower part of the dress riding up—but it still is one of her more impressive red carpet moments, and a nice encapsulation of her style. (But I still love how honest and unfiltered she is, all the same!)
At the 2016 American Music Awards
Making a surprise red carpet return after taking some time off for health reasons, Gomez made major waves in this big Prada gown. It was a good gown to win an AMA in, and in her speech, Gomez got candid with her fans: "In 2014, this stage was actually the first time I was authentically, 100-percent honest with all of you. I think it's safe to say that most of you know a lot of my life—whether I liked it or not—and I had to stop. 'Cause I had everything, and I was absolutely broken inside...If you are broken, then you do not have to stay broken."
At the Golden Globe Awards Post-Party, 2015
According to the Red Carpet Fashion Awards site, this is Kaufmanfranco—and it's a simpler look than we sometimes see on Gomez. I actually really like it: The low-cut top and cutouts are very in keeping with Gomez's classic style, but it's also simpler and without some of the embellishments on her other gowns. It makes sense, since this is an afterparty and the gowns can often be simpler, and I always appreciate a dress that works for sitting, standing, schmoozing, and (most importantly) eating.
At the 2013 Billboard Music Awards
I have to say, I really appreciate this Atelier Versace on the then-up-and-coming star. It perfectly straddles her youthful vivacity and her burgeoning status as a style maven. There to perform "Come & Get It" and seated next to then-partner Justin Bieber (you may perhaps remember the backstage moment when the two kissed and Gomez pal Taylor Swift looked away and stuck her tongue out, ha), this cutout dress with an open back ensured that she was on everyone's mind for her fashion and music as much as who she was there with.
At the Screen Actors Guild Awards, 2022
Proof that black doesn't have to mean basic, this Oscar de la Renta column gown is seriously major. The Only Murders in the Building actor also accessorized with a gorgeous Bulgari collar necklace, which is the right pairing for such a statement gown—look at the puff sleeves and cutouts! Gomez's stylist Kate Young told THR that, at a post-COVID red carpet, "It's been a long time for everyone, so we talked a lot about elegant opulence, the idea of something that feels glamorous and fancy. I think everyone is going to be excited about dressing up."
At the Los Angeles Premiere of "Only Murders In The Building" Season 2, 2022
Sparkle sparkle sparkle! This Michael Kors gown is the mature, grown-up version of Gomez's evolving style. It's got cutouts and a thigh-high split, naturally (it's a modified version of the original dress), but it also fits her to perfection and makes her look incredibly tall—based on the way she was posing, she was similarly delighted by her dress pick for the evening. She accessorized with Effy jewelry, but she predictably didn't need to add much to the already standout dress.
At the Critics Choice Awards, 2022
Making her Critics Choice Awards debut, Gomez chose the exactly right dress for the event. The Louis Vuitton dress has everything she likes: a slit in front, some cutouts at the top, a bit of bling for visual interest, a long scarf that doubles as a train, and a little bit of bling (including a cool Boucheron diamond arrow earring). In my admittedly biased opinion, this is the best deployment of her style, with maturity, sultriness, and fun all on display in equal measure. Long may she reign!
Marie Claire email subscribers get intel on fashion and beauty trends, hot-off-the-press celebrity news, and more. Sign up here.