52 Times Celebrities Wore Lingerie as Clothing
No clothes, no problem.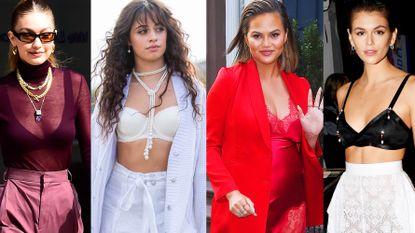 (Image credit: Getty Images)
Marie Claire Newsletter
Celebrity news, beauty, fashion advice, and fascinating features, delivered straight to your inbox!
Thank you for signing up to Marie Claire. You will receive a verification email shortly.
There was a problem. Please refresh the page and try again.
Whether you're dressing up for a red carpet or just going out for brunch, daring to bare is often the name of the game for celebrities. Apparently, if you're famous, there's nothing unusual about rocking a bralette with a blazer or wearing sheer skirts with thongs (and going commando is a real option, too). It's hard not to admire all the ways that stars, and their stylists, have perfected the lingerie-as-outerwear look. To celebrate this bold, sexy attire—and provide some outfit inspiration if you're feeling daring—we rounded up 52 of our favorite celebrities in their best dare-to-bare ensembles. Enjoy.
1/52
Kaia Gerber
The 18-year-old model attended The Fashion Awards in London in a satin bralette with pearl embellishments and a sheer lace skirt from Loewe. The look was both daring and youthful for the young star, who normally keeps it more covered up on the red carpet.
2/52
Angela Bassett
Button-down shirts under blazers are too vanilla for the red carpet. The sexier alternative? A sheer top or bra underneath. Bassett flawlessly pulled off the combination look.
3/52
Kourtney Kardashian
Speaking of bras under blazers, here's Kourtney styling one underneath her glittery Naeem Khan ensemble for the 2019 E! People's Choice Awards. It was the perfect non-clashing minimalist piece.
4/52
Sofia Richie
Kourtney Kardashian and Sofia Richie might have more in common than you think, at least in the style department. Richie wore the bra under a blazer look, paired with ROLLA's blue jeans and heels, while attending a Kate Somerville event.
5/52
Gigi Hadid
Gigi loves a good monochromatic ensemble. The model found the most matchy-matchy burgundy bra to wear with her top and pants when leaving her apartment in New York City.
6/52
Camila Cabello
No shirt, no problem. The singer was spotted in a complete Izaak Azanei look during Paris Fashion Week in 2019. Should we attempt this look as well?
7/52
Zendaya
If you're not ready for the whole bra and cardigan thing, try the lingerie look with a mini slip dress. It's classic and gives off those same bedroom vibes without baring it all. Zendaya styled hers with a black trench for the ultimate going-out look.
8/52
Vanessa Hudgens
Some Fashion Week-goers wear their most elaborate ensembles, others not so much. Hudgens kept it simple and sexy with this black crochet set while leaving Carolina Herrera's spring 2020 show.
9/52
Chrissy Teigen
A lace slip is one of comfiest garments you can wear while pregnant to still look fashionable. Take a page from Chrissy's book and choose a bold color, plus matching blazer, for your dinner date plans.
10/52
Joan Smalls
Joan Smalls' black top and silky pink skirt definitely turned heads at the MTV EMAs 2019 red carpet. We would wear.
11/52
Camila Cabello
Everyone had their eyes on Camila Cabello and Shawn Mendes (not pictured) during this New York outing, but our eyes were on Cabello's outfit. She kept it casual by wearing a lace bralette top, drawstring bottoms, and a vibrant floral duster cardigan as the final layering piece.
12/52
Kourtney Kardashian
For a L.A. night out in June, Kourtney opted for a lavender mini dress with lace trimming. If we were her, we'd go right to bed in this look when the clock strikes 12. (Our preferred bedtime is 11 p.m.)
13/52
Ariana Grande
At the 2016 American Music Awards, the singer showed up in a lacy bustier top and white pants. She proved you can mix lingerie pieces with sleek office-ready trousers for that sexy nighttime look.
14/52
Kendall Jenner
The model attended La Perla's store opening during Milan Fashion Week wearing a bodysuit with a furry crop jacket and champagne-colored pants. It was a seamless way to work the brand's lingerie pieces into her party attire.
15/52
Irina Shayk
The model's I-just-rolled-out-of-bed look is impressive. She let her black lace bra peek out from underneath her luxe sleepwear and added a red lip and heels to dress up the ensemble.
16/52
Gigi Hadid
Hadid wore head-to-toe pink for an event in NYC. She selected a bralette for underneath her see-through lace shirt to spice up the feminine ensemble. It worked.
17/52
Ashley Graham
If you have a bra you want to show off, wear a sheer shirt like Ashley Graham did for an Addition Elle event in 2016. To keep the outfit modest the rest of the way, pair with a long body-hugging skirt.
18/52
Ciara
For a more understated way to wear your lingerie, pick a black bodysuit or tank top and layer it with your favorite black duster coat and pants. Ciara pulled off this Fashion Week-worthy look in 2016 at Givenchy's runway show.
19/52
Bella Hadid
What does one wear under a sheer dress? Nude undergarments, of course. Hadid rocked it in this beige Dior ensemble and convinced us the look is definitely worth a try.
20/52
Cara Delevingne
Show off all your pretty bralettes by wearing them under a tailored blazer. Just like the Kardashians, Delevingne tends to gravitate towards this style—and why not? It looks amazing on her.
21/52
Hailey Bieber
The sheer top + bra trend had a moment in 2017, but it's always an option when you want to show a little skin. To dress down the look, pull a Bieber and wear with jeans.
22/52
Miley Cyrus
Going to an award show or getting ready for bed? Miley wore this daring white buster and matching boy shorts ensemble to the iHeart Radio Music Festival in 2013. The sneakers, rather than heels, added a more casual touch.
23/52
Serena Williams
As Sports Illustrated's 2015 Sportsperson of the Year, Williams was not afraid to tap into the brand's ethos of baring it all. The tennis star looked amazing in a lace slip dress, which she wore with a flouncy skirt and black boy shorts.
24/52
Sara Sampaio
Going to an outdoor concert this summer? You'll want to take a page from Sara Sampaio's book and wear a plunging bodysuit with a bralette and denim shorts. It's sexy, ventilated, and comfortable.
25/52
Joan Smalls
The date-night outfit that'll keep your SO's eyes on you all night long. (Just be careful when you drink red wine.) Joan Smalls, or someone on her team, probably kept a Tide-to-Go pen nearby just in case.
26/52
Ruth Negga
Anything goes when you're sitting front row at the Louis Vuitton show, especially sheer ensembles. The actress managed to look sexy, edgy, and tasteful with this see-through long-sleeve tunic top and bra.
27/52
Anna Kendrick
You can layer a tee underneath your pantsuit set, but our preference, as is Kendrick's, is to layer a lacy bodysuit. The actress and singer mastered the look with pink heels at the 60th annual Grammy Awards.
28/52
Josephine Skriver
How to make any night gown work for the day: add a furry coat and heels. Skriver looked like she was ready to party after her 9-to-5 modeling job.
29/52
Bella Hadid
Scroll through street style pics of Bella Hadid and you'll see numerous instances of the model wearing some form of lingerie as clothing. Exhibit A: Hadid paired a white bustier with high-waisted jeans and and an over-sized anorak while trotting around Paris.
30/52
Rihanna
Rihanna's wardrobe is so badass that you almost don't notice she's not wearing real clothes. Here, the singer's floor-length coat, printed hat, and frayed denim almost disguised the fact that her top is actually a bra.
31/52
Kim Kardashian West
It shouldn't come as a surprise that Kim K—who has joked about "being naked most of the time"—is a multiple offender in the lingerie-as-clothes department. In 2016, she stepped out in New York City wearing a black bra, an open blazer, and velvet leggings.
32/52
Kendall Jenner
In 2018, Kendall Jenner breezed through New York City wearing a silky chemise and jeans—a combo she relies on time and time again. Conjure up an image of Kendall Jenner in your mind and you're likely to picture the model like so.
33/52
Katy Perry
Katy Perry made a convincing case for slip dresses as evening wear when she wore this pink, lacy number in London over the summer.
34/52
Gigi Hadid
The model walked the 2016 Los Angeles Fashion Awards red carpet in a sheer gown that exposed the body suit she was wearing underneath.
35/52
Halsey
Halsey isn't one to shy away from super-bold red carpet looks. The singer wore this bra-and-skirt combo with over-the-knee gladiator sandals to the 2017 Billboard Music Awards in Las Vegas, Nevada.
36/52
Bella Thorne
Bella Thorne arrived at the Adidas and Manchester United Squad Unmissable event in an interesting ensemble. The actresses opted for a black, strappy bra, low-rise denim, and an unbuttoned jersey, giving us major early-aughts vibes.
37/52
Bella Hadid
In 2017, Hadid stepped off a plane at Heathrow airport in the comfiest version of lingerie as clothes: The model paired a white sports bra with an open, black sweatshirt and matching pants.
38/52
39/52
Tinashe
It's fitting that Tinashe brought out her bedroom best for Rihanna's Fenty PUMA show in 2017, since RiRi loves lingerie so much herself. The singer's turtleneck was complete with a bra-bearing cutout, because why not.
40/52
Rita Ora
In 2015, Rita Ora was spotted in London wearing a fishnet tank over a black bra. The look was completed with slashed denim and an unzipped bomber jacket.
41/52
Kim Kardashian
Kim really went for it while she and Kanye were in Miami Beach, Florida, in 2016. The reality star was spotted wearing a plunging bodysuit under a super-sheer dress with lace-up heels and a diamond choker.
42/52
Iggy Azaelea
Iggy Azalea gave off major Sporty Spice vibes at the 2016 iHeartRadio Music Awards with a blue bra, baggy denim, and platform sneakers.
43/52
Rihanna
Everything about this 2015 photo is just so freaking Rihanna. The singer was spotted outside in silk pajama bottoms, matching robe, and a lacy bralette (cocktail still in hand, obviously).
44/52
Kendall Jenner
Kendall Jenner—alongside her army of body guards—made her way to the Jimmy Kimmel Live! set in 2016 wearing a black skirt and mustard-yellow silk camisole as a shirt.
45/52
Halsey
Another red carpet, another piece of lingerie. Halsey showed up to the 2017 iHeartRadio Jingle Ball in Atlanta, Georgia, wearing a black bra underneath a tweed jacket with matching hot pants.
46/52
Amber Rose
In 2016, Amber Rose wore a black, lacy bodysuit (no skirt, pants, or shorts to go with it) in Los Angeles. Her only other pieces of apparel: fishnet tights and thigh-high boots.
47/52
Bella Hadid
In late 2016, Bella Hadid wore a black lace bodysuit, jeans, and a floor-length jacket for a night out in Los Angeles.
48/52
Rihanna
Rihanna was seen walking through the streets of New York City in 2017 wearing a pink tracksuit with a teal sports bra. The entire ensemble was very '90s-inspired pop girl group.
49/52
Halsey
Halsey paired her matching, peach-colored shorts and blazer with a bedazzled bra for the 2016 MTV Movie Awards in Burbank, California.
50/52
Kim Kardashian
Kim Kardashian was spotted in 2016 in New York City wearing a black-and-white-lace negligée. But, hey, she was carrying a blazer.
51/52
Rita Ora
In 2015, Rita Ora made her all-black outfit pop with the little help of a push-up bra and a sheer, mesh turtleneck in New York City.
52/52
LeAnn Rimes
The country singer opted for blue lingerie and a matching, sheer blouse for her 2018 performance at The Abbey in West Hollywood, California.

•••

For more stories like this, including celebrity news, beauty and fashion advice, savvy political commentary, and fascinating features, sign up for the Marie Claire newsletter.
Celebrity news, beauty, fashion advice, and fascinating features, delivered straight to your inbox!