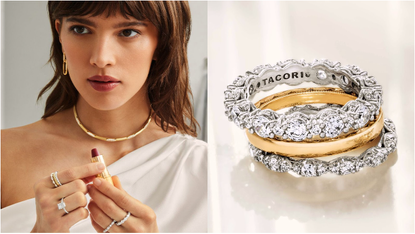 (Image credit: TACORI)
The TACORI story began three generations ago with a pair of wedding rings. Handcrafted secretly for a family friend and considered contraband in communist Romania, these bands symbolized love and devotion. Though the creator of these forbidden bands was captured and imprisoned for his art, his passion and dedication to craft remain at the heart of the family business.
Now, 70 years later, TACORI continues its legacy in California, handcrafting symbols of life's special moments. Always inspiring, each piece begins with TACORI's thoughtful approach to design. Behind each TACORI band is a team of expert artisans using time-honored methods they've perfected through years of training and apprenticeship. From the team's initial sketches to the finishing touches—each step is carried out with the utmost care. Few can say that their ring passed through 20 sets of hands before reaching their own.
From master setters who individually shape each prong to keep the gemstones safe and secure to the team of skilled sorters who painstakingly authenticate, select, size, and color match an average of 52 accent diamonds per ring, TACORI's team of master artisans take no shortcuts when bringing these handcrafted creations to life.
Each band is marked with the iconic TACORI Crescent, their signature design detail that is etched into the inner face of every ring. Always classic yet unique, a TACORI band is ideal for every new unfolding chapter of life. They lend themselves to individual journeys and life's celebrations, with no occasion too big or small to celebrate. Invest in yourself and those you adore with a custom signature stack of rings—from a sleek and minimalistic Founder's Collection ring to a delicately detailed Sculpted Crescent design or a bold Classic Crescent RoyalT eternity band. A TACORI band is a unique reminder of why you must revel in each and every one of life's special moments.
Shop TACORI Bands