Wolfgang Puck's Guide to Throwing a Movie Awards Party
Expert entertaining advice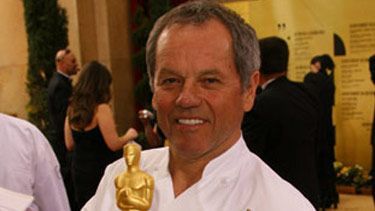 (Image credit: John Shearer)
Marie Claire Newsletter
Celebrity news, beauty, fashion advice, and fascinating features, delivered straight to your inbox!
Thank you for signing up to Marie Claire. You will receive a verification email shortly.
There was a problem. Please refresh the page and try again.
The Party
Invite a crowd to watch the Academy Awards. Set the start time to coincide with a preshow broadcast, so your guests arrive and mingle as the stars walk the red carpet. Set up multiple televisions — a big screen in the main party area and one or more smaller ones in the kitchen or elsewhere. Print out ballots on festive paper and hand them out with pencils, so people can make predictions at the start of the evening to keep tabs. At the end of the night, give bottles of Champagne, statuettes, or DVDs to the guests who picked the most winners.
The Food
Wolfgang has catered the Governors Ball (the official post-telecast party) for more than a decade, and this menu includes five of his favorite dishes from those years. It's not a sit-down meal, but rather a series of substantial party nibbles for serving throughout the evening. "Work out a plan ahead of time and have all the elements ready to go," says Wolfgang, "so you don't have to miss too much of the show and the fun." He suggests you start with the artichokes and the tuna, both of which can be make well ahead of time. Then serve the gnocchi, followed by the chicken in lettuce cups. As the party reaches its peak, bring out the showstopping lobster. Finish the evening with the marjolaine, as you tally the ballots and toast the winners.
Easy Extras
For a splashy yet simple appetizer, Wolfgang suggests splitting small potatoes crosswise, tossing them in olive oil, salt, and pepper, and roasting them. Top the warm potato halves with crème fraîche, different varieties of caviar, and snipped chives, and serve them on a bed of rock salt to keep them upright. For between-course snacking, make a few batches of popcorn with a variety of seasonings, such as salt and black pepper, grated Parmesan, or chile powder, and wrap up individual servings in cellophane bags tied with ribbons. Wolfgang also likes to set out bowls of good-quality chips and spicy seasoned almonds.
Wolfgang's Playlist
Bruce Springsteen, Streets of Philadelphia (EP)
Top Gun: Original Motion Picture Soundtrack
Star Wars: Original Soundtrack
Chicago: Music from the Miramax Motion Picture
Saturday Night Fever: the Original Movie Sound Tracks
Click forward to Page 2 for recipes!
Stir-fried Chicken Lettuce Cups
"I like dishes with a lot of personality," says Wolfgang, "and this one really makes a statement. Chicken can be bland and dried out, but when you start with ground chicken and stir-fry it, it gets totally infused with flavor." His unique cooking method calls for first browning the chicken in a large patty, and then breaking it up. This gives you moist, tender pieces, rather than dried-out crumbles. The lettuce cups make a nice cool contrast to the warm, sweet-spicy chicken and eliminate the need for knives, forks, or chopsticks.
Serves 8
24 whole lettuce leaves
1 1/2 pounds ground organic chicken
1/4 cup cornstarch
Salt
Freshly ground black pepper
6 tablespoons soy sauce
6 tablespoons peanut oil
3/4 cup rice vinegar
2 tablespoons toasted sesame oil
2 teaspoons sherry vinegar
2 cups firmly packed baby spinach leaves, washed and patted dry
1 cup finely chopped celery
1 cup shredded or finely julienned carrot
1 cup very thinly sliced yellow onion
3 tablespoons finely chopped garlic
2 tablespoons peeled and finely chopped fresh ginger
6 scallions, trimmed and minced
2 teaspoons red pepper flakes
1/2 cup Chinese plum wine
1/2 cup chicken broth
1/4 cup chiffonade-cut fresh mint or cilantro
Fill a large bowl with ice cubes and water. Add the lettuce leaves and allow them to soak for 15 minutes.
Meanwhile, in a bowl, stir together the ground chicken and cornstarch. Season lightly with salt and pepper, mix well, and set aside.
In a bowl, whisk together 2 tablespoons each of the soy sauce and peanut oil, 1/4 cup of the rice vinegar, and all of the sesame oil and sherry vinegar. Add the spinach, celery, carrot, and onion and toss to coat evenly. Season to taste with salt and pepper.
Drain the lettuce leaves and pat thoroughly dry with paper towels. Arrange the leaves like cups on a large serving platter, or put 3 leaves on each individual plate. Divide the vegetable mixture evenly among the cups and set aside.
In a 10-inch skillet, heat the remaining 4 tablespoons peanut oil over high heat just until it begins to give off wisps of smoke. Form the chicken mixture into a large patty and carefully set it in the pan. Cook for 3 to 4 minutes, or until browned on the first side. Then add the garlic, ginger, scallions, and red pepper flakes and break up the patty with a wooden spoon to combine it with the seasonings. Continue to stir for 3 to 4 minutes longer, or until the chicken is evenly browned. Pour in the remaining 4 tablespoons soy sauce and 1/2 cup rice vinegar, the plum wine, and the chicken broth and continue cooking and stirring for 6 to 8 minutes, or until most of the liquid has evaporated. Taste and adjust the seasoning with salt and pepper.
Divide the chicken mixture evenly among the lettuce cups. Sprinkle with the mint and serve immediately.
Click forward to the next page for more recipes
Marjolaine
"I had my first bite of marjolaine when I was a young apprentice in the kitchen of L'Oustau de Baumanière in Provence," says Wolfgang, "and it's been my favorite cake ever since because it's so light. The cake layers are a nutty meringue called dacquoise that's much easier to make than sponge cake." You can slice the finished dessert like a cake or cut it into bite-sized pieces. Either way, it looks spectacular on a plate. Wolfgang suggests serving it with coffee ice cream.
Serves 8
Meringue
1 cup hazelnuts
6 egg whites
1/4 teaspoon cream of tartar
1 1/2 cups superfine sugar
Ganache
8 ounces bittersweet chocolate, chopped into 1/4-inch pieces
1 cup heavy cream
2 tablespoons light corn syrup
Whipped Cream Filling
1 cup heavy cream
1/2 cup crème fraîche
1 tablespoon superfine sugar
About 1 tablespoon unsweetened cocoa powder
To make the meringue, preheat the oven to 350°F. Spread the hazelnuts on a rimmed baking sheet and toast in the oven, stirring occasionally, for about 10 minutes, or until the nuts are fragrant and their skins begin to flake. Remove from the oven, pour into a kitchen towel, and rub vigorously between your palms to remove the skins. Let cool, then chop finely and set aside. Reduce the oven temperature to 300°F.
Spray a 12-by-15-inch rimmed baking sheet with nonstick cooking spray, and then line with parchment paper and lightly spray the parchment.
In a stand mixer fitted with the whip attachment, beat the egg whites on medium speed until they begin to foam. Add the cream of tartar and continue to whip until soft peaks form. Increase the speed to high and slowly stream in the sugar, continuing to beat until stiff, shiny peaks form. Using a rubber spatula, fold in the hazelnuts.
Pour the meringue onto the prepared baking sheet and, using an offset spatula, spread it evenly, covering the bottom of the pan completely. Bake for 40 minutes, or until lightly browned and crisp. Turn off the oven but leave the meringue on the oven rack for 1 hour longer, so that it is fully dry, then remove from the oven.
To make the ganache, place the chocolate in a heatproof bowl. In a small saucepan, bring the cream to a boil. Remove the cream from the heat, pour it evenly over the chocolate, and let stand for 1 minute, then stir the mixture with a rubber spatula until smooth.
Fill a large bowl about two-thirds full with water and ice cubes. Divide the ganache in half between 2 bowls. Add the corn syrup to 1 bowl, stir to combine, and reserve to use for glazing the top layer. Nest the second bowl in the ice-water bath and stir the ganache with a rubber spatula until it cools and thickens to the consistency of frosting.
To make the whipped cream filling, in the stand mixer fitted with the whip attachment, combine the cream, crème fraîche, and sugar and beat on medium-high speed until stiff peaks form.
To assemble, remove the meringue from the baking sheet to a cutting board and, using a large serrated knife, cut crosswise into 3 equal rectangles. Place 1 piece of meringue on a serving platter. Scoop the frostinglike ganache onto the meringue and spread evenly with an offset spatula. Top with a second rectangle of meringue, scoop the whipped cream filling onto the second meringue layer, and spread it an even layer. Top with the last piece of meringue, and press down lightly to seal the layers.
Stir the ganache glaze to check the consistency; it should be loose enough to spread. If it isn't, warm it briefly over, not touching, barely simmering water in a saucepan, or in a microwave at half power for about 20 seconds. Pour the glaze over the top meringue layer and spread it in an even layer. Let stand until the glaze sets.
Using a fine-mesh sieve, dust the top with the cocoa powder. If not serving immediately, cover and refrigerate for up to 2 days. To serve, cut into slices or squares with a serrated knife.
Like what you see here? Get the full version! Great Gatherings: Star Chefs Entertain at Home Cookbook, $29.95 Find out how the 16 star chefs of the Macy's Culinary Council entertain their family and friends, and learn how easy it is to pull off in your own home!
Celebrity news, beauty, fashion advice, and fascinating features, delivered straight to your inbox!