Sorority Girls Gone Wild (and Really, Really Gross)
Two separate Ohio-based Pi Beta Phi sorority chapters have come under fire this month for hosting shocking, out-of-control parties.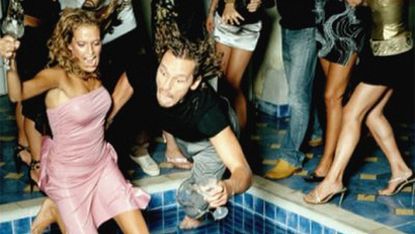 (Image credit: Chev Wilkinson/Getty Images)
We're not sure what to make of this, but two separate Ohio-based Pi Beta Phi sorority chapters have come under fire this month for hosting wild, out-of-control bacchanals at venues that surely now regret agreeing to allow the dolled-up hooligans to party there.
The first to be reported was an April 9 formal for Miami University of Ohio's Pi Beta Phi chapter, held at Lake Lyndsay Lodge, about 30 miles north of Cincinnati — the lovely ladies of Pi Phi and their guests urinated in sinks, vomited, crawled over the bar for drinks, broke a concrete lion, and flipped over the appetizer table. The disgusting cherry on top was the pile of feces found outside the lodge. Owner Lyndsay Rapier-Phipps kept the group's $500 security deposit, but from the sound of it that might not be enough to take care of the damage.
The second blowout, exposed yesterday on The Smoking Gun, was a March 6 formal for the Ohio University Pi Phis held at a West Virginia venue called the Parkersburg Art Center. According to a letter from the center's director, it took four people plus a commercial cleaning company three full work days to clean up the nasty mess, which included (brace yourself) feces- and trash-filled urinals and pools of vomit on the floor. The sorority sisters and their guests used food-loaded plates as missiles for food fights, poured a bottle of alcohol on the floor and danced in the puddle, and broke a sink by having sex on it (another couple "engaged in sexual congress" while a group of revelers cheered them on). Possibly the most disturbing part was that several guests tried to tear the clothing off a terrified bartender.
Ladies (and gents!), we're all for having a good time, but there's no excuse for vandalism, assault, or, uh, acting like a complete moron. Keep the drinks to a respectable number, direct the bodily fluids to their appropriate receptacles, and have a twinge of respect for the business owners who host your events — and who have to clean up your messes.
Marie Claire email subscribers get intel on fashion and beauty trends, hot-off-the-press celebrity news, and more. Sign up here.