Sugar High: The Surprising Dessert Recipe Perfect for BBQs
Hint: It's not fruit salad.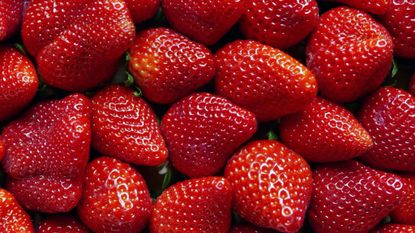 (Image credit: getty image)
Los Angeles-based vegan baker Clara Polito—pick up her recently released supercool cookbook, Clara Cakes—reveals her summertime baking survival secrets for her way-easier take on a BBQ classic: pie.
On the Menu: Stick to fruit pies. Think stone fruits, like peaches, or berries, which don't need a whole lot of labor to be delicious.
Keep Cool: No matter what the recipe says: An oven typically needs only about 10 minutes to preheat.
Go Easy: Try a crumble topping. Arrange the fruit in a pretty, circular layout—and not in a cheesy lattice-pie style that looks like you're trying too hard.
Her Go-To: My recipe for strawberry blood orange bars is good for summer because you can easily transport them and it doesn't require as much patience as a normal pie!
STRAWBERRY BLOOD ORANGE BARS by Clara Polito (adapted from Clara Cakes: Delicious and Simple Vegan Dessertsfor Everyone published by powerHouse Books)
Ingredients:
1 c. all-purpose flour + 3 tbsp. flour
1 1/2 c. oatmeal
½ c. white cornmeal
1 c. brown sugar
1 tsp. baking powder
½ tsp. salt
½ c. coconut oil
½ c. vegan butter, chopped into small cubes
¾ c. strawberry preserves
½ c. fresh strawberries, chopped
3 oranges, peeled and chopped
Directions:
Preheat oven to 350 degrees. Spray 13x9 baking pan with nonstick spray and line with parchment paper. In a large bowl, mix together one cup flour with the oatmeal, cornmeal, brown sugar, baking powder, and salt. Mix in coconut oil and butter, pressing mixture together with your fingers. Mix until it resembles crumbly cookie dough. If mixture is too dry to be pinched together, add a tad more butter or coconut oil. Press half of the oat mixture into pan. Set aside. In a medium bowl, stir together strawberry jam, fresh strawberries, oranges, and 3 tablespoons flour until evenly incorporated. Spread the preserves mixture over the oat crust. Sprinkle the other half of the oat mixture on top. Bake until golden brown, about 30-40 minutes. Place on cooling rack and serve warm or fully cooled.
This article appears in the June issue of Marie Claire, on newsstands now.