When Your Breast Cancer Journey Takes an Unexpected Turn
After an annual mammogram in June revealed suspicious calcifications, breast cancer survivor Kai McGee underwent a partial mastectomy. Now, she's grappling with the outcome of that surgery.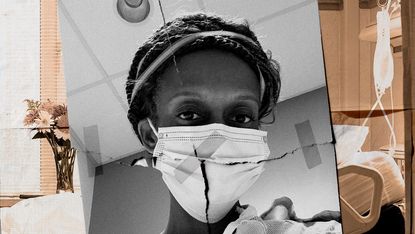 (Image credit: Courtesy of Author)
Around one in eight American women will be diagnosed with breast cancer in their lifetime, and each is so much more than a statistic. Every Monday during Breast Cancer Awareness Month, we'll be chronicling the journey of one Black mother and survivor as she navigates the uncertainty of breast cancer in these uncertain times.
In June, my annual mammogram and subsequent biopsy revealed atypical ductal hyperplasia in my right breast. My Covid-19–filled summer consisted of virtual medical appointments and the isolation of solo visits to the hospital to have medical tests performed. Non-emergency surgeries were on hold due to the pandemic; I spent more than three months waiting to hear that hospitals in my home state of Florida were re-opened. Once the hospitals started allowing patients like myself to move forward, it was confirmed that I would undergo a partial mastectomy.

My breast oncology surgeon informed me that the out-patient procedure was scheduled for September 25, the 17th anniversary of my grandmother's death. The day of surgery, I woke up and felt her presence. Her loving energy enveloped me and reminded me that I would be held and protected.
It was surreal being dropped off at the hospital before the sunrise, exiting the car, and walking inside, masked up and alone. I entered with my cell phone, license, and insurance card—the only items permitted. I was greeted by friendly admission staff and escorted to the area where I met my pre-op team. My nurse, Jennifer, was an angel with scrubs on. We laughed and talked and laughed. Our sons are the same age, so we had lots of chatter about virtual school angst, 14-year-old boys, our shared love of travel, and cancer. Her sister is a breast cancer survivor, so she knew how to treat my scar-filled upper body with tenderness and reverence.
After my I.V. was connected, vitals taken, and questions regarding my medical history answered, I was taken to have yet another mammogram. More images were needed to pinpoint the exact area that would be targeted for surgery. A trio of two nurses and a radiologist were working with me. One of the nurses asked if I remembered the name of the team who performed the biopsy. I could not recall the name of the main nurse, but I do remember the way she rubbed my back and held my hand when I flinched from the pain; I remember how she calmly and assuredly whispered that I was doing great and reminded me to breathe. I looked at my new nurse with a river of tears streaming down my cheeks and was only able to say, "the only thing I remember is her kindness." She gave me tissue and let me honor the emotional cleanse that I wasn't prepared to have in a cold, sterile mammogram room.
When I returned to nurse Jennifer, somehow, she knew there was a shift. Perhaps it was my red eyes, my unconvincing smile, or my distant gaze. She gently adjusted my blankets, placed a small pouch filled with aromatherapy on my chest, shut off the lights, and let me rest until it was time to be wheeled to the operating room.
When I woke, there was a new smiling nurse who told me everything went well. I was released at the end of the day and welcomed home. My caregiver, my aunt, had fresh flowers, brand new pajamas, and a feast of sautéed Kale, grilled fish, and homemade peach cobbler waiting for me. I had enough energy to sit with my aunt, uncle, and son for about an hour, enjoy belly laughs and eat plentifully before allowing myself to decompress and recover.
My healing went well, and my spirits were high after the surgery. A week later, I went to see my breast oncology surgeon. She told me that the pathology came back from the tissue removed: They found carcinoma.
There wasn't space for me to wail or cry. I couldn't process her words. This was not supposed to happen. Cancer was in my past. I am a survivor. All I remember saying is "How is this possible?"
After a few days, I was able to digest what she said. The pathology revealed that I have stage 0 ductal carcinoma in situ. The cancer is not invasive and is contained in the duct. This was definitely not the news I was expecting, but I know it could be so much worse. I'm grateful for this early detection, for having health insurance, for a medical team that I'm confident in, and for the resources and support to keep fighting.
Before the end of the year, I'll be undergoing a bi-lateral mastectomy, which is the treatment option that feels best for me. Removing all the breast tissue completely is what will bring me the most peace. I've been able to meet with my oncologist, the reconstruction surgeon, and my breast oncology surgeon in person and they all agree that I won't require chemo. I will only need radiation if the tissue tested after the mastectomy reveals any malignant cells.
My breast surgeon recommended that I see the hospital oncology psychologist given the weight of this unexpected news. It was reassuring that someone on my medical team finally realized that a mental health check-in should be explored.
I'm holding onto hope that, by the time of my mastectomy, the hospital will allow visitors. This surgery will require an overnight stay and a much longer and more painful recovery. If I'm forced to go through the procedure alone, I know I can do it. The warmup wasn't so bad.
This latest part of my journey has reminded me that there is no beating cancer. There is managing and processing the diagnosis and then figuring out what to do with the rubble. My life after this news feels more measured yet more free. It feels more intentional and deliberate. It's more joyful yet more bittersweet.
The upcoming double mastectomy will add to the physical scars I already have from the lumpectomy, partial mastectomy, the port-a-cath (the device inserted to draw blood and receive treatments), and the radiation I have already undergone, but no scar runs as deep as the one hidden from the human eye. But just like any scar, over time the emotional wounds become less prominent. I choose to see all my scars as proof of life, courage, and resilience.
I'm taking the pieces of my broken heart and putting them back together as a beautiful mosaic. Each piece reminds me of the limitless reservoir of strength that keeps replenishing, sustaining, and molding me.
There are so many amazing souls who have been touched by breast cancer. Honor them—us—by getting your yearly mammogram. Pick one date each month that you will feel for lumps or any abnormalities, then get checked. Listen to your inner voice. If something seems suspicious, don't rest until you feel the diagnosis is accurate. Early detection truly does save lives.
I'm pressing forward with optimism. I'm placing all my energy into healing, wellness, gratitude and joy. I'm eternally grateful that life, with all its twists, surprises, and disappointments, continues to give me second chances.
READ THE FULL SERIES
Celebrity news, beauty, fashion advice, and fascinating features, delivered straight to your inbox!
Kai McGee is a writer who frequently explores parenting, her journey through breast cancer, social-justice and self-care. She is currently working on her memoir. Connect with her via Instagram @onanaturalkai